Bridal Sizing Is Confusing — Here's How To Find The Right Size For Your Wedding Dress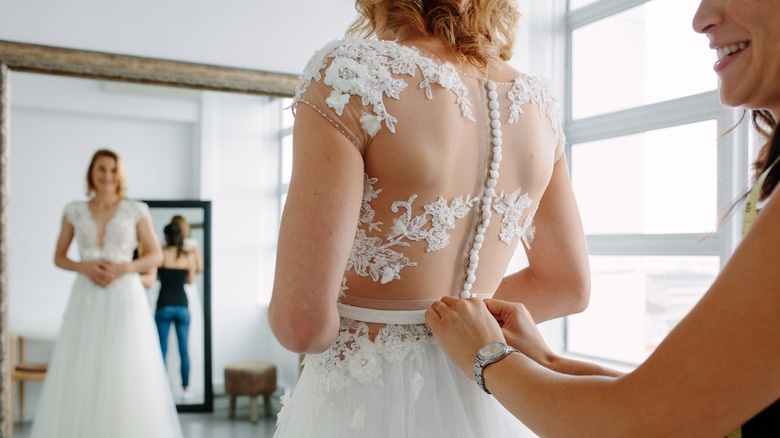 Jacoblund/Getty Images
Most of us have had fantasies of our future wedding day at one time or another. The trouble is that those visions ignore such unpleasant realities as the eye-popping costs, the million little details, and the delicate etiquette issues. (Can you ask guests to gift you money instead of housewares? Should you let your maid of honor bring the guy she's been dating for two weeks?) 
We also tend to underestimate the stress that goes into choosing a wedding gown. Not everyone is lucky enough to be able to commission a specially-made dress from Givenchy, as Kim Kardashian did; nor do most brides have the good fortune of just happening to find a perfectly-fitting gown at a warehouse sale or as a sample, as Kelly Ripa and Keira Knightley did (via E! Online). If you've ever seen "Say Yes to the Dress," you know that dress shopping is an emotional process, often involving second-guessing, lots of try-ons, and pre-wedding fittings and re-fittings.
The most confusing thing about wedding gown shopping is the size issue. You may have worn a size 10 for most of your adult life, but once you're at the bridal salon, you may find that the zipper won't even budge when you try on that size 10 satin slip dress. So what's it all about? Why are wedding dress sizes so different, and what do you do if you can't fit into a gown in the size you normally wear? 
Expect to buy a size larger than your norm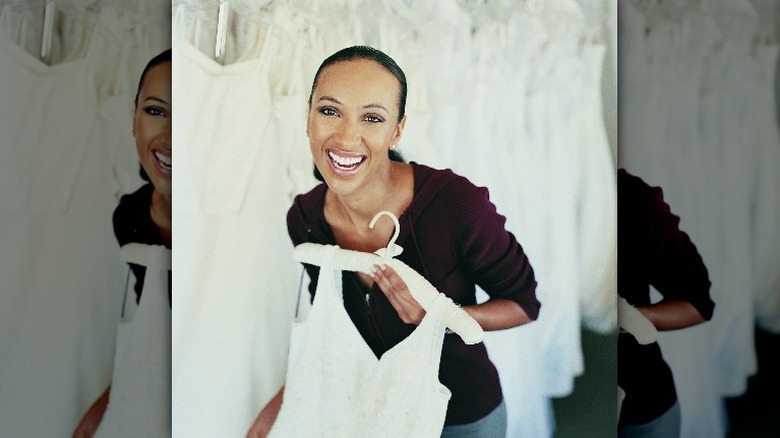 Digital Vision./Getty Images
As Kleinfeld Bridal explains (and they should know!), the size of a wedding gown is simply a number. In the bridal world, the sizes tend to go one or two numbers above the ones you see in street clothes. In other words, if you normally wear a size 12, you can expect to be trying on 14s or 16s at the salon. Blame it on tradition: Bridal designers use the same size charts that were the norm in Europe some 80 years ago. Plus, as with other forms of clothing, different designers have their own individual cuts, so you might fit into an 8 from one fashion house but need a 10 from another.
The other part of the equation is the style. If you're wearing a ball gown wedding dress, you may be able to fit into the size you normally wear. For a more form-fitting cut, like a mermaid gown, you may need to go a size higher to make sure it's comfortable. If you're looking to highlight or de-emphasize one area of your body — say, your bust or arms — you'll want to take that into consideration as well. 
Bridal experts also advise against trying to lose weight just to fit into a smaller size. Unless you're truly doing it for your health's sake, it's not worth putting yourself through stress if all you want is the bragging rights of wearing a size 6. 
Measurements are the key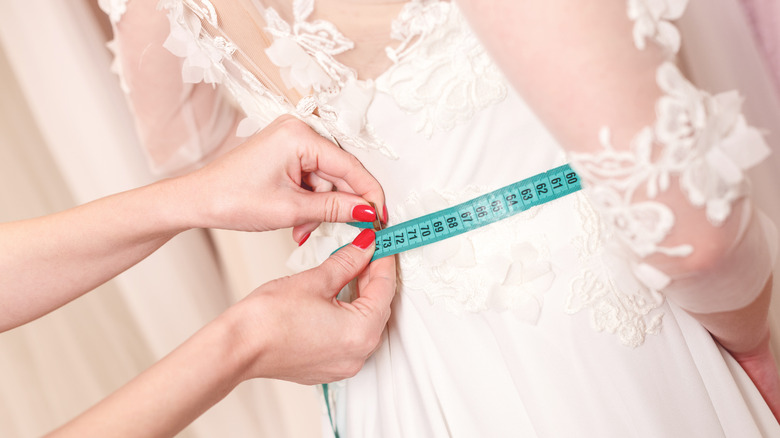 Olena Yakobchuk/Shutterstock
Before you start searching through the racks or showing your Pinterest board to the bridal attendant, Brides and other wedding experts recommend having yourself measured, either at the salon or at home. This will give the staff an accurate idea of what size you'll need in your preferred style. If you're doing it at home, use a fabric tape and measure yourself from the base of your neck to your feet, around the widest part of your bust and hips, and the narrowest part of your waist. 
While you're dress shopping, you'll likely be given dresses in larger sizes to try on, with the attendant pinning or clipping the extra fabric to give you a better idea of how the gown will look when it's altered. Order your dress at least six months before the wedding to give yourself enough time to have it altered when it comes in; you'll need at least one fitting, and possibly more if your weight has changed during that time. If you're especially jittery about the thought of not being able to fit into your dress on the big day, Brides also recommends choosing a gown with a lace-up corset back. This style is forgiving enough to accommodate a last-minute body change such as pre-period bloat. But the most important thing is finding a dress you'll be happy to say "yes" to, no matter what the number on the size tag says.