Queen Camilla Scores Ownership Of Queen Elizabeth's Beloved Racehorses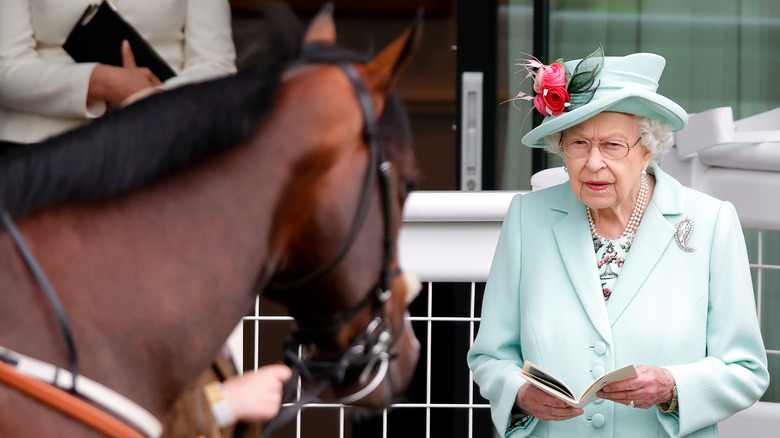 Max Mumby/indigo/Getty Images
Queen Elizabeth II first got on a horse at the age of three and so began a lasting passion for horses. She continued riding for the rest of her life and was even spotted riding one of her Fell ponies on the grounds of Windsor Castle in June 2022, just a couple of months before she passed away and after doctors had previously advised her against riding due to her declining health. And she even posed with two of her horses for what would turn out to be her last birthday portrait. Following her death, one of the queen's Fell ponies made a poignant appearance along the queen's funeral procession route; after the funeral, her head groom shared a tragic reality about the queen's beloved horse, Emma.
She didn't just ride her own horses; Her Majesty maintained an impressive breeding and racing horses program that ended up netting her a tidy sum. USA Today reported on data from MyRacing.com in 2018 that showed that race horses owned by the queen had won 452 times and that she earned over $9 million in winnings. Upon her death, ownership of Queen Elizabeth's racehorses went to King Charles III. But now he's the co-owner, along with his wife Camilla, Queen Consort, as noted by the Racing Post.
Queen Camilla has her own love for horses and racing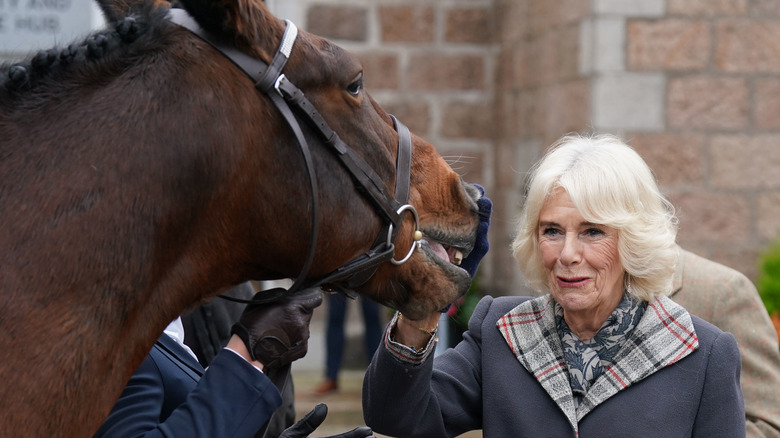 Wpa Pool/Getty Images
Camilla, Queen Consort has officially become a joint owner of Queen Elizabeth II's racehorses, according to the Racing Post. The first of the former queen's horses to race under the name of King Charles III was in September 2022. The first win for the king with one of the late queen's horses came shortly after.  Now the horses will race for both Charles and Camilla. There had been fears the king was potentially shutting down his mother's operation when he sold 14 horses at auction in October 2022. However, a spokesperson for the auction house worked to allay fears by saying it was normal to sell horses, "The Queen had brood mares of her own, she would breed them and sell them. You can't keep them all," via BBC.
This isn't Charles and Camilla's first time owning horses together, and of the two of them, per the Daily Mail, Camilla is the one more interested in horse racing. So her becoming co-owner makes sense. After the queen's death, Camilla attended QIPCO British Champion's Day at Ascot Racecourse; she gave the trophy to the winner of the Queen Elizabeth II stakes in October 2022. With this announcement, the late queen's legacy of love for horses carried on to the next generation.