How Skin Positivity, The Movement That Embraces Wrinkles And Acne, Can Change Your Life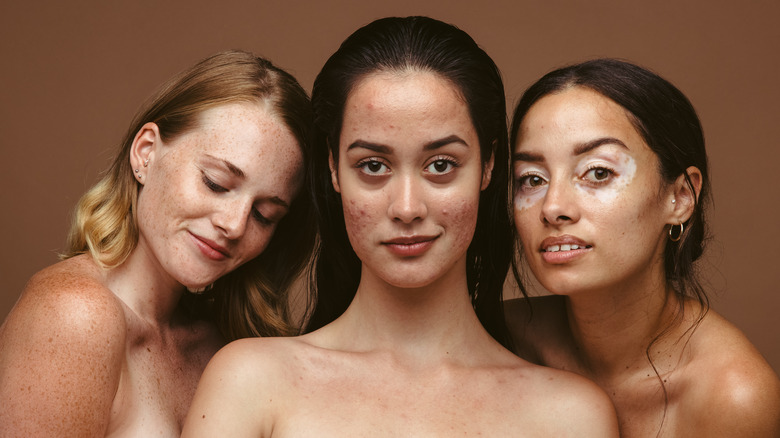 Jacoblund/Getty Images
Over the past few years, body positivity has become a popular theme among brands, lifestyles, and even in show business. Aerie, multiple brands sold at Target, and Rihanna's Savage X Fenty have included models with a variety of sizes and body types in their ads and in showcases. Brands are now including models with physical disabilities as well. Body positivity is in music too — from Lizzo's confidence-boosting anthems to Jax's lyrical takedown of Victoria's Secret.
The body positivity movement has naturally grown to incorporate skin positivity as well. As stigmas surrounding weight slowly fade, stigmas surrounding acne, color, and age-related skin changes are disappearing too. People around the world are showing their true faces, even if they don't look airbrushed, facetuned, or completely flawless. And it is paying off, as it empowers others to see skin attributes as natural rather than shameful or something that needs to be fixed.
Social media is seeing more unfiltered photos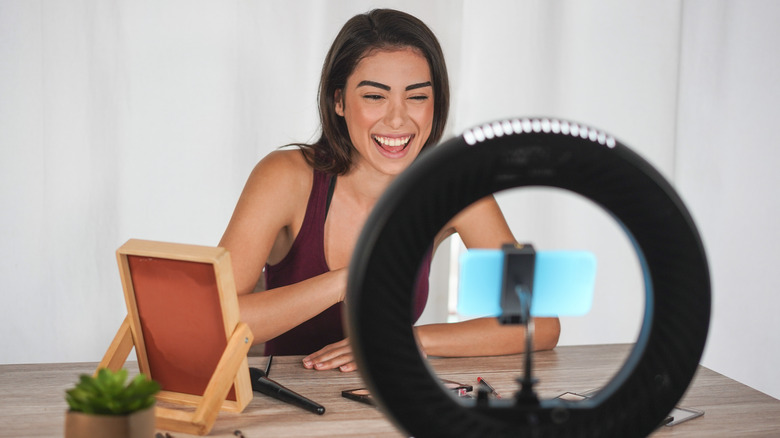 DisobeyArt/Shutterstock
Acne is so common that we seem to constantly be bombarded with advertisements for products to combat against it or to cover it up. However, the skin positivity movement encourages people to accept it as a natural part of life rather than something to hide. Camille Bibbee for Beauty by Earth explains that social media is seeing more unfiltered photos and videos from people spreading the word about embracing their skin. Social media can help people share their stories as they live with skin conditions like acne, psoriasis, and eczema. "By educating yourself and others about these conditions, you can help break down the stigma surrounding them," Bibbee writes.
These unfiltered posts may come as a surprise given that the social media norm has so long been the opposite, as people often try to only post photos wherein they appear to comply with societal beauty standards. But the natural aesthetic is gaining ground, and celebrities have joined in as well. In 2020, singer-songwriter Niall Horan even posted a photo of himself poking fun at a pimple on his forehead.
Joan Didion featured in a Céline ad at the age of 80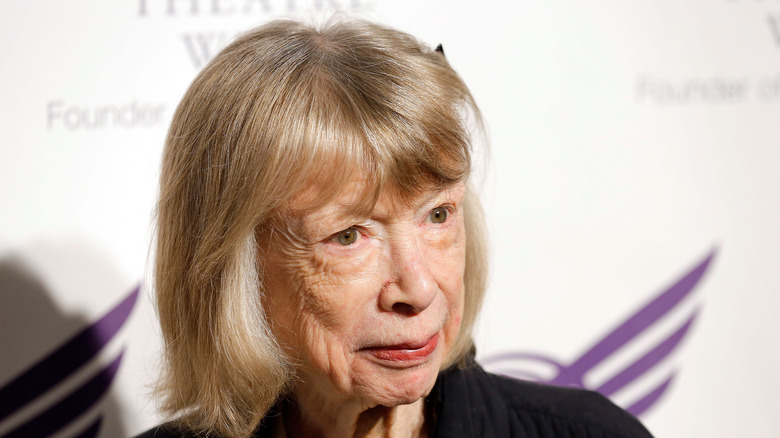 Jemal Countess/Getty Images
Advertisements for anti-aging products seem just as common as those for acne, and the Instagram era has seemingly made plastic surgery more popular than ever. However, the skin positivity movement also encourages people to appreciate the natural changes that occur in our skin as we age. Brands are joining in as well, as French fashion house Céline included 80-year-old writer Joan Didion in a 2015 ad. It seems that other industries are beginning to embrace the idea that age should be celebrated. As Mark Twain once said, "Do not complain about growing old. It is a privilege denied to many."
Regardless of the progress being made, skin conditions or changes that people go through can still have a mental effect. PR Newswire reported that in a 2021 study, things like acne, scars, and stretch marks still make people feel insecure. However, some survey respondents claimed to accept and even embrace such features. 64% of respondents who had done so attributed their newfound positivity to the COVID-19 pandemic, which allowed them to take time to embrace their former insecurities surrounding their skin. And that ability to change perspective seems to demonstrate that it truly is mind over matter, so embracing skin positivity could affect genuine change in anyone who commits themselves to it!