The Last Minute Change Harry & Meghan Made At Their Royal Wedding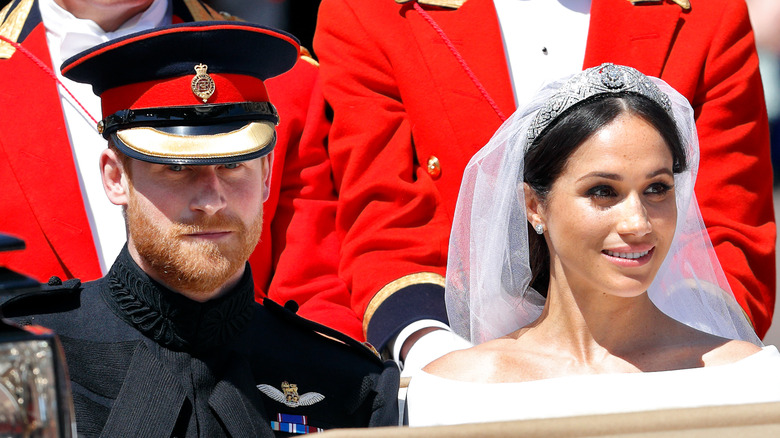 Max Mumby/indigo/Getty Images
It often feels like fans can't get enough Meghan Markle's relationship with Prince Harry. Between their Disney movie-worthy meet cute and their famous fairytale wedding, the Duke and Duchess of Sussex have had a romance that makes fans swoon. These days, the myriad startling revelations from Prince Harry's memoir, "Spare," have piqued folks' interest even more about the royal couple's relationship, as well as their ties with their famous family. As the couple approaches their five-year wedding anniversary, we're ready to take a walk down memory lane back to when Meghan walked down the aisle. 
We all know that there are lots of rules when it comes to how royal events need to take place. We also know that Harry and Meghan are far from the most traditional members of the royal family. Consequently, we aren't exactly surprised to hear that the Duke and Duchess of Sussex's desire to keep it real and honor their needs and wants over the royal rules started long before they decided to make a split from their Duke and Duchess duties. This pair was pushing the envelope way back on their wedding day, and they were doing so all in the name of pizza.
What happened at Harry and Meghan's afterparty?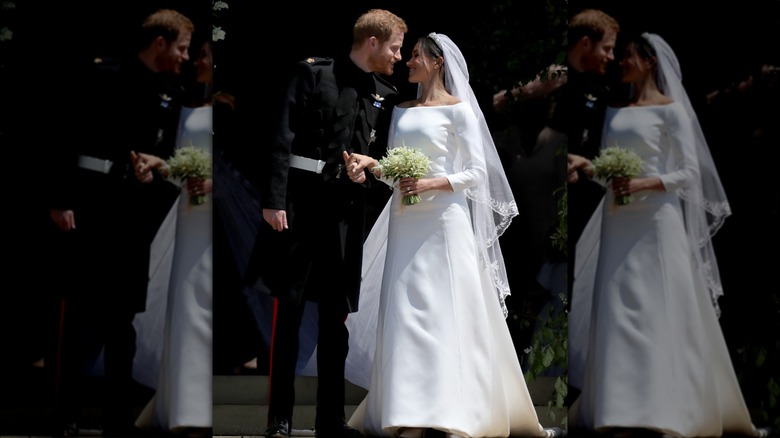 Wpa Pool/Getty Images
There were plenty of aspects of their royal wedding that Prince Harry and Meghan Markle had no control over. Yet, despite their wedding being a formal, historic event –– much of which was planned out for them –– they were still able to have fun their own way, as any bride and groom should on their big day. Like the royal weddings that came before them, The Duke and Duchess of Sussex provided an upscale meal for their A-list guests. Champagne was poured while slow-roasted Windsor pork belly was served with sides of risotto and canapes. Surely this was a meal fit for a royal wedding, but it likely isn't entirely reflective of the bride and groom's favorite foods. Instead, that was reserved for the afterparty. 
Frogmore house is a country home that is owned by the royal family and frequently used for hosting events. The night of their wedding, Harry and Meghan hosted an evening reception at Frogmore for their more intimate list of friends and family. While 600 guests attended the wedding, and more than 2,000 folks waited outside, only 200 guests got the invite for their special reception. 
While the evening reception was certainly a more bespoke affair for the royal pair, Michelin-starred chef, Clare Smyth, was still set to prepare a three-course dinner for the event. So, why is it that what looked to be more than 25 pizzas were delivered to the reception? 
A dinner fit for a Duke and Duchess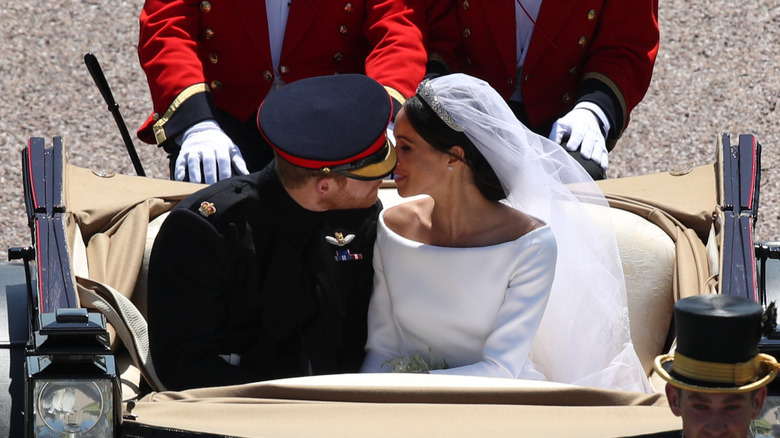 Wpa Pool/Getty Images
While many theories have swirled about why the surprising change to make a major pizza order to the royal wedding reception actually occurred, the Duke and Duchess of Sussex have never revealed the truth. Some believe that the pizzas were delivered after something went wrong with the dinner that was planned, while others speculate that someone may have ordered the pizzas as a surprise. In any event, at 7 pm on the night of the royal wedding, two women arrived at Windsor Castle's gates with a cart full of pizzas from Pizza Express. After speaking with security, they then delivered the pizzas to Frogmore House. 
Since the delivery was made just shortly after the guests arrived, some think that the pizzas may have actually been planned. Luckily, when it comes to having a party that lasts all night long like the Duke and Duchess of Sussex's wedding reportedly did, there's really no such thing as too much pizza. And, while Queen Elizabeth II apparently never actually tried the beloved food, herself, we firmly believe that you can't be too royal to enjoy a great slice of pizza.