Meet King Juan Carlos' Royal Granddaughter, Victoria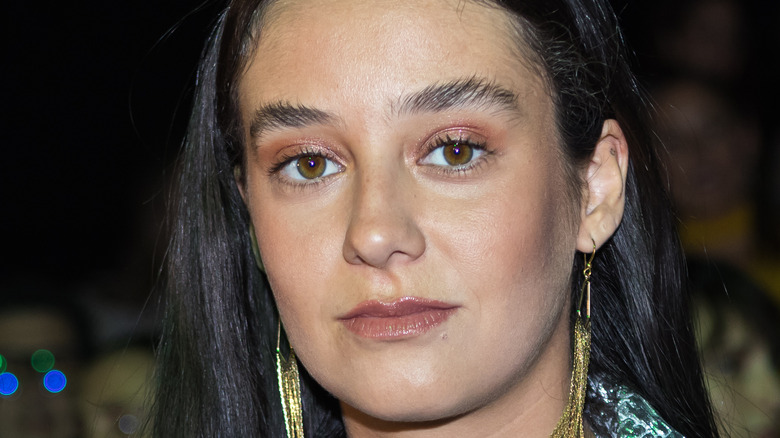 David Benito/Getty Images
While some royals (like William and Catherine Middleton, Prince and Princess of Wales) can't avoid the limelight, there are some who are able to keep a lower profile. Part of this is because some royal families are more popular than others. While the world loves keeping up-to-date with the British royal family, it holds a smaller (albeit still passionate) fascination for royal families of other countries such as Sweden and Spain.
Victoria Federica de Marichalar de Borbón is a member of the Spanish royal family who hasn't gotten a lot of attention from the international press, although she's beloved in her native Spain and has started to make waves on the global stage. 
The rising fashion star is known for her sleek style as well as being the granddaughter of King Juan Carlos, the former king of the European nation. Victoria's claim to fame isn't her royal blood, though — or, at least, it's not just that.
Victoria is fifth in line to the throne of Spain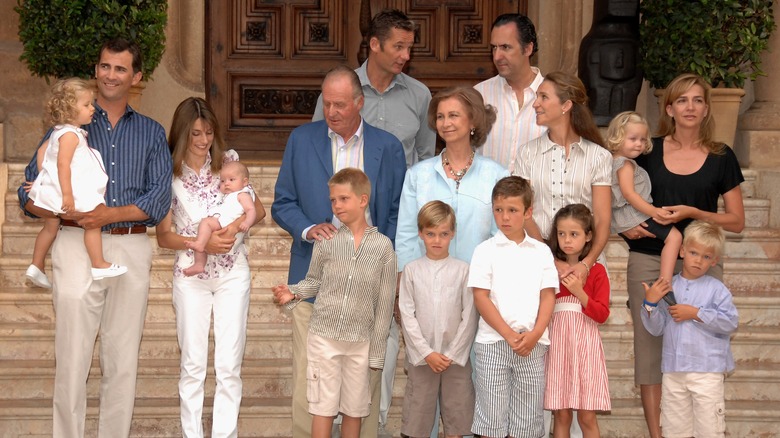 Carlos Alvarez/Getty Images
Although it's unlikely that King Juan Carlos' granddaughter, Victoria, will ever inherit the throne, she is still fairly high up in the line of succession. With Juan Carlos' abdication in 2014, his son, Felipe, became King Felipe VI, as Spain's law of succession favors males, putting him ahead of his older sisters. His children, Princess Leonor and Infanta Sofia are the next in line for the crown.
Had Spain's laws of succession not prioritized male heirs, Juan Carlos' oldest child, Infanta Elena, would have succeeded him as queen. This would have put Victoria as second in line for the throne after her older brother, Felipe. Instead, she is fifth in line to the throne, following her cousins, Leonor and Sofia, her mother, and her brother. Despite being so close to the throne, Victoria does not hold the title of "princess." Instead, she is known as Doña Victoria de Marichalar de Borbón, Lady of Tejada.
She lived her younger years out of the spotlight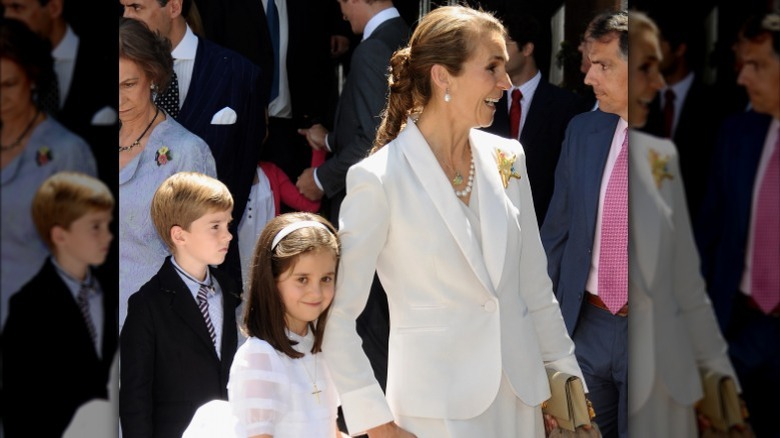 Carlos Alvarez/Getty Images
You'd think that growing up as the granddaughter of the Spanish king would have put Victoria Federica in the limelight, but she was far enough removed from the crown that she was able to live a comparatively normal life. While avid royal watchers would sometimes report on her comings and goings, such as wishing her a happy 11th birthday in 2011, her younger years were largely lived out of the public eye.
It wasn't until 2022 that Victoria really emerged into the public eye, and it seems she deliberately took control of how she'd be received. She gave her very first interview that year, at the age of 21, speaking to Elle Spain about her life and her goals. She was already making waves at that point, though, having launched an Instagram account in 2019. By the time she granted her first interview, she was already being spoken of as an up-and-coming fashion influencer.
She's related to other European royals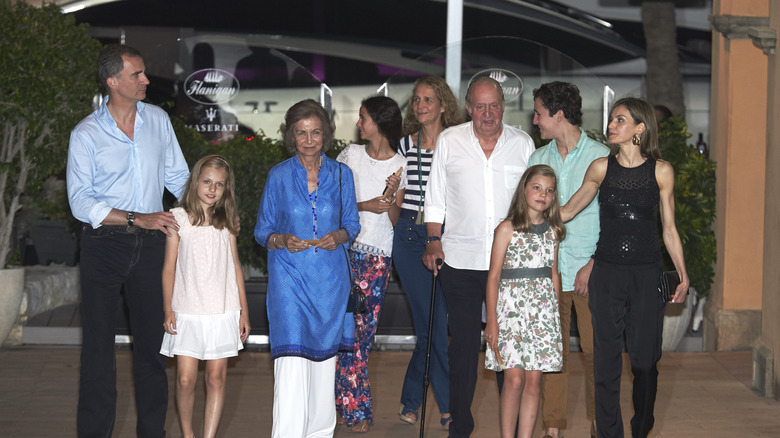 Carlos Alvarez/Getty Images
Victoria Federica has a family tree dating back generations that connects her to other royal families. Like many of Europe's royals, Victoria is descended from Queen Victoria. Other famous royals who can trace their lineage to the late British monarch include Queen Elizabeth II of England, Queen Margrethe II of Denmark, and King Carl XVI Gustaf of Sweden.
While it's a bit of a confusing family tree with many overlapping branches spanning generations, it makes for some pretty interesting connections across Europe. Victoria can trace her ancestry to Queen Victoria through multiple branches of her family tree, making her cousin to many royals, including Prince William and Prince Harry. She is even related to many former royals such as Constantine Alexios of Greece and Denmark and the Romanov family of Russia who no longer have a claim to a throne but still remain well known figures.
Victoria's father also comes from an ancient family. Jaime de Marichalar y Sáenz de Tejada is descended from Amalio de Marichalar y Bruguera, the count of Ripalda, and holds the hereditary lordship of Tejada through his mother, Concepción Sáenz de Tejada y Fernández de Bobadilla.
She values her connection to Greece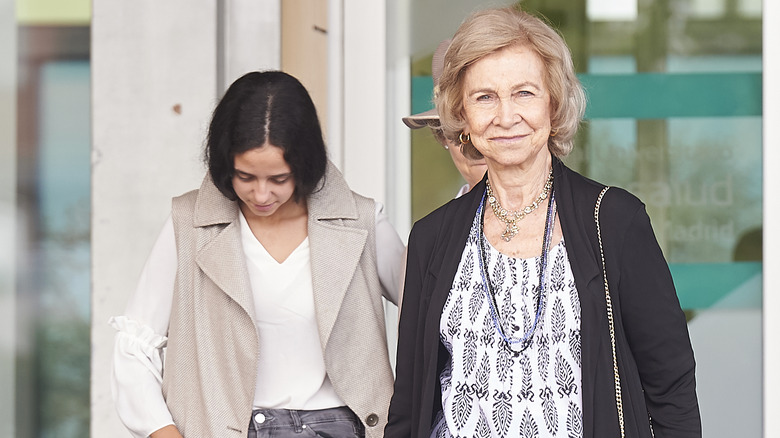 Borja B. Hojas/Getty Images
Victoria Federica may have relatives all over Europe, but if there's a country aside from Spain that has her heart, it's probably Greece. Greece is the homeland of her maternal grandmother, Queen Sofía of Spain. Sofía is the sister of Constantine II, the last king of Greece; the monarchy was abolished in 1974.
Victoria cherishes her Greek heritage, telling Elle Spain she recalls a family trip to the country and that she was excited to explore the place her grandmother grew up. "Athens is a city that transmits many emotions to me and discovering it together will remain forever etched in my memory," she said in the interview (translated from Spanish).
Even Victoria's name speaks to her connection to Greece; her second name, Federica, is a variation of Frederica, the name of her great-grandmother, the late Queen Frederica of Greece. Victoria's great-uncle, King Constantine, died in January 2023, and she attended the funeral in Athens with other members of the Spanish royal family.
She's passionate about riding horses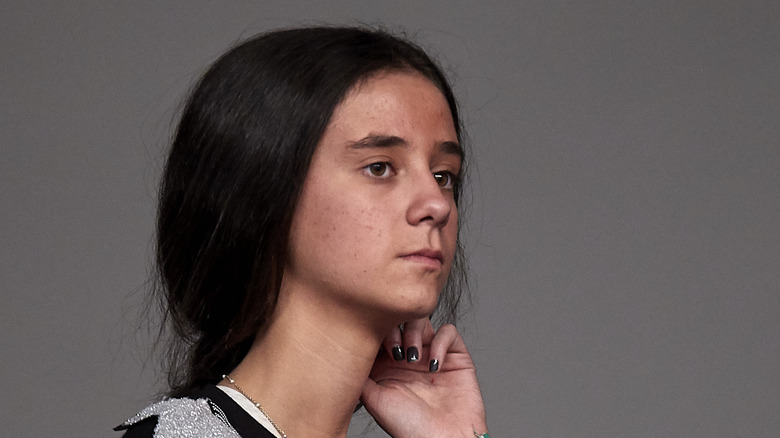 Fotopress/Getty Images
Horseback riding is a time-honored royal tradition. Members of the British royal family, including Queen Elizabeth II, Princess Anne, and Princess Eugenie partake in the pastime, and some of Spain's royals are also known to be at home on horseback.
It's a hobby that has been passed down to Victoria Federica, who told ¡Hola! in a 2022 interview that both her mother, the Infanta Elena, and her grandfather, King Juan Carlos, are avid horse riders, and that her mother nurtured her love for the activity as well as a love for animals in general. Like Elena, Victoria is a competitive horsewoman who has tested her skills in competition over the years. 
Victoria's interview with ¡Hola! included several shots of her on horseback and with horses, including the cover photo, which shows her sitting regally on a horse who's rearing back, showcasing just how natural of an equestrian the royal is.
She's very close to her grandfather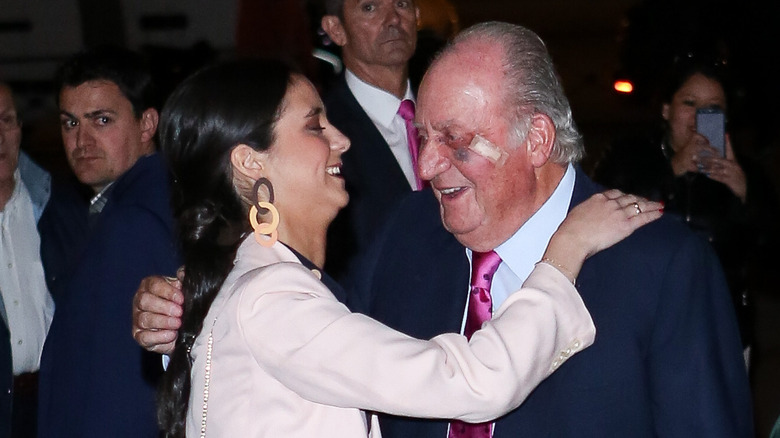 Pablo Cuadra/Getty Images
King Juan Carlos of Spain has been at the center of a lot of controversy. He abdicated in favor of his son, Felipe, back in 2014 after a series of scandals caused him to lose favor with the public. Among them, notes Newsweek, was an expensive hunting trip during which he killed an elephant, a move that was especially divisive as it was seen as unnecessarily extravagant at a time when the Spanish economy was floundering.
While the former king may not be the most popular royal in the world, he does maintain a good relationship with his granddaughter, Victoria Federica. In her interview with Elle Spain, Victoria spoke of her close bond with her grandfather, saying that she has looked up to him ever since she was a little girl. Controversies aside, Victoria said that her grandfather has always been committed to the people of Spain and that he continues to inspire her.
Victoria and Juan Carlos speak regularly, and both share a love of two traditional Spanish activities: flamenco and bullfighting.
She has a close relationship with her royal cousins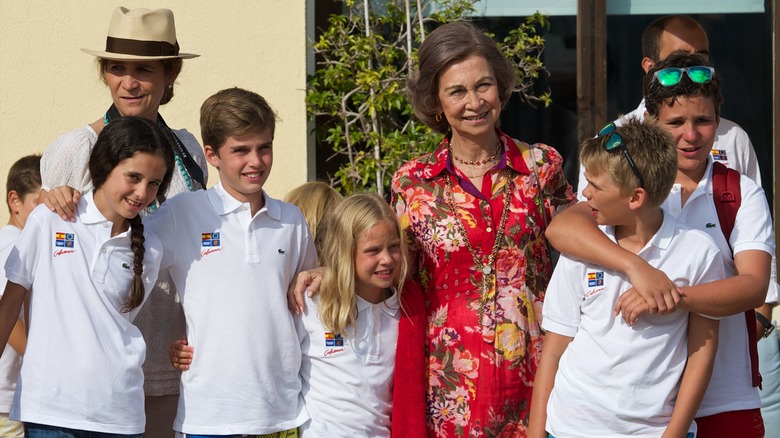 Carlos Alvarez/Getty Images
It isn't only the older generation of Spanish royals that Victoria Federica is close to. She also reportedly has a close bond with her cousins, Princess Leonor, the heir to the Spanish throne, and the Infanta Sofia. While there's a bit of an age gap between the girls (Victoria was born in 2000 while Leonor was born in 2005 and Sofia in 2007), they grew up together and are close. She's also connected to her male cousins who, like her, are not in the direct line of succession. These cousins, the children of her aunt, the Infanta Cristina, are closer to her in age: Juan Valentin is a year older, born in 1999; Pablo Nicolás was born the same year as Victoria, in 2000; and Miguel was born in 2002. They also have a younger sister, Irene, born in 2005.
The family reportedly grew up going on trips together, solidifying their bond. "Of course; we have a very good relationship. I have lived my childhood with both families, so I have been able to share a lot of time with all my cousin," she told InStyle Spain (translated from Spanish). 
Victoria has several tattoos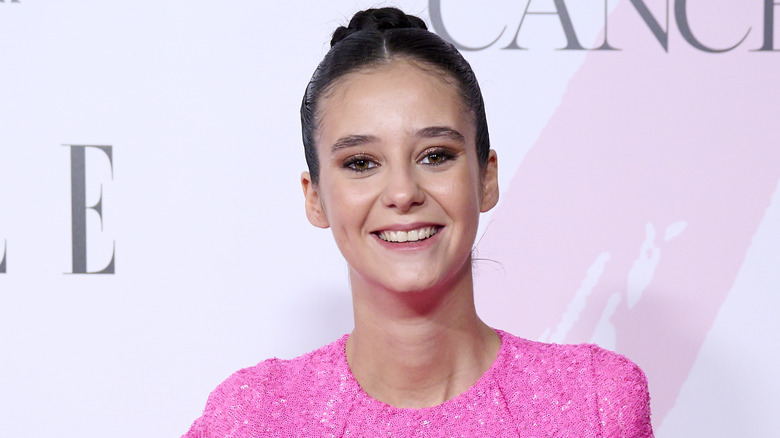 Carlos Alvarez/Getty Images
While tattoos might not be the first things that come to mind when we think of European royals, there are quite a few who have inked their skin. Royals such as Sweden's Princess Sofia, Denmark's Prince Frederik, and the U.K.'s Princess Eugenie and Lady Amelia Spencer,  all have ink. Victoria Federica is another royal who has gotten tattooed. Actually, she's gotten quite a few tattoos, and opened up to Elle Spain about the significant meaning behind the designs she chose.
One important tattoo is of a sailboat, in honor of her grandfather, King Juan Carlos. She's also immortalized her grandmother, Concepción, with a tattoo of a shell. Victoria has also dedicated tattoos to her parents and to her brother, proving just how important family is to the young royal. Perhaps her favorite tattoo, though, is an emoticon smiley, which she said conveys her own happy attitude towards life.
She dreams of starting her own family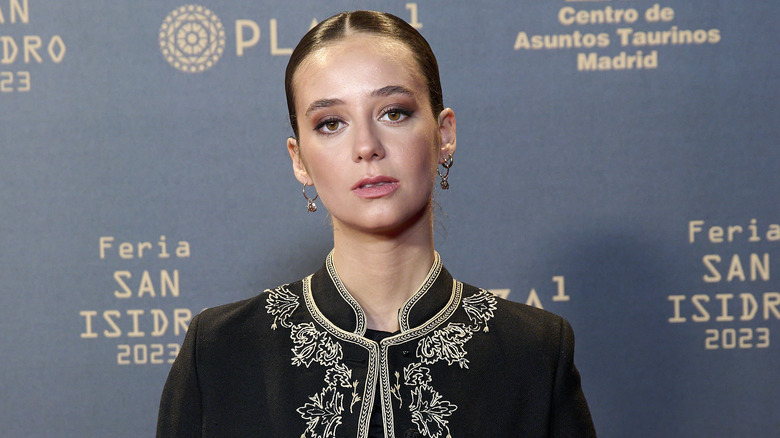 Carlos Alvarez/Getty Images
As fifth in line to the Spanish throne, Victoria Federica is not subject to the same constraints as royals closer to the throne. While she's a famous figure, she doesn't face the same scrutiny as those more likely to inherit the responsibility of ruling the country, and she also does not need to worry about continuing the royal line.
That doesn't mean that she doesn't want to have a family one day, though. Victoria is a royal forging her own path, and in her interview with ¡Hola!, she said she wants to have it all and dreams of flourishing in her career and having kids. While she is focusing on her career for the foreseeable future, she said that her long term goal is to settle down and raise a family. As for who she will raise that family with, Victoria said that the most important quality she looks for in a partner is that they are a good person. She's not in a rush to meet that special someone, though, saying that she's content to be single and to be supported by good friends for the time being.
Her faith is very important to her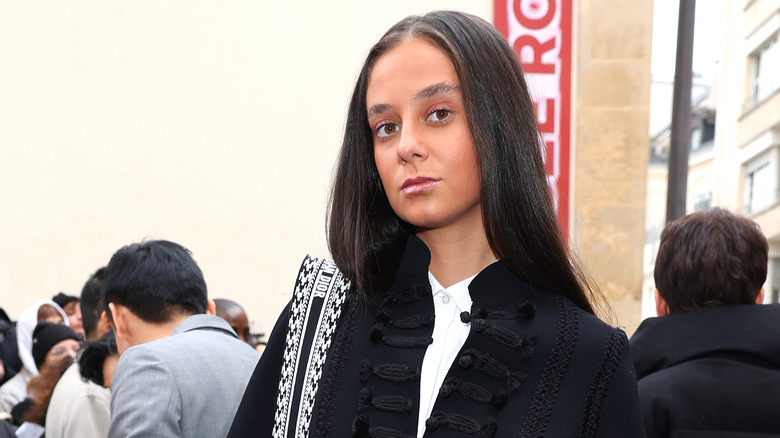 Jacopo Raule/Getty Images
Spain has been an overwhelmingly Catholic country for hundreds of years, and is a large part of the reason that Catholicism is the most widely followed form of Christianity in the world. The country colonized dozens of nations across the globe, bringing Catholicism with it. While the vast Spanish empire is no more, the royal family of Spain, along with most of the country, is still Catholic to this day, and that includes Victoria Federica.
Victoria's Catholic faith is a central part of her life. "I am a practicing Catholic," she told Elle Spain in an interview translated from Spanish. "Every morning when I get up, I thank God. The Lord is everything to me and in the church I find peace and tranquility. He is essential in my life."
Victoria is a frequent churchgoer, attending services with her close friends. Her faith goes beyond going to church, though, also extending to her personal philosophy of being kind to others.
Victoria studied business administration and management in school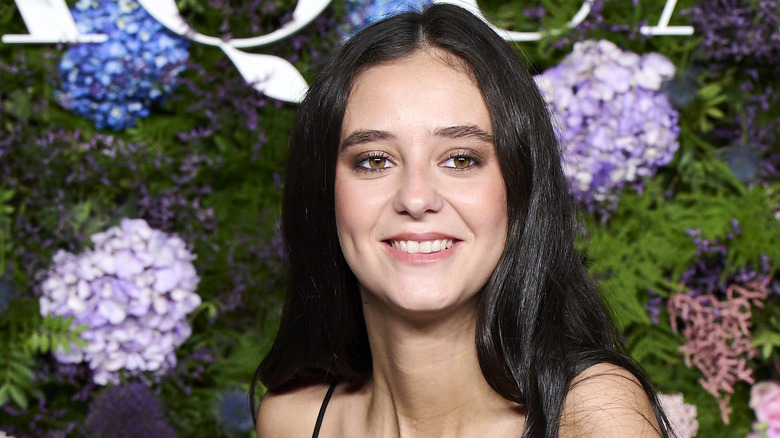 Carlos Alvarez/Getty Images
While Victoria Federica has been labeled a "nepo baby" thanks to her royal roots, she is working hard to build a career of her own. The royal wants a career in the fashion industry, revealing in her interview with ¡Hola! that she is inspired by her father, Jaime de Marichalar, who has done some work in the fashion industry as an advisor to LVMH owner Bernard Arnault. The luxury group boasts some of the most recognizable brands in the world, including Christian Dior, Fendi, Givenchy, Louis Vuitton, Guerlain, Bulgari, Tiffany & Co., Fenty Beauty by Rihanna, and Sephora.
Victoria has done some modeling, notably representing Hoss Intropia, but her passion for fashion could take her in a number of directions. The young royal also studied business administration and management at Madrid's College for International Studies, so she's well prepared for a career in the business or marketing sides of the fashion industry, or perhaps she will follow in her dad's footsteps as an advisor. 
Her fashion turns heads wherever she goes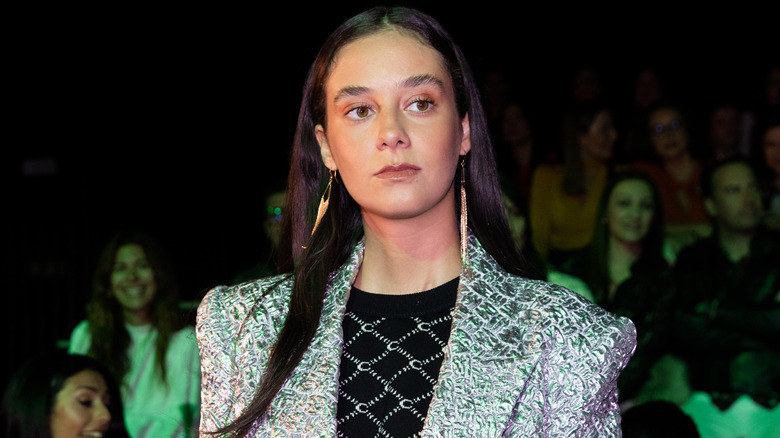 Aldara Zarraoa/Getty Images
Victoria Federica is still building up her career in the fashion industry, but she is already being upheld as a style icon by many, her fashionable outfits drawing attention wherever she goes. An appearance at the Claro Couture fashion show during 2023's fashion week in Madrid had outlets reporting on her crop top paired with a silver miniskirt suit set. King Juan Carlos' granddaughter also helped spur on the Y2K fashion revival, sporting a pair of checkerboard print pants on her Instagram in December 2022.
That was the same month she appeared on the cover of InStyle Spain, which analyzed some of the royal's head-turning outfits, including a sleek black Elisabetta Franchi jumpsuit that, reportedly, gave off "Sandy from 'Grease'" vibes. Victoria is a fashion star on the rise, and it's only a matter of time before the rest of the world takes note of this Spanish superstar.
She doesn't think of herself as an influencer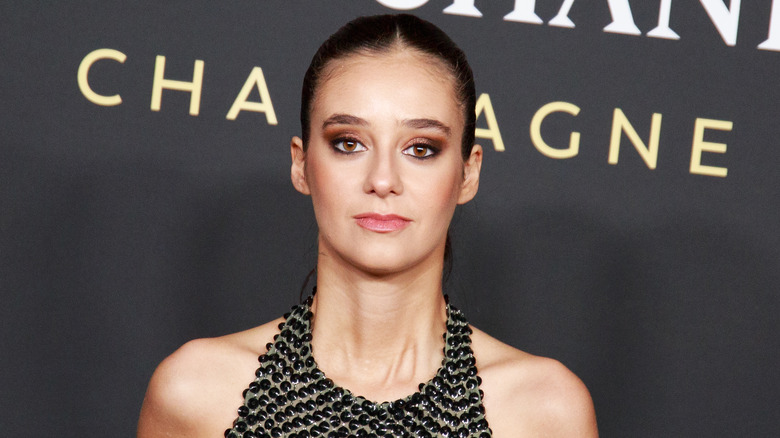 Patricia J. Garcinuno/Getty Images
Victoria Federica's royal background may have helped her break into the fashion world, but she has also put a lot of hard work into her career. She's not one to rest on her laurels, though. While she could easily use her connections and her growing popularity to become a successful influencer, living as a social media star isn't her goal. In fact, she doesn't even think of herself as an influencer, despite having more than 200,000 followers on Instagram as of this writing.
In her interview with ¡Hola!, Victoria said that, while some of her friends are influencers, she doesn't think her work falls under that category, as her main focus isn't social media engagement. Instead, her goal is to have a broader impact on the fashion industry that goes beyond Instagram. Still, the royal is definitely seen as an "it girl," influencer or not.
Victoria's friends and family mean everything to her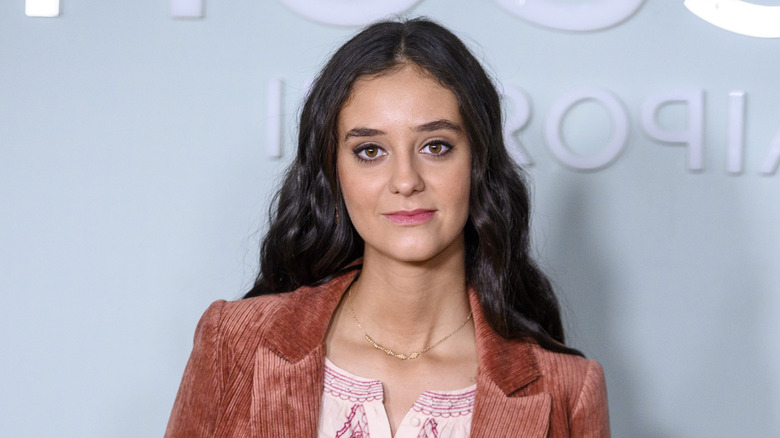 Juan Naharro Gimenez/Getty Images
In spite of her royal roots and privileged upbringing, Victoria Federica is remarkably down to Earth. She is determined to make a name for herself outside of her famous family and she seems to be well on her way to doing so. While she could no doubt capitalize on her royal connections if she wanted to, she does not seem to seek fame for its own sake. While she loves fashion, she also values the simple things in life, telling ¡Hola! that she feels very much at home walking barefoot outside and that loves spending time in the country as she can relax there.
Victoria has never lost sight of what is important to her, most importantly her friends and her family. She holds them both close to her heart and, above all, she wants people to see her "as a good person, loyal to my friends and devoted to my family."