How Does A Gel Polish Change Differ From A Full Gel Manicure?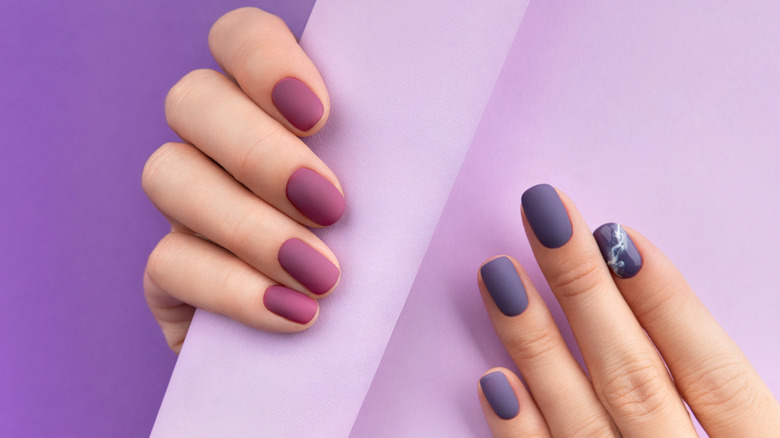 Darya Lavinskaya/Shutterstock
We're all about self-care, and one of the most fun ways to pamper yourself is by hitting up your local nail salon. Let's be real a gel manicure can instantly lift your mood. Although there have been rumors swirling for years that gel polish may ruin your natural nails, the truth is with professional attention; your nails will survive just fine. The biggest problem occurs when there is an attempt to remove gel polish at home.
While professionals encourage going to the salon for all your gel manicure needs, it can add up. According to Fairy Glamor, the price of a gel manicure can reach $100, which doesn't include a tip. Maintaining your manicure at that price point may be challenging, so many may be looking for a less expensive option.
Instead of getting a gel manicure every time, try a polish change. Here is the difference between a gel manicure and a polish change at your local nail salon.
What is a polish change?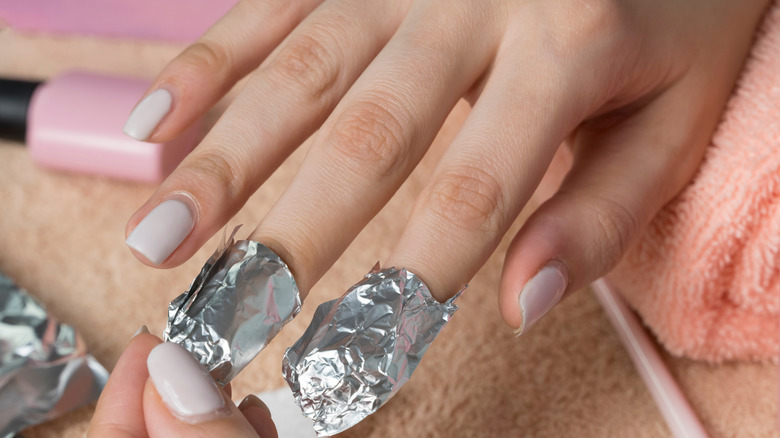 Natali Sam/Shutterstock
If you love the look of freshly-manicured nails but find that getting regular gel manicures is breaking the bank, you may opt for a polish change rather than a full manicure. According to Mani Q Nails and Spa, it is simply the change of polish. The salon will remove your gel for you, helping you avoid the risky removal job at home. From there, they will let you pick a new color and set you up under the LED light.
Mani Q charges $20 for a gel polish change. That includes the removal of your previous color. This compares to the over $100 price point of a gel manicure. A polish change can help you save some cash at the nail salon.
A gel polish change can also save you time. If you are in a rush and don't have a few hours to sit at the salon, a polish change can be the perfect solution.
How does a polish change differ from a manicure?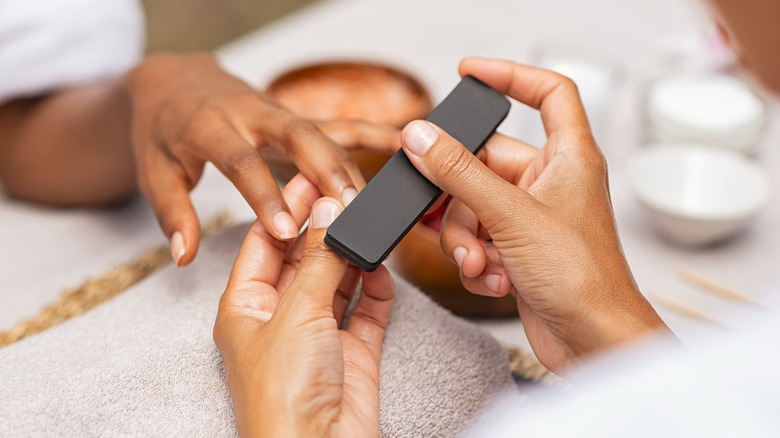 Ground Picture/Shutterstock
Aside from the cheaper price point and quicker service, a few differences exist between a gel manicure and a polish change. According to the Makeup and Beauty Blog, the nail tech doing your polish change will likely not take the time to trim down your nails, shape them, or trim your cuticles. If you're looking for a nail shape change or a nice arm massage before you head out the door, a polish change likely isn't for you.
When you get a manicure, you can expect to sit in the chair for at least an hour. The nail tech uses several tools and products to help shape your nails and make them look their very best. If you recently got a manicure and your nails are still the length and shape you are happy with, a simple polish change can be the best option. It saves both time and money. You'll be in and out with freshly colored nails in no time!