14 Times Kate Middleton Repeated A Gorgeous Royal Look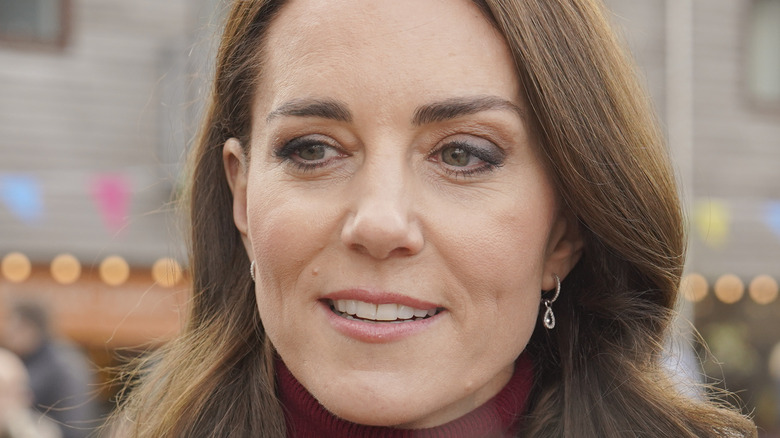 Hugh Hastings/Getty Images
Ever since tying the knot with Prince William, Kate Middleton has been establishing herself as one of the royal family's most influential style icons. Known for mixing modern high-street looks with more classic designer pieces, Kate is at the helm of bringing royal fashion well and truly into the 21st century. Like other royals, Kate is pretty blessed when it comes to options. She can afford custom-made designer clothes along with priceless pieces of jewelry.
But just because she has access to a wardrobe that's, well, fit for a queen, she doesn't always opt for a brand new outfit. In fact, Kate has been known to break from an unspoken piece of royal protocol and repeat outfits on more than one occasion. As a style expert told the Express, Kate's commitment to recycling outfits isn't just a style choice — it's an environmental one. "Kate Middleton can often be seen recycling her previous outfits, promoting sustainable fashion," said the expert. It also serves as a sign that the royal family is moving towards a more economically conscientious future.
The best part is, Kate still manages to look fabulous each and every time she rewears an old outfit — especially when she reworks the outfit with brand new accessories or even a clever alteration. Let's take a look at some of her most iconic rewears over the years.
Kate's chic white blazer dress has had a few outings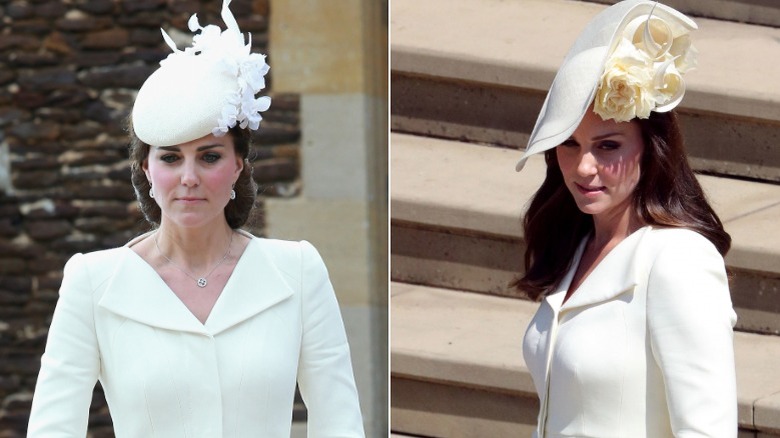 Wpa Pool/Getty & Chris Jackson/Getty Images
Kate Middleton loves a classic monochrome moment, so it's easy to see why her timeless all-white Alexander McQueen blazer dress seems to have become a wardrobe staple. The princess first wore the tailored knee-length dress in 2015 for the christening of her daughter, Charlotte, pairing it with an elegant white headpiece and a pair of white satin pumps. A year later, she pulled out the dress again for Queen Elizabeth II's Trooping the Color birthday celebration, this time, opting to wear a wide-brimmed soft pink hat.
Kate wore the dress again in 2017 during a trip to Belgium, and then once more in 2018 at Prince Harry and Meghan Markle's wedding, where she wore a pale yellow hat and matching heels. As style commentator Jessica Morgan told Town & Country, Kate was careful to pick a simple outfit. "Kate is going to go very, very understated, much as she did for Pippa's wedding... it will be extremely simple and classic, because I think she will be very conscious of not wishing to draw focus from the bride." Although Kate's dress was definitely simple, some noted it was an unusual choice that may have pulled focus from Meghan, as wearing white at a wedding is typically thought to be a faux pas. 
Kate recycled a military green Alexander McQueen coat for Christmas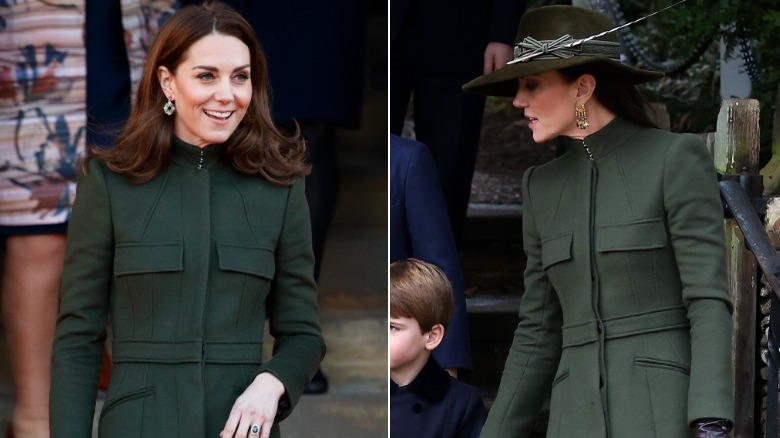 Max Mumby/indigo & Stephen Pond/Getty
Like many other royals, Kate Middleton loves a good coat dress, especially in the colder months, and this beautiful forest green Alexander McQueen coat has served her well on more than one royal occasion. The princess first wore the coat dress in 2020 during a visit to Bradford City Hall. She paired the maxi-length tailored coat with a snakeskin black patent bag and a pair of black heels along with a striking pair of diamond earrings. 
In 2022, she recycled the chic green outfit for the Christmas Day service in Sandringham, which she attended with her family. As usual, Kate was careful to switch things up and refresh the outfit on its second outing. She paired it with a striking green velvet wide-brimmed hat with a long feather embellishment, along with brown boots, brown leather gloves, and a pair of gold dangly earrings. We love how Kate managed to use accessories to completely restyle this gorgeous coat — we just hope she gets a chance to wear it again.
Kate repurposed the dress from her first royal appearance in 2016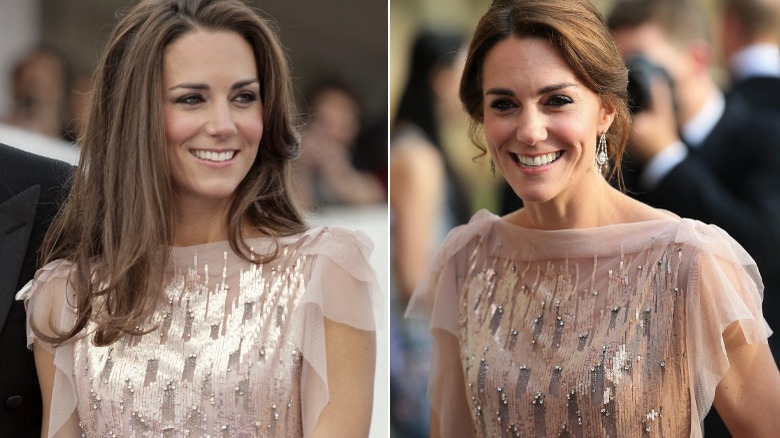 Chris Jackson & Stephen Pond & Stephen Pond & Max Mumby/indigo/Getty
Sometimes, Kate Middleton repeats outfits people wouldn't necessarily recognize a second time — but sometimes, she recycles outfits that were impossible to forget. For instance, in 2016, the princess pulled an old dress out of the closet she had originally worn on her very first royal outing back in 2011. The pale pink gown by Jenny Packham features a sequinned body and floaty sheer sleeves. 
In 2011, Kate wore the gown to the ARK gala at Kensington Palace shortly after she and Prince William got married. On that occasion, she wore the dress with her hair down and a pair of delicate drop earrings. In 2016, she wore the dress again at the East Anglia's Children's Hospices Gala in Norfolk, this time with her hair in a low up-do and a different pair of drop earrings. This dress may have been a rewear, but there's no denying the princess looked just as beautiful the second time.
Kate rewore a cozy Fairisle sweater in 2023
When it comes to casual wear, Kate Middleton has a few staple items she loves to wear. One of her favorites is her cream turtleneck with a Fairisle pattern by Holland Cooper. The cozy sweater features a classic Fairisle Knit pattern around the shoulders and gold buttons on the sleeves. The princess has worn this sweater on a few different low-key occasions. In early 2023, she donned the sweater while being interviewed for her "Shaping Us" campaign. Kensington Palace released a photo of Kate wearing the sweater with a pair of black jeans and a brown jacket. 
Previously, Kate wore the same sweater in December 2022 in a Christmas-y video released by Kensington Palace that saw her decorating a tree ahead of the annual carol concert. She was also seen in the sweater in February 2022 when she appeared on the BBC to read a children's bedtime story. It seems like this sweater is one of Kate's favorites — and it's easy to see why!
Kate recycled her bright blue polka dot dress for Wimbledon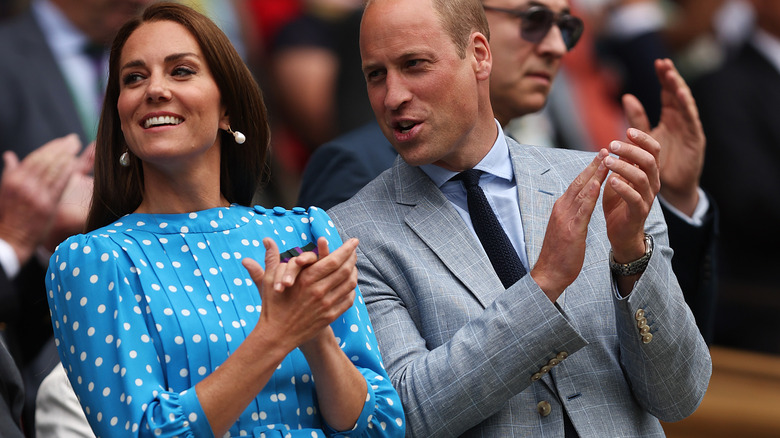 Getty Images
Usually, Kate Middleton waits a few months or even a few years before she recycles old outfits. However, sometimes, she only waits a few weeks. In the summer of 2022, for instance, the princess was spotted in the same dress within one month. Kate first wore this bright blue polka dot dress by Alessandra Rich when she surprised royal fans at a Jubilee street party in June 2022. The palace later posted a few photos of Kate and Prince William chatting with fans on Instagram. "What a fantastic weekend of celebrations. Seeing people across the nation coming together with family, friends and loved ones has been extremely special," read the caption.
Then, Kate decided to wear the dress again one month later during the Wimbledon tennis tournament, where she and William could be seen cheering on the players from the royal box. The dress was allegedly worth £1,515 (around $1,800).
During the pandemic, Kate rewore a classic tweed dress
Like many other royals, Kate Middleton has worn her fair share of tweed over the years. This blue tweed suit has had a few outings. Kate was first seen in the jacket in February 2017, when she attended an event at Evelina London Children's Hospital. She wore a matching tweed dress along with a pair of round sapphire earrings. Her hair was styled in a sweeping half-up, half-down look.
Kate rewore the jacket three years later in 2021 for a Zoom meeting with teachers in Durham for Children's Mental Health Week, as part of her work with Place2Be charity. This time, she wore simpler earrings and a more casual low ponytail. 
The royal blue jacket featured a rounded Peter Pan collar, distressed edges, and a textured white and blue fabric. According to the Daily Mail, it is worth £398 (around $475).
Kate gave her 2011 BAFTA dress another outing in 2021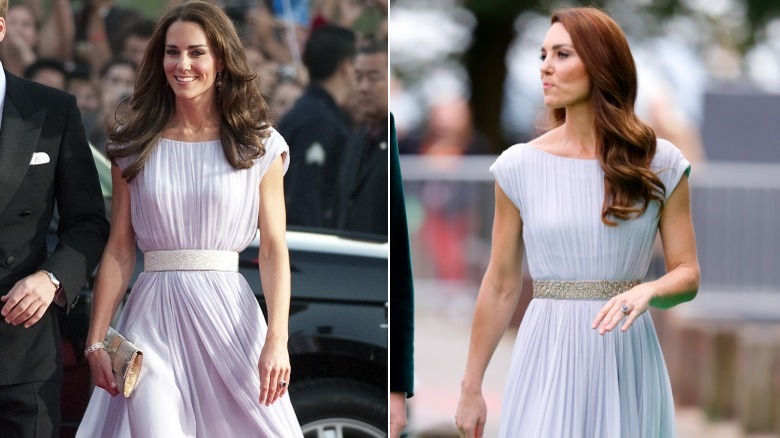 Pool & Max Mumby/indigo/Getty
Kate Middleton never disappoints when it comes to red carpet style — even when she's wearing a dress for the second time! This stunning Alexander McQueen gown had its first outing in 2011 at a BAFTA event in Los Angeles. There, she paired the maxi lilac dress with a sparkly white belt and an equally sparkly clutch. She also wore her hair in a voluminous, wavy style. A decade later, the princess recycled the dress for another event. At the Earthshot Prize Awards in London, she paired the dress with a slightly smaller silver belt, a pair of crystal earrings, and a sleeker hairstyle.
It seems that Kate's decision to rewear this McQueen dress wasn't just about paying homage to her earlier look — it was also about making ethical fashion choices. As the Express reported, the event's organizers requested guests "consider the environment when choosing their outfit." Clearly, Kate was careful to reuse old clothes and accessories to help promote eco-conscious fashion. 
Kate rewore another dress for the BAFTAs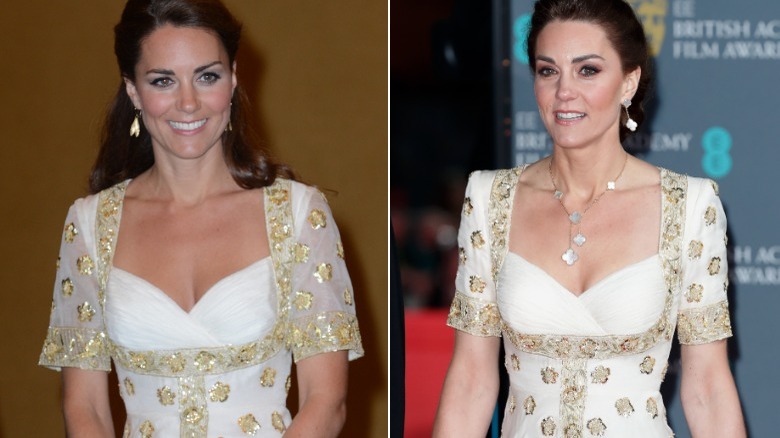 Pool & Max Mumby/indigo/Getty
Kate Middleton is a master of repurposing old outfits to give them a fresh feel, and there's no better example than her gold and white dress by Alexander McQueen. Kate first wore this dress in 2012 during a visit to Malaysia. Back then, the dress had sheer, floaty sleeves, giving it an airy, summery look. When Kate attended the 2020 BAFTA Awards in London, she decided to give the dress another outing — but not before she made a few changes. Apparently, BAFTA was encouraging guests to "make sustainable choices" with their outfits, and Kate certainly delivered.
For its second outing, the dress was given a brand new pair of sleeves. This time, they were slightly padded, with a more opaque, fitted look. Amazingly, the small change completely transformed the dress. Kate also changed up the look by wearing a dramatic pendant necklace by Arpels, a pair of matching drop earrings, and a chic up-do. 
Kate altered her black floral dress to wear again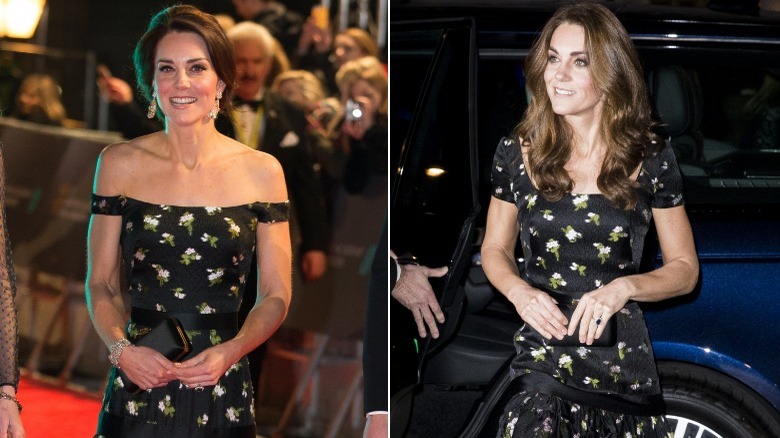 Wpa Pool & Tristan Fewings/Getty
In yet another red carpet redo, Kate Middleton repurposed this beautiful floor length Alexander McQueen gown for two different events. She first wore the dress in 2017 at the BAFTAs. Back then, it had a drop shoulder design that left Kate's shoulders bare. Two years later, at an event at London's Portrait Gallery, Kate wore the dress again — but this time, the dress had a pair of cap sleeves and a rounded neckline.
While the sleeve alteration may have simply been a way of keeping the outfit fresh, there's a chance it was also about making her wardrobe a little more formal as Kate gets closer to the throne. As royal fashion expert Miranda Holder told the Express, citing this dress as one example, "it is likely that we will see her wardrobe become more formal and appropriate for her position."
The stunning gown features a black satin fabric with a white and green floral print and a skirt with a ribboned tier design.
Kate has worn her teal Jenny Packham gown multiple times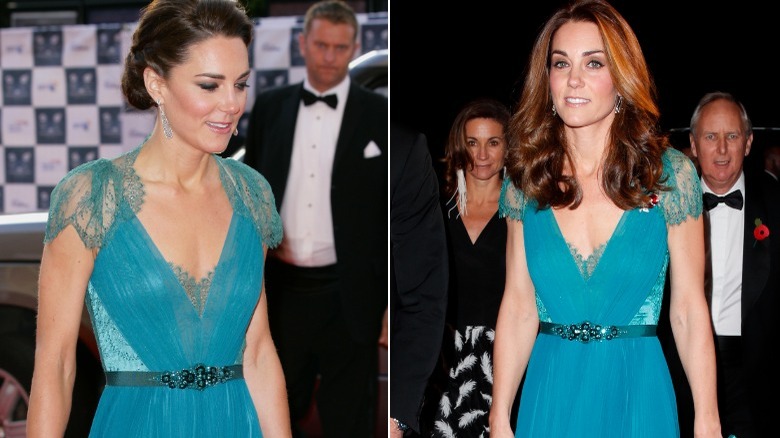 Max Mumby/indigo & Max Mumby/indigo/Getty
Jenny Packham is one of Kate Middleton's favorite designers, so it came as no surprise when the princess decided to rewear this stunning teal gown with lace cap sleeves, a lace back, and a plunging neckline. Kate first donned this eye-catching dress in 2012 during an Olympics event at Royal Albert Hall. On that occasion, she paired the floor-length chiffon gown with a matching teal clutch by Packham, a pair of sparkly drop earrings, platform sandals, and a swept-back braided up-do. Then, in 2018, she rewore the dress while attending the Tusk Conservation Awards. Once again, she paired the dress with the same teal clutch and the same Jimmy Choo sandals — but this time, she wore her hair down in bouncy curls.
The dress appeared to be a custom version of Packham's Aspen bridal gown, which featured a similar chiffon-lace design.
Kate has worn her tartan coat dress several times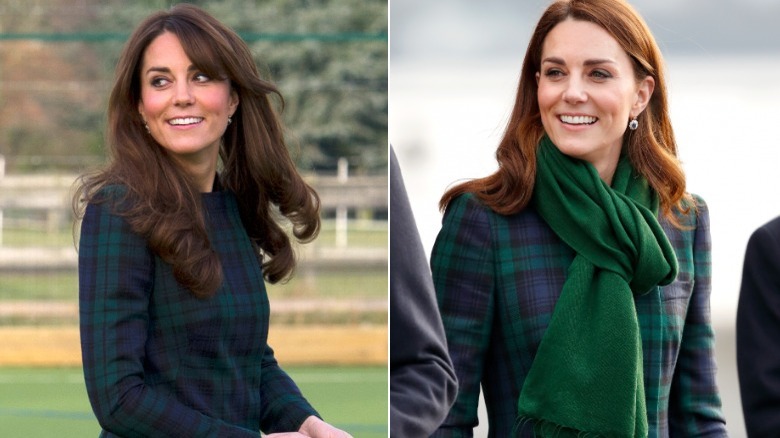 Wpa Pool & Max Mumby/indigo/Getty
Every girl needs a good coat in her closet — and Kate Middleton seems to have a great one. Kate's round-necked Alexander McQueen coat dress features a dark green and blue tartan pattern, a buttonless design, and a flared skirt, making it perfect for staying warm and looking chic at the same time.
Kate loves to pull this coat out for appearances in Scotland. She first wore the coat back in November 2012 during a visit to St. Andrew's School. She paired the coat dress with black tights and black knee-high boots — but that didn't stop her from picking up a field hockey stick and playing with some children from the school.
She wore the coat again in January 2019 during the opening of a branch of the Victoria & Albert Museum in Dundee, Scotland. On this occasion, she wore black tights, black heels, and black gloves, along with an emerald scarf. Talk about Scottish chic!
Kate rewore her red blazer to celebrate the English women's rugby team in 2022
Kate Middleton has a long-running obsession with the retail company Zara. In fact, the princess has been known to wear the high-street brand on dozensof occasions. One of Kate's favorite Zara staples is her textured tweed red blazer. Kate has worn the blazer to several casual sporting events. In February 2022, the princess wore the blazer while on a visit to Copenhagen. She also wore the blazer in June 2021 during a soccer match and in October 2022 in a Twitter video in which she voiced her support of the English women's rugby team (whose color, of course, is red).
While Kate likely loves to wear this blazer to support English sports teams, there may be another reason why it's had so many outings. As royal commentator Amanda Matta told the Express, red is "a power color." "Royals wear bold colours to convey force and self-assurance," she said. And what could be a better message on a match day?
Kate repurposed a Gucci blouse after wearing it backwards
Kate Middleton has worn this purple Gucci blouse twice — and according to some fashion fans, she actually wore it backward once!
The princess first wore the blouse in March 2019 at an event in Kennington. Then, she wore the top again in December 2020 during an Instagram Q&A as part of her work with the Place2Be charity. On the first occasion, Kate was seen wearing the blouse with the large pussycat bow backward. According to the product image on Net-a-Porter, the blouse is meant to be worn with the buttons at the back — but Kate decided to put the buttons at the front instead. Clearly, Kate took some fashion liberties with this one — and we have to say, her alteration to the top definitely worked!
Kate has gotten a lot of use out of her military-style McQueen blouse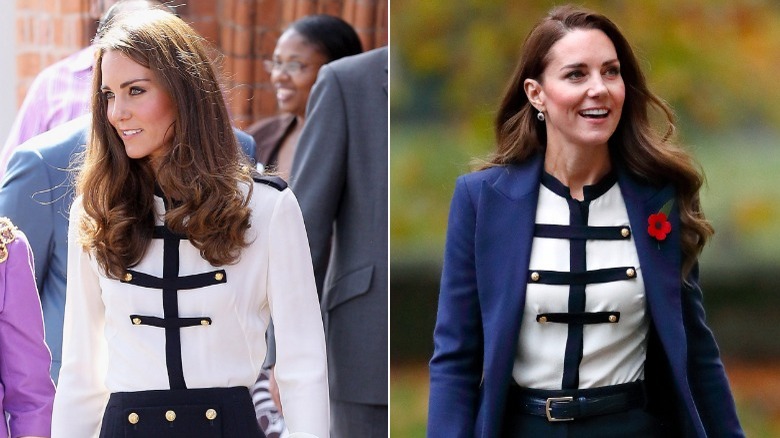 Chris Jackson & Max Mumby/indigo/Getty
Every now and then, Kate Middleton loves to whip out a (subtly) themed outfit. For instance, just take this military-style Alexander McQueen blouse. Kate has worn the blouse twice on military-related occasions. First, she wore the top in 2011 during a visit to Birmingham, along with a matching navy skirt with gold buttons. Then, a decade later, she pulled the top out again for a trip to London's Imperial War Museum, this time pairing the top with a pair of fitted trousers and a navy coat.
As the Express noted, Kate actually broke royal protocol at the museum by taking the coat off to really show off her blouse. Usually, royals are expected to keep their outerwear on. But who could blame her? We can't think of a more appropriate outfit for the occasion than this nautical top!