Why A Dry Manicure Might Be Better For Your Nails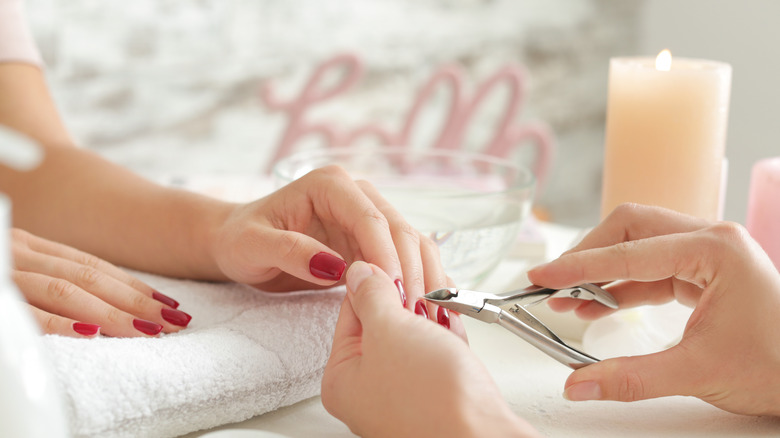 Pixel-Shot/Shutterstock
For many of us, the most relaxing part of a manicure is sitting back and letting our hands soak in warm water for a little while. It's a blissful time when we don't have to attend to phone calls or text messages, worries about work, or anything else stressful that's going on in our lives. All we have to do is be present and feel our anxiety wash away in the water. But it might surprise you to learn that what feels like your manicure's highlight can be quite damaging to your nails.
Soaking your nails is an age-old practice because it cleans them while also softening your cuticles so the manicurist can cut them easier. While these are the generally accepted benefits of this practice, the snags associated with it are often overlooked. Further, we're often advised to stay away from water as much as possible to preserve our manicures, which seems contradictory after soaking earlier. 
As Carolann Sanchez Shapiro, the founder and CEO of Can Can Parleur, explained to Elite Daily, "Water causes your pores to open, and when you apply polish on a nail with open pores, the polish will lift and it won't last as long." Don't worry, this doesn't mean you should skip out on manicures altogether. All you have to do is ask for a dry or waterless manicure at your next nail appointment. 
Why you should consider switching to a dry manicure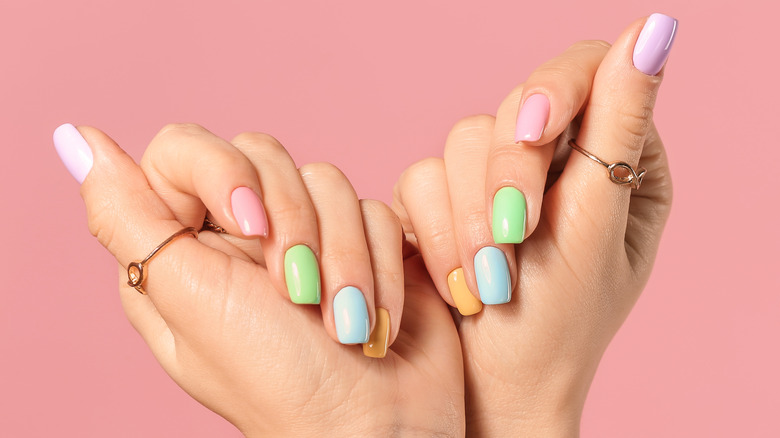 Pixel-Shot/Shutterstock
A dry manicure follows the same basic steps as a standard manicure, with one noticeable exception — you guessed it; you don't soak your nails. Instead of soaking, your manicurist will likely ask you to wash and sanitize your hands before using cuticle oil to soften the cuticles and prep them for your manicure. If you're concerned about missing out on the relaxation that comes with soaking, don't worry because your manicurist will usually give you a relaxing hand massage to provide the pampering you need. 
Dry manicures are steadily gaining popularity because of their many clear benefits. First, a dry manicure is much more hygienic because your salon likely uses the same set of bowls for all of its clients, and things can get quite unsanitary as a result. As Shapiro clarified to Well+Good, "A lot of salons don't have the time or the staff to clean their tubs or bowls." In fact, "More than 70 percent of women have fungal infections in their nails, and the majority of the time it's due to this cleanliness issue."
If you lead a busy life but still want to indulge in some self-care, a dry manicure is ideal. It's a lot less time-consuming than your standard manicure because you're skipping out on the soaking. Depending on your technician's speed, you might even be able to schedule your next nail appointment during your lunch break instead of waiting for the weekend. 
A dry manicure is better for overall nail health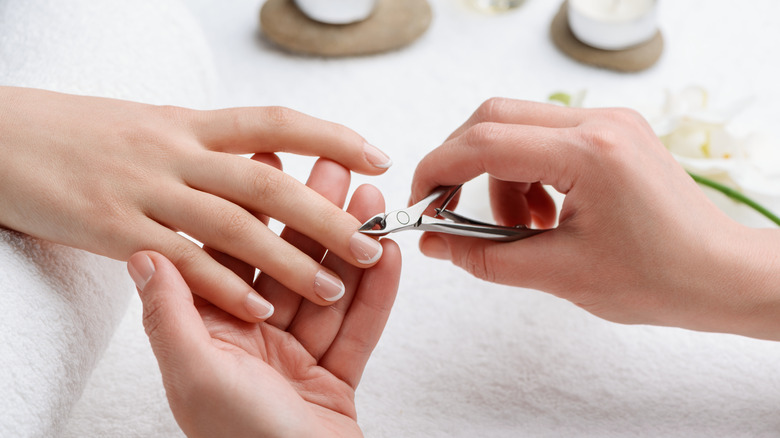 Yuriy Golub/Shutterstock
When you're setting aside time and money for a manicure, you expect it to last, and with a dry manicure, you get that benefit tenfold. As Rachel Apfel Glass, the founder of Glosslab, explained to InStyle: "Waterless manicures last longer than normal manicure/pedicure procedures as it prevents any pre-nail cracking." She added, "Your cuticles absorb water and therefore peel back faster as they are susceptible to cracking, which leads to your nail polish chipping earlier." 
This also means that a dry manicure is a better option for cuticle health and maintenance because it doesn't lead to peeling. A dry manicure also spares your nails from water exposure. When you keep your porous nails immersed in water, they absorb it and expand before contracting back to their original state upon drying. This cycle can be damaging to your nails by causing them to become flexible and brittle, per Well+Good.
A dry manicure is also a better option for the environment. It's no secret that the soak requires water that will go straight down the drain after incredibly short usage. It might seem like a relatively small bowl, but we're at a crucial time when every little choice makes a big difference. Further, since there's no chance of cross-contamination with a dry manicure, it's well-suited to people susceptible to infections such as those with diabetes.