Supermodels' Kids Who Look Just Like Their Famous Parents
David M. Benett/Getty Images
It can be easy to spot a mother-daughter pair or mother-son pair, with their similar appearances and gestures. Supermodels, of course, are no different. Many of the world's most famous supermodels have children who are now grown, making it simple to spot their similarities. In fact, many of them have even followed in their famous parents' footsteps with an impressive modeling career themselves. And the ones who chose to only dabble in the industry or go another route entirely are making their mark in their own chosen paths.
While Kaia Gerber, daughter of Cindy Crawford and Randy Gerber, may be one of the most well-known supermodel offspring, many others are also making their mark. From Lila Grace Moss-Hack, daughter of Kate Moss and Jefferson Hack, and Grier Hammond Henchy, who calls Brooke Shields "Mom," to Leni Klum, Heidi Klum and Seal's model daughter, and Sailor Brinkley-Cook, who's unmistakably Christie Brinkley's daughter, these supermodels' kids look just like their famous parents.
Kaia Gerber is Cindy Crawford's 'mini me'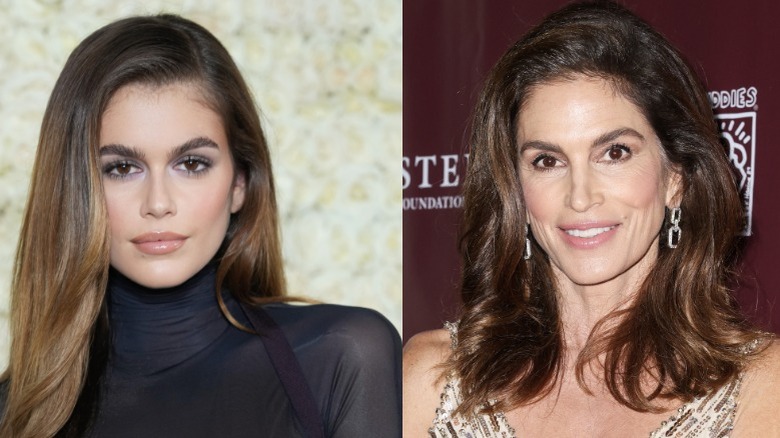 Kevin Mazur & Alexander Tamargo/Getty
Kaia Gerber, daughter of the iconic Cindy Crawford and entrepreneur Randy Gerber, is the spitting image of her mom. Gerber, an ambassador for YSL Beauté and the face of Celine, has modeled for iconic brands such as Prada and Chanel.
The young model has also been doing it for some time. Though her first experience was a Versace ad at age 10, her parents wouldn't allow her to model regularly until she turned 16. "I'm only 21, and I feel like I've lived a whole life already. Having the opportunity to travel taught me so much from such a young age. I got this really amazing education," she said in a January 2023 interview for Elle, adding, "Being surrounded by so many creatives shaped my taste."
Having a supermodel mom has its perks, such as getting advice from the best. "Be on time. Take the time to learn people's names, and be nice to everyone. If you're not grateful and happy to be there, there's someone who would be" are some examples, Gerber said. "Even when I was really tired, or wanted to go home, or felt lonely, I would remind myself how lucky I was." As Crawford told Net-A-Porter, "You hope that all of the advice and guidance and role modeling that you did sticks."
Crawford also encouraged her daughter to journal to capture her experiences for the future. This is something that comes naturally to Gerber, who's an avid reader.
Lila Grace Moss-Hack is following in the footsteps of supermodel mom Kate Moss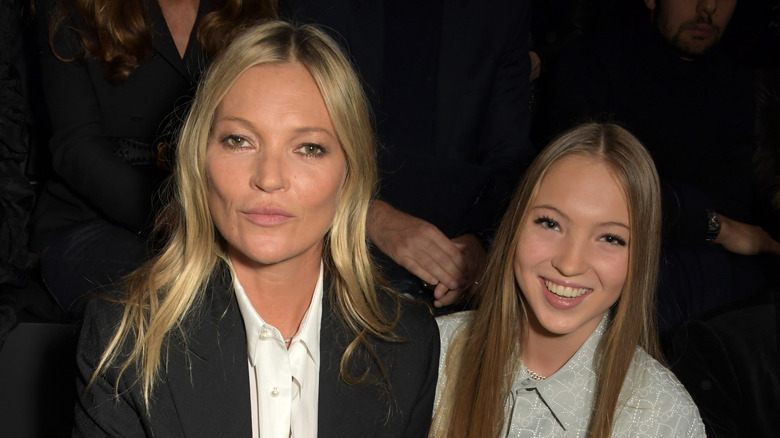 David M. Benett/Getty Images
In the 1990s, Kate Moss rose to fame for her Calvin Klein ads, her tiny frame which helped launch the mid-'90s "heroin chic" fad, and her tumultuous relationship with Johnny Depp.
In September 2002, the supermodel gave birth to a daughter named Lila, whom she shares with her ex, Jefferson Hack. Today, Lila Grace Moss-Hack is all grown up and looks just like her famous mom. The two have even walked the runway together during Paris Fashion Week in 2021, an event which marked Moss' return to the runway.
Moss-Hack, who's signed to her mother's Kate Moss Agency, initially made her modeling debut as the face of Marc Jacobs' campaign in 2018. "Lila's strong character, demeanor and great beauty was already very apparent," Jacobs said of the young model in an Instagram post, going on to reminisce about meeting her mom for the first time. "This past July is the last time I saw Lila when Kate brought her to the set ... It was a bit surreal to have Kate in the studio with Lila as it brought back memories..."
In November 2020, Moss told British Vogue how she felt upon seeing her daughter on the runway for the first time in an earlier show. "I was really nervous for her," she said, adding, "When she came out we were like, 'She's doing it! She's doing it!' Yeah, I was really proud."
Grace Burns has become 'the muse' for her supermodel mom, Christy Turlington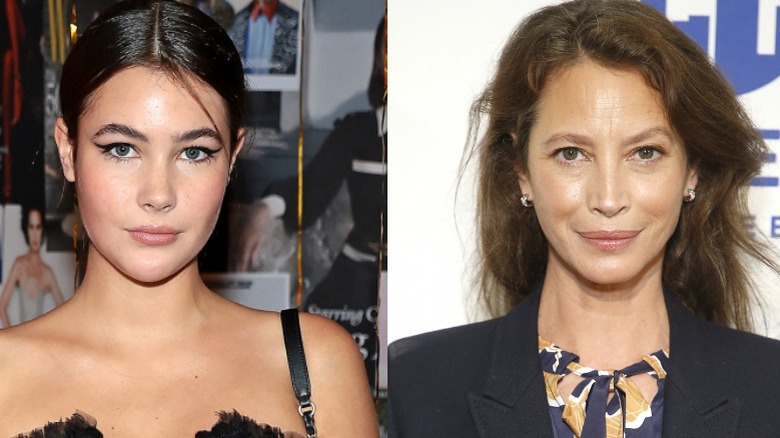 Dimitrios Kambouris & John Lamparski/Getty & undefined
Grace Burns, daughter of supermodel Christy Turlington and actor Edward Burns, shares her parents' good looks and talent. Stepping out with her mother, it's clear how much the two resemble one another.
In October 2022, the mother-daughter duo posed for pictures at W Magazine's 50th anniversary celebration in New York City. Both stunned in black dresses for the event — the supermodel in a short black look with long sleeves and her daughter in a strapless lace dress with bow.
Like Kaia Gerber and Lila Grace Moss-Hack, Grace is also following her mother's lead by entering the modeling world. Just a month before the pair's NYC outing, the supermodel shared her daughter's cover photo for Muse to Instagram. Alongside the image, she wrote, "She's my MUSE @musemagazine and she's PERFECT @theperfectmagazine @graciebrns I love you."
We can't wait to see what the young model does next!
Leni Klum is now a model just like her famous mom, Heidi Klum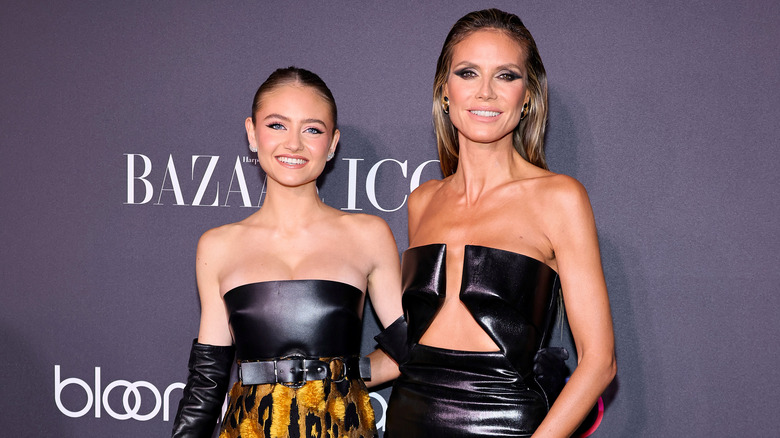 Theo Wargo/Getty Images
In 2020, Heidi Klum's daughter, Leni Klum, whom the supermodel shares with ex-husband Seal, turned 16 and was deemed old enough to model, according to her protective mom. "I always thought she was too young. We always also decided to keep the children out of the public eye," Heidi told People TV, explaining that, while her daughter received many offers to model over the years, she always turned them down. "But she's driving a car now, she's 16, so I figured if you can do that, you can also model now if this is what you wish to do."
As it turns out, Leni enjoys it just as much as her famous mom, the longtime host of "America's Next Top Model" and judge on "America's Got Talent." "She kind of comes [on set] and looks and learns not just what I do but also what all the different people are doing on a TV set," the supermodel said of her daughter's introduction to the industry. "When you're that age you're still trying to figure out who you are, what you want to be and kind of see for the first time what are all these different jobs to make a TV show happen. She does want to do what I do."
Lily-Rose Depp, her mother's doppelganger, has become the face of her generation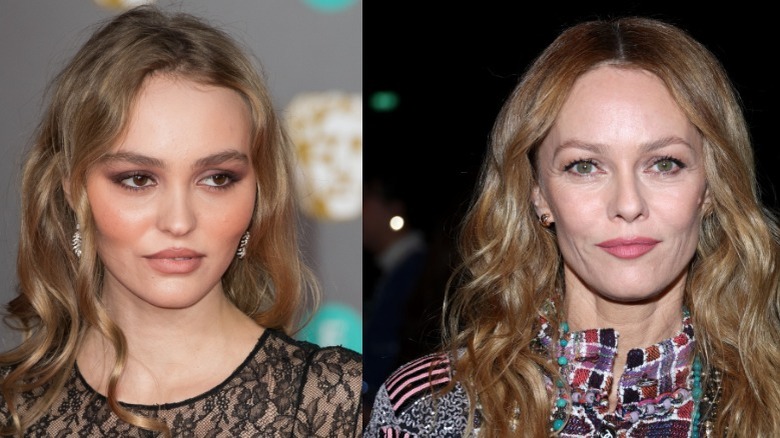 Jeff Spicer & Pascal Le Segretain/Getty & undefined
Lily-Rose Depp, daughter of French model-singer-actress Vanessa Paradis and actor Johnny Depp, has become a household name. Considering she grew up surrounded by fashion, it's no wonder she's been enamored ever since. "Chanel has always been part of my life," she told Vogue in 2016. "My mom has worked with them since she was 18 and I've gone to the store with her since I was little. There are pictures of me literally in diapers wearing her Chanel pumps." Late Chanel head honcho Karl Lagerfeld had spoken fondly of the young model. "Lily-Rose is a young girl from a new generation with all the qualities of a star," he said.
In addition to being the "face of Chanel No 5 L'Eau" and gracing numerous magazine covers, Lily-Rose is following in the acting footsteps of her talented dad. She's already starred in a handful of films, including "La Danseuse," "Yoga Hosers," "Planetarium," and "The King," starring alongside big names including Timothée Chalamet and Natalie Portman as well as her father.
The media attention, though, is something she was already used to as the child of famous parents. "I'm obviously used to the media attention because I grew up with it, but my parents shielded me and my brother as much as they could. It's only recently that they've gotten more interested in the dull things that I do," she told Vogue.
Sistine Stallone inherited her famous parents' looks and talent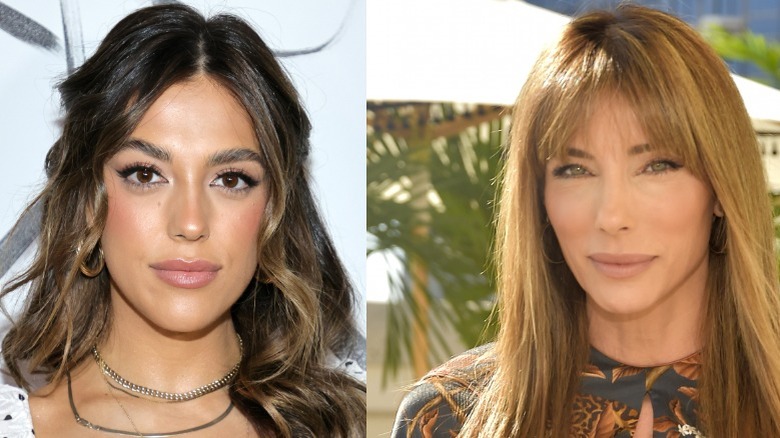 Jamie Mccarthy & Stefanie Keenan/Getty
Sistine Stallone gets her good looks and talent from her model-turned-skincare entrepreneur mom, Jennifer Flavin, and her actor dad, the iconic Sylvestor Stallone. As a teen, Sistine thought she'd follow in her mother's footsteps as a model. "I don't enjoy acting as much as I love modeling. I was drawn to the art and craftsmanship of what goes into creating unique images," she told Vogue in 2016.
However, the acting bug did hit eventually, as she starred in 2019's "47 Meters Down: Uncaged" and 2021's "Midnight in the Switchgrass," appearing alongside the legendary Bruce Willis as well as real-life couple Megan Fox and Machine Gun Kelly. Additionally, Sistine hosts a podcast called "Unwaxed" with her sister, Sophia Stallone.
The model-actress-podcast host has developed a strong work ethic from her former supermodel mom, who made a name for herself in the modeling world in the early 1990s. Watching her own mother struggle to pay the bills influenced Jennifer's drive early on. "I stayed really focused because I didn't have a backup plan," she once told Haute Living. What are some of the lessons mom has shared with her daughter? "She has taught me to show up on time and be willing to do what it takes to deliver the photographer's vision," Sistine told Vogue, "arrive a little bit early, stay a little bit later, and work as hard as you can in between."
Brooke Shields' daughter, Grier Hammond Henchy, possesses her mom's looks and interests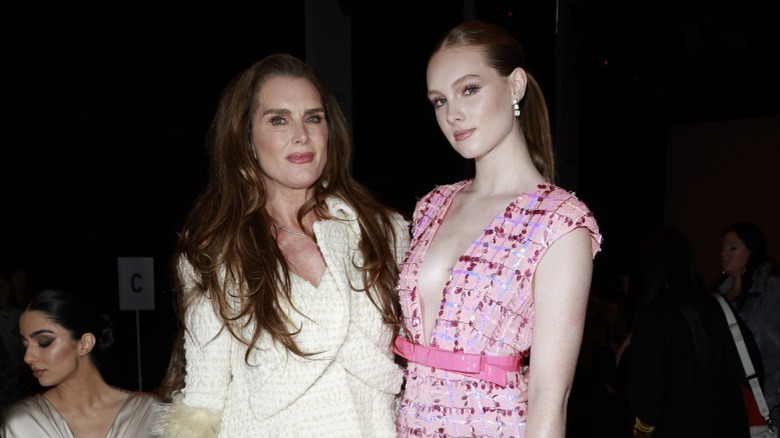 Jason Mendez/Getty
Just like some of her fellow supermodel moms, Brooke Shields wanted to shield her daughters from the pitfalls of fame. "I think they need to really have as much of a conventional upbringing as you can in New York City, with kids their own age, and not be thrown into something with all the pressure," the star said in a 2017 interview with the New York Post.
In the same interview, she mentioned that her younger daughter, Grier Hammond Henchy, had been hinting of an interest in modeling. In 2022, Shields decided to give her then-15-year-old daughter some training when they were offered the opportunity to model together for Victoria's Secret's Intergenerational Mother's Day campaign. "It was very emotional and it was as if I was watching my baby girl grow up right in front of my eyes," Shields told InStyle. "It was truly a proud moment to be able to model alongside my daughter for such a meaningful campaign."
Modeling seems to come naturally for Hammond Henchy, who loves fashion and often goes snooping around her mother's closet! "If I want to know where anything good that I have is, and I can't find it in my closet, I know exactly where to find it. It's her!" Shields said with a laugh during a November 2021 interview with People.
It's hard to tell Sailor Brinkley-Cook apart from her iconic mom, Christie Brinkley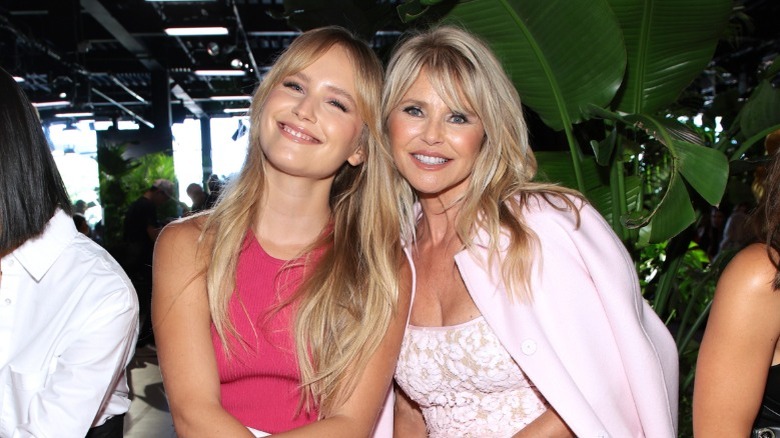 Dimitrios Kambouris/Getty
When it comes to this supermodel mother-daughter duo, it can be difficult to tell them apart! Christie Brinkley and younger daughter Sailor Brinkley-Cook, whom Brinkley shares with ex-husband Peter Cook, can often be spotted seated front row at fashion shows and even have shared the modeling spotlight during events such as Elie Tahari's 2019 show during New York Fashion Week.
Modeling apparently comes naturally for the striking young blonde, who also shared the spotlight with Brinkley and her older sister, Alexa Ray Joel, whose dad is Brinkley's ex-husband Billy Joel, when the group was asked to pose together for the Sports Illustrated Swimsuit Edition in 2017 – a moment Brinkley almost "couldn't even believe."
The supermodel had famously appeared in the magazine eight times from 1975 to 2004 and is the only model to ever grace the front cover three years in a row (or even two years in a row, for that matter). "This is a real full circle moment for me," Brinkley said while on set. "How many years ago, I was that insecure girl hoping that I would be good enough for the magazine. So to see my daughters now having the same thoughts I had, and to be able to see them actually be there on the job, was definitely a big moment."
Anna Cleveland shares her iconic mother's unique look and love for artistic endeavors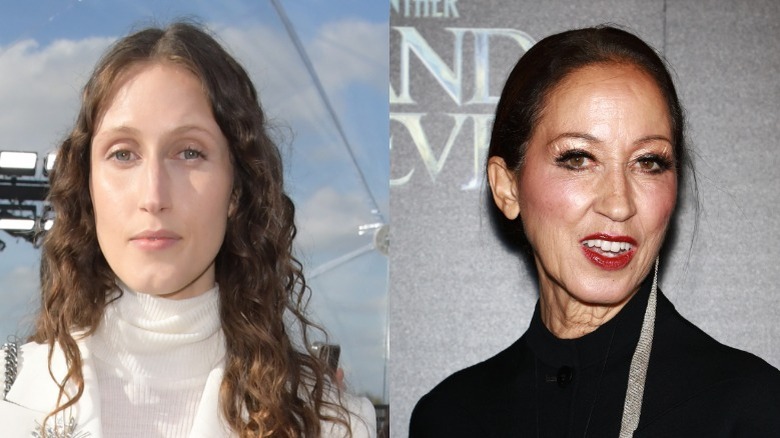 David M. Benett & Arturo Holmes/Getty
Supermodel Anna Cleveland is truly the younger version of her supermodel mom, Pat Cleveland, with their oval-shaped faces and heart-shaped lips. Anna has followed in the same footsteps as her mother, who, starting in the 1960s, graced the covers of Vogue and Vanity Fair, ran in the same circles as the iconic Andy Warhol, and was even painted by Salvador Dali.
The pair also have additional creative pursuits: Pat is a recording artist, while Anna is an actress and dancer. "I'm really proud of her," Pat told L'Officiel in 2021. Despite her solid standing within the industry now, Anna spoke about once struggling to define her own identity in an earlier interview for CNN alongside her mother. "Being my mother's daughter, I went through a phase where I thought, is it really my thing, or is it her thing? At a certain point, I kind of rejected it," she said. "And in that time, I found how much fashion brought me to life and it was something that inspired me."
They also spoke about embracing their unique looks, which have set them apart in the industry. "I have very long features," said Anna. "I learned to love that ... I started to realize this long feature is who I am, and I better accept and roll with it." To which her mother responded with, "Truly. New looks rock the boat, and they break the mold..."
Anansa Sims inherited her legendary supermodel mom's beauty and intellect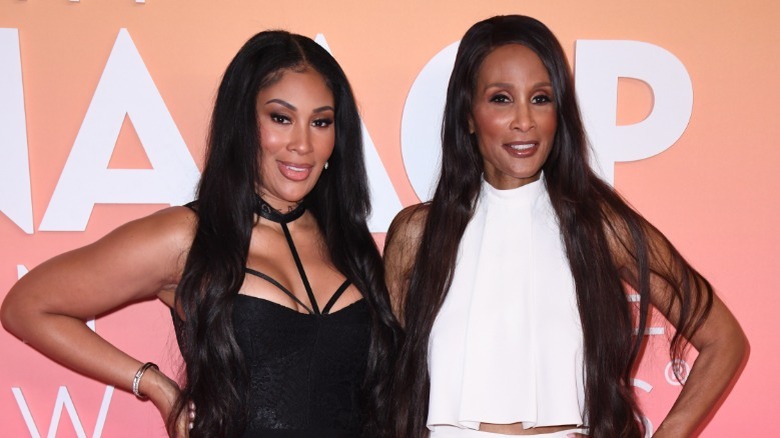 Mark Gunter/Getty
Anansa Sims, daughter of the legendary Beverly Johnson, shares her mother's beauty and intellect. Posing together on the red carpet more than once over the years, their connection is obvious. In a personal essay for Vogue's September 2009 issue, Johnson, who made history as the first African-American woman to grace the cover of Vogue, wrote that, apart from making modeling history, the only other "thrilling thing" that happened in her life was the birth of her daughter. 
Sims dabbled a bit in modeling early on. In 2009, the curvy Sims appeared in a spread for Glamour alongside plus-sized models Ashley Graham, Kate Dillon, Amy Lemons, Lizzie Miller, Crystal Renn, and Jennie Runk in an inclusive effort to feature all types of bodies that are beautiful.
Despite her modeling experience, Sims decided to carve her own path separate from her mother. According to her Instagram bio, she earned a Master of Business Administration and a Bachelor of Arts. Forging a more traditional academic path is actually not all that different from her mother, who had studied law in Boston before her modeling career took off. The wife, mom of four, and stepmom of two, as her bio notes, also loves real estate and is an advocate for self-love, something we've garnered as much from her appearance in Glamour.
Georgia May Jagger has her mom's model looks and her rock star dad's famous smile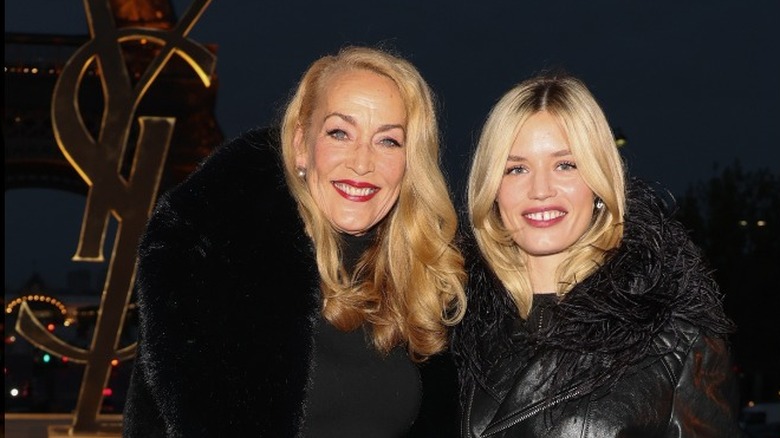 Pascal Le Segretain/Getty
Georgia May Jagger's last name can't hide her famous lineage. She's the daughter of the legendary Mick Jagger and his former model ex-wife, Jerry Hall. Georgia May has clearly followed in her mother's footsteps in fashion. In early 2021, Georgia May had been newly signed to CAA Fashion. While she shares her mother's blonde hair and model looks, she's got her father's famous mouth — her gap teeth have served as her defining feature, setting her apart from the pack.
The model has not only been featured on the covers of Vogue, Elle, and Harper's Bazaar, but she's also done ad campaigns for the likes of Chanel, Versace, and Miu Miu. Her brand partnerships have included Just Cavalli and Angel by Thierry Mugler fragrances, with her latest being with the jewelry company Pandora.
It probably comes as no surprise then that her older sister, Elizabeth Jagger, has also been bitten by the modeling bug, strutting down the runway for Tommy Hilfiger and Vivienne Westwood and appearing in ad campaigns for multiple brands.
Brooklyn Beckham is the image of his 'posh' model mom and soccer star dad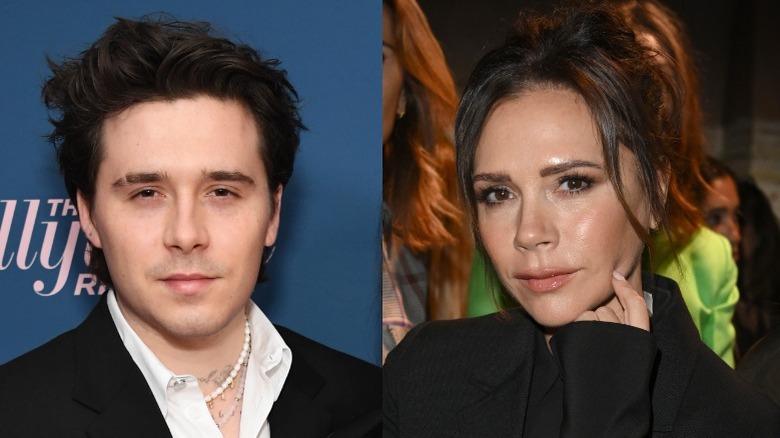 Jon Kopaloff & Jeff Spicer/bfc/Getty
While thus far we've featured the daughters of supermodels, sons can look just like their supermodel moms as well! Brooklyn Beckham, son of former Spice Girl and model-turned-fashion designer Victoria Beckham and soccer star dad David Beckham, has his mother's love of fashion.
In 2014, Brooklyn made his modeling debut when he posed at the young age of 15 for the cover of Man About Town magazine, a high-end men's publication published twice a year. The Daily Mail remarked at the time that the young Beckham had his "dad's looks and m[o]m's pout."
These days, Brooklyn is still modeling along with his other professional pursuits, which include photography and cooking. He's also become an environmental activist passionate about the importance of sustainability, which has impacted his sense of style. While his designer of choice for red carpet events is Dior, he told GQ that he stopped spending tons of money on clothes because he used to buy too much and "never wear any of it." "People who want to still buy clothes really should go and shop from sustainable and eco-friendly brands. There's so many out there that are doing good when it comes to ethical sourcing of fabrics and materials," he said.
Lily McMenamy displays the same unconventional beauty as her supermodel mom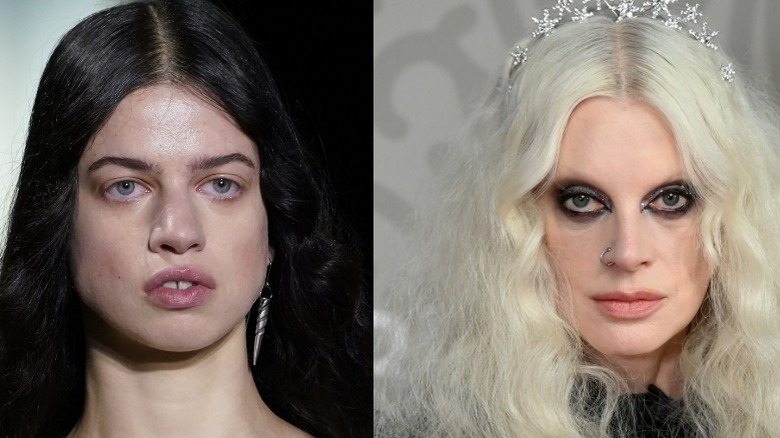 Peter White & Dave J Hogan/Getty
Lily McMenamy has appeared at fashion shows since she was a baby when her mother, supermodel Kristen McMenamy, carried her down the runway for Chanel. In the more than 10 years since making her runway debut for Saint Laurent during Paris Fashion Week in 2012, Lily has made just as much of a mark on the industry as her supermodel mom. In 2018, Vogue even named the pair "fashion's coolest mother-daughter duo."
i-D described their unique look and style as "a new kind of beauty that was more about the sublime than the anodyne," which "prioriti[z]ed the majesty of poise over the dullness of perfection." A look at Lily and Kristen's individual Instagram pages makes it difficult to tell them apart. Both leave their bio blank, using their eclectic display of modeling images, akin to works of art, to tell their stories.