Princess Margaret Was Never The Same After Her Divorce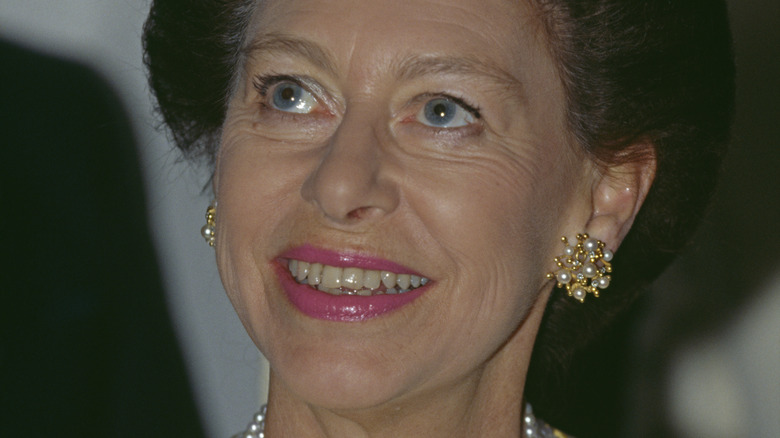 Georges De Keerle/Getty Images
Though divorce in the monarchy is now common, there were generations of royals who stayed in loveless marriages due to the aristocracy's disapproval of divorce. Quite a few rules (and laws) have applied to royal family members getting engaged, married, and divorced throughout history. Princess Margaret, Queen Elizabeth II's younger sister, is a perfect example. When she was in her early 20s, Margaret engaged in a love affair with Group Captain Peter Townsend, who was married with children. Though he got divorced and subsequently proposed to Margaret, the couple faced many hurdles. Ultimately, Margaret and Townsend ended their engagement, sparking a series of tragic romances for the princess.
After Townsend, a 26-year-old Margaret felt pressured to settle down. She eventually accepted a proposal from photographer Antony Armstrong-Jones, and the two got married with all the pomp and circumstance you'd expect from a royal wedding. At the center of royal and aristocratic circles throughout the 1960s, their marriage was fraught with affairs, drama, and  Townsend fathering a child with another woman. When they finally separated in 1976 after years of whispers, Margaret and Antony were on their last leg as a couple. Two years later, they got divorced, and everything changed.
Margaret divorced in 1978, breaking centuries-old royal tradition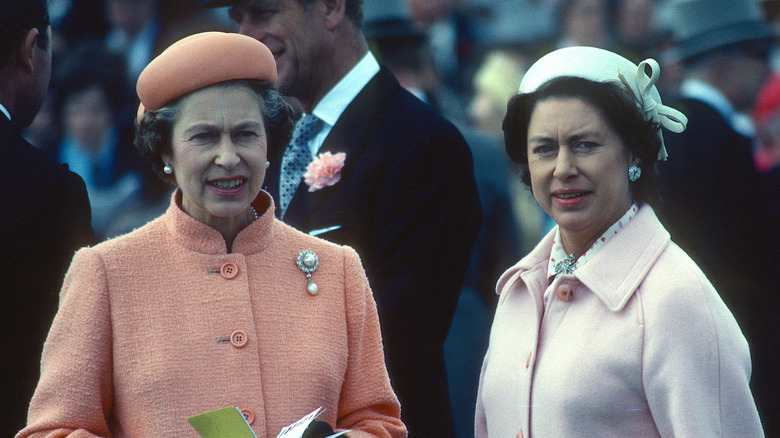 Anwar Hussein/Getty Images
Though they maintained that divorce was not in the cards, two years after Princess Margaret and Antony Armstrong-Jones announced their separation, they officially dissolved their marriage. While royal break-ups are now commonplace — look at Queen Elizabeth's children, King Charles III, Princess Anne, and Prince Andrew — Margaret's divorce rocked the monarchy and the world. Having been married for 18 years, Margaret and Antony's relationship was irreparably damaged. On the heels of the divorce announcement, a spokesman for Margaret told The New York Times that, though they were once committed to one another, Margaret and Antony had passed their breaking point.
"The marriage has broken down and the couple have lived apart for two years," the spokesman said. "These are obviously the grounds for divorce. Naturally, Princess Margaret and Lord Snowdon will continue to see each other on the same friendly basis as they have with each other over the last two years."
Margaret's divorce became the first royal split since King Henry VIII and Anne of Cleaves — and that separation dates back to 1540. Whether she intended to or not, Margaret paved the way for future royal divorces, though it's still frowned upon.
She became the first 'paparazzi princess'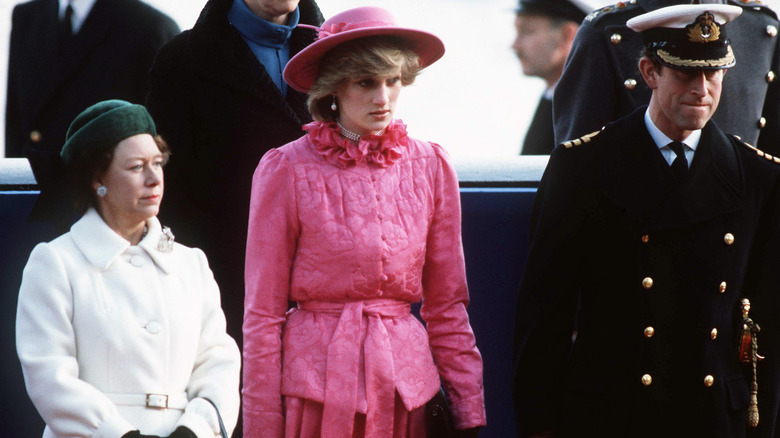 Anwar Hussein/Getty Images
Simply Googling "Diana Spencer" shows how ferocious the paparazzi was when it came to snapping her photo. In many instances, the pursuits became hostile, violent, and invasive. However, there wouldn't have been the precedent for such interest in a royal without Princess Margaret, and after she got divorced from Antony Armstrong-Jones, she became the first "paparazzi princess." As the first royal in centuries to get divorced (and thanks to her reputation for indulging in the finer things in life), Margaret was essentially seen as a source of entertainment ripe for judgment by the public and press. 
To make matters worse, Margaret's divorce came at a point when her approval rating among the British public was at an all-time low. When The New York Times reported on her separation in 1978, the publication detailed just how criticized Margaret had become due to the overwhelming attitude that she was not fulfilling her duties as a royal. A member of the British Parliament had dubbed Margaret both a "parasite" and "an embarrassment to the whole nation." To say that she faced the wrath of the press and the public before any other modern royal family member is an understatement.
Margaret had a surprising reaction to her divorce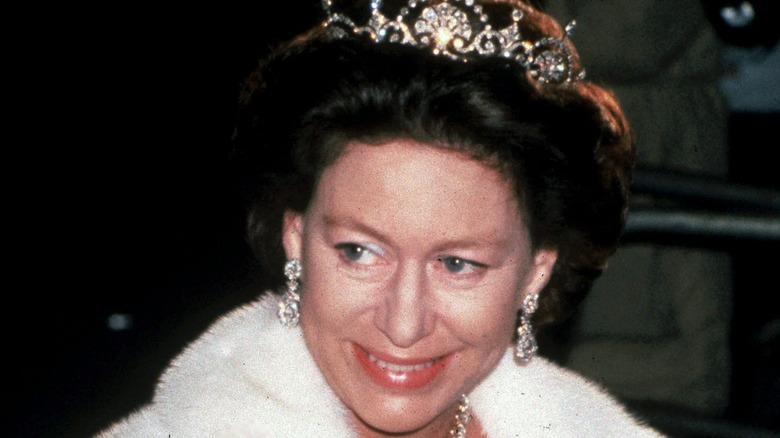 Kypros/Getty Images
Amid Princess Margaret's divorce from Antony Armstrong-Jones came rather damning photos of her with a much younger lover, Roddy Llewellyn. Though infidelity on both Margaret and Antony's parts was the worst kept secret of their marriage, the photos taken of the princess and Llewellyn while on vacation in the Caribbean provided the opportunity Antony needed to officially pull the plug. In classic tabloid fashion, the photos of the princess in a bikini and enjoying the company of a much younger man hit the front pages. Her first reaction, as told by friend Anne Tennant, was, "Heavens, what have I done?"
Nevertheless, Margaret seemed to know that divorce from Antony was her only choice if she ever wanted to pursue a relationship with Llewellyn — or simply live a simpler, happier life. When Antony formally pursued divorce, he sent the news to Margaret through her secretary, Lord Napier, who detailed how the princess responded to the blow. Instead of breaking down in tears, asking what went wrong, or lashing out in anger, the natural response to going through a breakup, Margaret simply responded, "Oh, I see. Thank you, Nigel. I think that's the best news you've ever given me."
The princess was hospitalized shortly after her divorce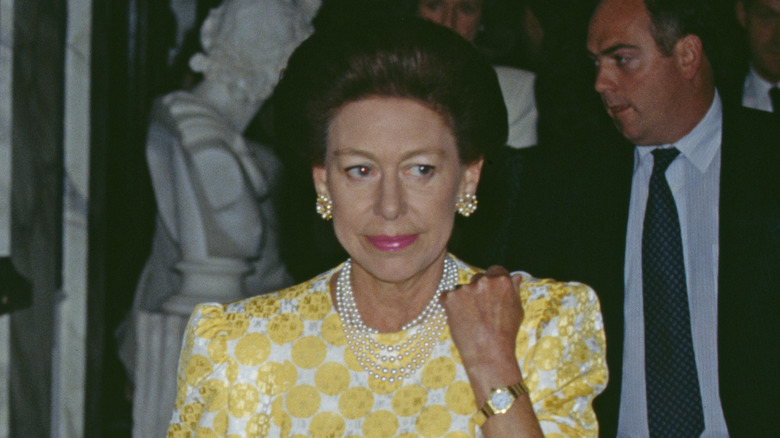 Georges De Keerle/Getty Images
It's well known that Princess Margaret indulged in alcohol, cigarettes, and the finest things life as a royal had to offer. Understandably, her health took a serious downturn, and she underwent a series of operations and hospital stays to sort things out. Margaret checked in to the King Edward VII Hospital in London in the immediate wake of her divorce, and it seems as though her time ensconced behind medical walls allowed her to ride the wave rather than be drowned by it.
The princess was treated for both hepatitis and gastroenteritis during her stay. Still, her health battles didn't stop the press from going after her, Antony Armstrong-Jones, and the story of their divorce. In what only appeared as a bit of a snap in retaliation, during his ex-wife's hospital stay, Antony told reporters, "I hope you will give support and encouragement to Princess Margaret when she comes out of the hospital and goes about her duties again."
However, Antony's public support of the princess was short-lived. Just as the divorce was finalized, whispers about Antony and Lucy Lindsay-Hogg, who worked with Antony on a film project two years prior, were growing louder. The two would go on to get married in 1978, the same year that Antony and Margaret's divorce was finalized.
Margaret dedicated herself to her new relationship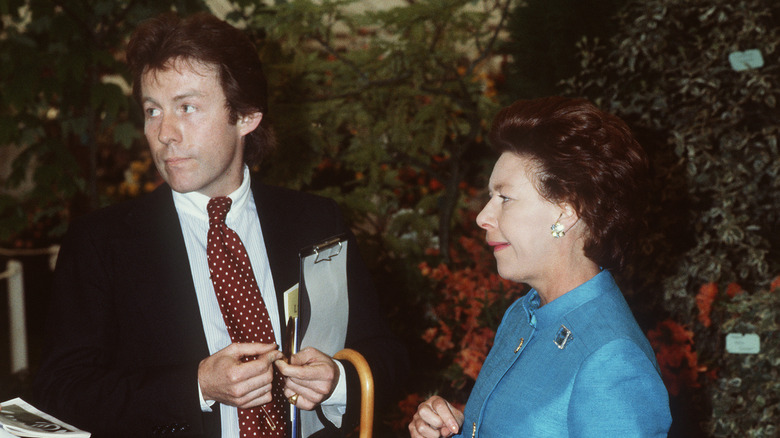 Anwar Hussein/Getty Images
Though her relationship with Roddy Llewellyn came at the expense of her marriage to Antony Armstrong-Jones, Princess Margaret threw herself into the relationship as the dust around her divorce settled. In the early 1970s, Margaret was said to be incredibly unhappy, and her life was certainly at a tipping point. Her official biographer, Christopher Warwick, told Vanity Fair of her life shortly before Roddy Llewellyn came into the picture: "The early '70s, I think, was the unhappiest part of her life — from around '71, '72, right through until they separated. She was drinking too much ... she would have her Famous Grouse [whiskey] and water ... and she was very lonely. And then, of course, that's the time when she met Roddy Llewellyn."
As things between the princess and Llewellyn, a young landscaper with dreams of making it in the music industry, became more established, Margaret started to call her lover her "darling Angel." Biographer Theo Aronson further told Vanity Fair that Margaret "flung herself wholeheartedly into this new relationship," and with it, pursued her royal role with new enthusiasm. "She slimmed down, she regained her joie de vivre, she tackled all aspects of her life with a new zest," Aronson detailed. Her divorce and new romantic relationship served the princess well for a time.
Roddy saw Margaret more as a mentor than a lover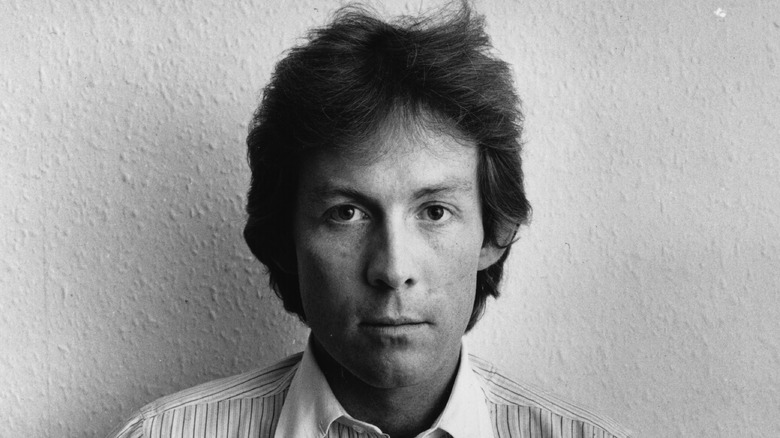 Doug Mckenzie/Getty Images
By the time Princess Margaret and Roddy Llewellyn became romantically involved, the princess knew a thing or two about dating in the public eye. Her failed engagement to Group Captain Peter Townsend in her early 20s prepared her for any curveballs, and surviving a divorce thickened her skin. Despite the trials and tribulations she endured, Margaret never lost her sparkle. As such, Llewellyn came to know Margaret as a lover, a royal, a mentor, and a friend. Later in his life, after Margaret died, the landscaper reflected on their time together and admitted that the princess became more of a mentor to him than anything else.
"I discovered a warm and witty woman, possessing a strong sense of duty and dedication to her country's interests, who has honored me with her friendship since that first house party that was so filled with fun and laughter," Llewellyn told The Telegraph of his relationship with the royal. "In Princess Margaret, I found a fine friend who could steady my restless nature and offer wise counsel," he continued, noting that their relationship, though it had its ups and downs, saw him through a crucial part of life.
Things went downhill for Margaret and Roddy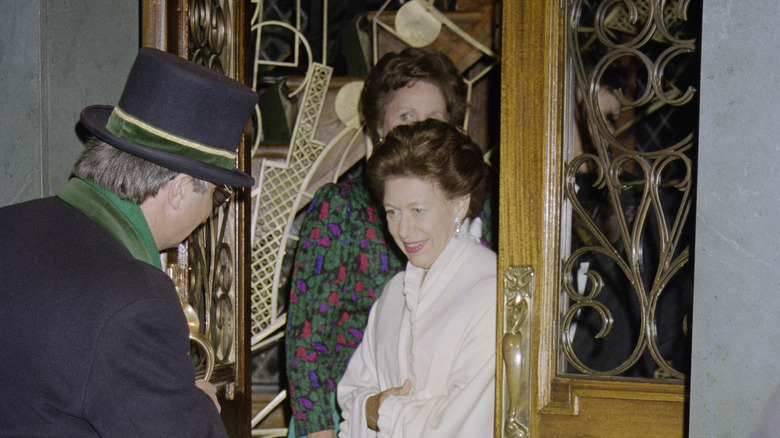 Dave Benett/Getty Images
Though Princess Margaret and Roddy Llewellyn certainly seemed smitten with one another, their relationship faced many obstacles. From the aforementioned scandalous photos and Margaret's divorce to heightened media interest, Llewellyn's time with Margaret had extraordinary highs and supreme lows. Margaret, by all accounts, was in love with Llewellyn. However, he had some doubts.
"For one thing, he was not accustomed to life at so elevated a level," biographer Theo Aronson told Vanity Fair. "The princess, for all her approachability and affection (at least where he was concerned), still lived and behaved like a member of the royal family. In every way — age, wealth, status, experience, and sophistication — she was his superior."
After Llewellyn reportedly admitted that his relationship with the princess was getting more and more difficult to maintain, Margaret was said to have taken a copious amount of sleeping pills — not enough to inflict serious damage, but certainly enough to get her out of royal engagements. A spokesperson said at the time that a significant cold kept Margaret away from the spotlight, but biographer Craig Brown detailed that the princess was in a bad way.
Despite their breakup, Margaret was happy for Roddy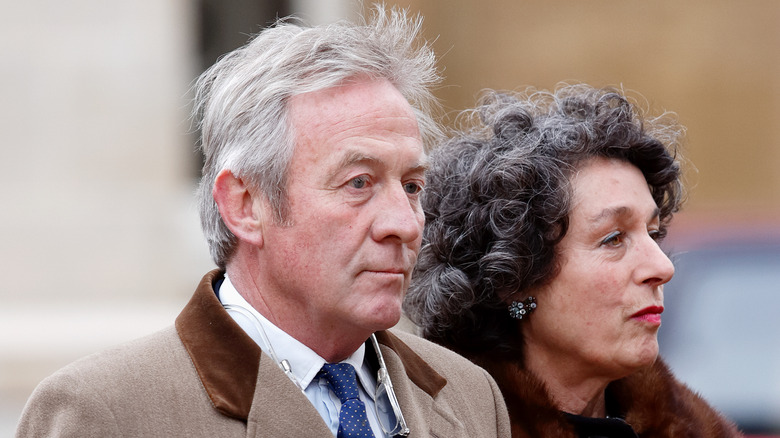 Max Mumby/indigo/Getty Images
Roddy Llewellyn was once quoted as saying of Princess Margaret, "If our relationship ended, life for me would rather lose its point. We dance, we sing, we're generally happy, and I don't see why things should not continue as they are forever." And while the sentiment was rather touching, Llewellyn changed his tune after he met Tatiana Soskin. The two quickly fell in love, and the landscaper-turned-royal-boyfriend ended things with Margaret. Not only had things been a bit sour between them, but the age gap and a lack of shared life experiences moving forward seemed to be a bit of an issue for the couple.
"I'm really very happy for him," Margaret said of the breakup, according to biographer Theo Aronson. Biographer Christopher Warwick, however, told Vanity Fair that the royal swallowed her feelings to move forward.
"She said she didn't mind [the breakup], but she was very good at putting a brave face on when she had to. They'd been together for something like eight years but they still remained friends," Warwick said. "They still saw one another. Roddy and Tatiana would go to Kensington Palace, would have dinner, and would sometimes stay overnight. Margaret would visit them ... Although the relationship between Roddy and Margaret was over, the affection wasn't, and that was an affection that Margaret shared with Tatiana, his wife, too."
Margaret was increasingly lonely following her failed romances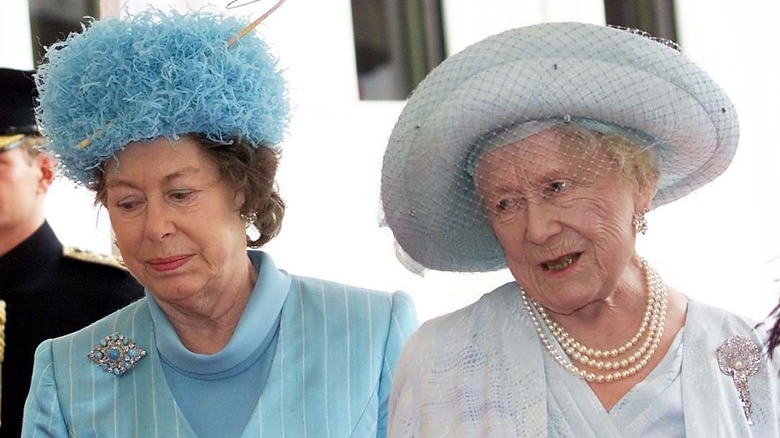 Colin Davey/Getty Images
Any fan of Netflix's hit drama "The Crown" can tell you that Princess Margaret's rule-breaking approach to being a royal is front and center, from her young love with Group Captain Peter Townsend to her scandalous and secretive relationship with Antony Armstrong-Jones leading up to their engagement, her divorce, her affair — the list goes on and on. Of course, Margaret was also a trendsetter in that she marched to the beat of her own drum, indulging in luxuries and insisting her friends call her "Ma'am Darling." She was, in every aspect, an icon. However, her life post-divorce and specifically post-Roddy Llewellyn was notably lonely, and her status as the "spare" royal to Queen Elizabeth II seemed to take hold even more.
Speaking to The Independent, Lesley Manville, who played Margaret in Season 5 of "The Crown," reflected on the royal's comings and goings later in life, noting that she seemed to lose a bit of steam.
"She didn't have a partner anymore. She was getting older. She was making, by all accounts, a decision to be more supportive of her sister," Manville said. "But what was that loneliness really like? What was that time really like? ... I think 'The Crown' is very sympathetic to the royal family. It humanizes them, and it shows that if you prick them, they bleed like anybody else."
Blame for Margaret's decline fell on Queen Elizabeth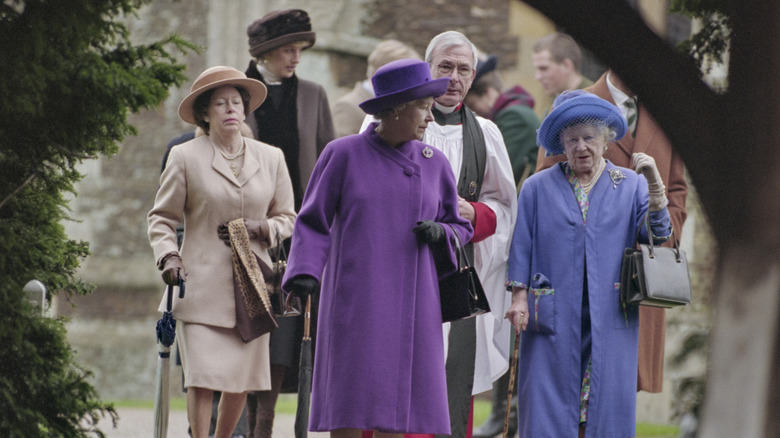 Princess Diana Archive/Getty Images
As Princess Margaret's post-marriage life deteriorated, the public increasingly noticed that she was absent from public life. Some health issues kept her away, but Margaret always had a reputation for indulging in royal splendors, getting paid handsomely, traveling the world, and not appearing at royal engagements or supporting charity work. Her absence became a bit of a problem, and after her death in 2002, the blame for Margaret's decline fell on Queen Elizabeth II. Speaking to mourners, The Guardian asked members of the British public what they thought of Margaret, the queen's influence, and what her life was like in the final years of her life.
"She represented a different age, and that seems long gone, and we haven't really heard of her since," one visitor outside of Buckingham Palace said of the princess in her post-divorce years. "It's not like losing a sister or a friend, like Diana. It's like losing ... a distant aunt." Meanwhile, another member of the public asserted of Margaret's life and loneliness, "It was probably the Queen's fault. The Queen didn't let her keep her hands full. So she filled them with cigarettes."
The princess became a semi-recluse in her final years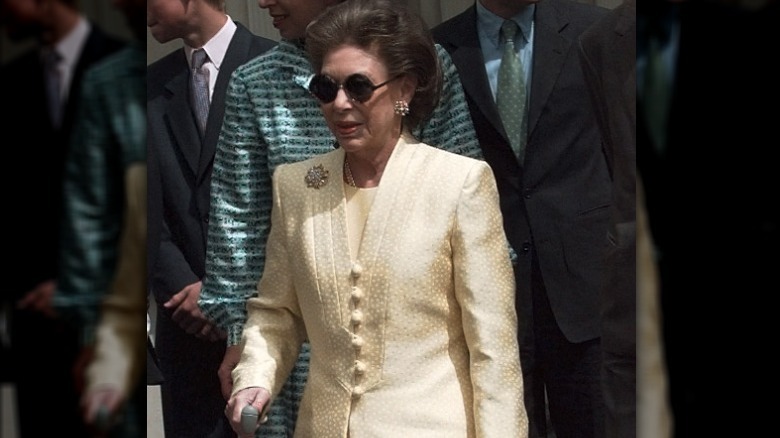 Colin Davey/Getty Images
With her final romance behind her, Princess Margaret's personal life became incredibly quiet and closed off in her later years. Undergoing a series of health issues, including several strokes, the princess all but retreated from public life. Additionally, it certainly did not hold that the members of the public were firmly against her and her lack of dedication to royal work. Due to a combination of poor health and a damaged reputation, Margaret became a semi-recluse by the late 1990s and early 2000s. It was a complete departure from the rule-breaking, fiery young royal that so many had come to know and love.
Writer Gore Vidal noted that her position in life — always second to her older sister — directly contradicted her honesty, intelligence, and personality. Their differing personas were highlighted by royal expert Victoria Arbiter, who explained to Express, "Elizabeth was quite happy for Margaret to be the center of attention because she said, 'If Margaret's there, she makes everybody laugh.' And so it took the pressure off Elizabeth who perhaps was more introverted compared to her mischievous sister." Still, Margaret's final years marked an extraordinary halt to an otherwise vivacious life, with one member of the public telling the Irish Times that she was "paying for her pursuit of pleasure."
Margaret's declining health and death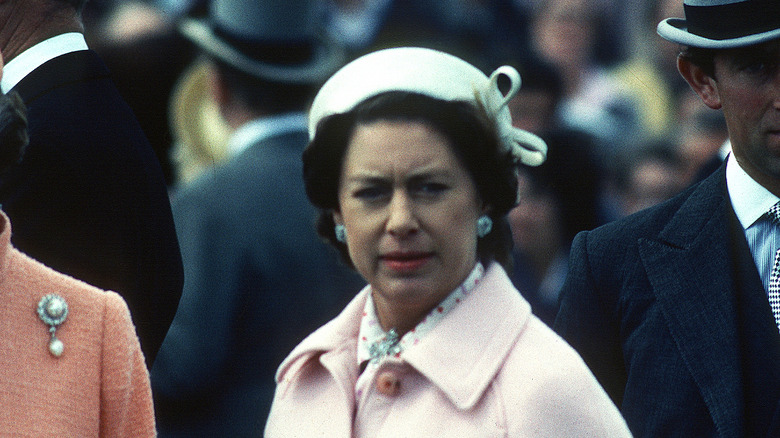 Anwar Hussein/Getty Images
When Princess Margaret died in 2002, the public had sadly become used to not seeing her. She all but escaped the spotlight, leaving unfinished love stories to play out in another space and time. Many will always wonder what would've happened if Margaret and Group Captain Peter Townsend had been allowed to get married. Would Margaret have never gotten divorced? Would she have excelled in her later years and lived as long as her sister, Queen Elizabeth II? Of course, we will never know what could've been, and Margaret's passing marked the end of a life that had descended into tragic stillness.
Yet, her older sister made it known that she was appreciative of Roddy Llewellyn's role in Margaret's life. Lady Anne Glenconner, who introduced Margaret and Llewellyn, recounted that the Queen approached her at Margaret's funeral and thanked her for bridging the gap between the former couple years prior. She revealed, "After Princess Margaret's funeral, the Queen, she said, 'I'd just like to say, Anne, it was rather difficult at moments, but I thank you so much [for] introducing Princess Margaret to Roddy 'cause he made her really happy.'"