What Only True Hallmark Fans Know About Eloise Mumford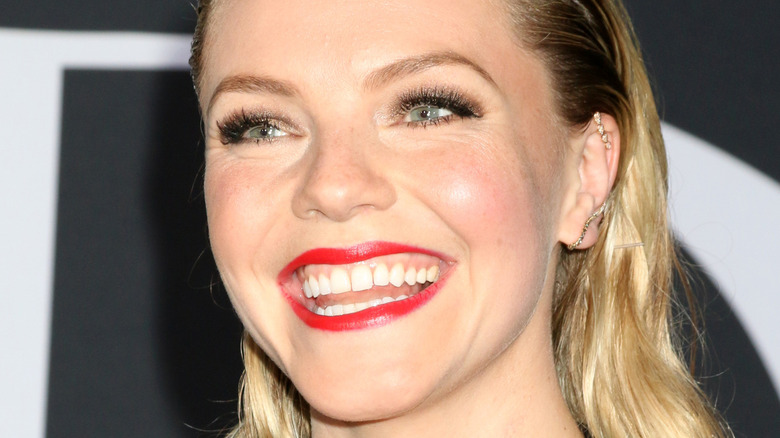 Joe Seer/Shutterstock
Before she became Annie McBride in Hallmark's "The Baker's Son" or Quinn Allan in "One December Night," Eloise Mumford portrayed Lindsay Holloway in the drama series "Lone Star." She also had a recurring role in NBC's "Chicago Fire" from 2017 to 2019 as Hope Jacquinot. The actress not only shines on the small screen but also had a major role in the successful film trilogy series "Fifty Shades" where she starred alongside Dakota Johnson and Jamie Dornan.
A lot has changed for the beautiful actress since she first debuted in the industry in 2008. Despite not having any connections in the entertainment industry, the actress made it all on her own, and she is now among the reigning queens of Hallmark.
The beloved actress continues to flourish on television, and she's set to return to the Hallmark Channel with the Valentine-themed film "Sweeter Than Chocolate" on March 3. What more is there to know about Eloise Mumford? 
The actress debuted on Hallmark through the film Christmas with Holly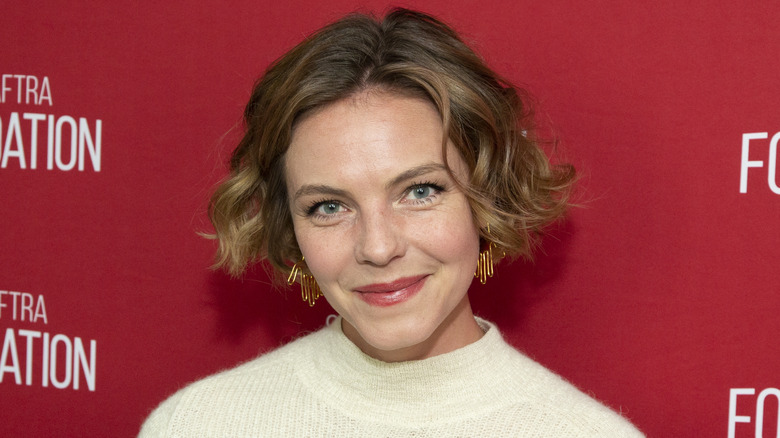 Vincent Sandoval/Getty Images
Eloise Mumford debuted on Hallmark as Maggie Conway in the 2012 film "Christmas with Holly," based on the 2010 book "Christmas Eve at Friday Harbor" by Lisa Kleypas. Mumford and Sean Faris led the film's ensemble cast, which included Alex Paxton-Beesley, Catherine Bérubé, Josie and Lucy Gallina, Daniel Eric Gold, and Dana Watkins.
The movie tells the tale of a young girl who loses her mother and has to live with her three uncles. The child stopped talking after her mother's death, however, things take a turn for the better when her uncle Mark (Faris) meets recently-single toy store owner Maggie Conway (Mumford). The film is a heartwarming exploration of new love, the importance of family, and the holiday spirit.
This project paved the way for a great working relationship between Mumford and the network, and she has since starred in six more Hallmark films.
She was homeschooled until the fifth grade
Mike Coppola/Getty Images
Eloise Mumford originally hails from Olympia, Washington. The actress was homeschooled during her early childhood before joining in-person classes in the fifth grade. She attended multiple local schools, such as Nova Middle School, before transferring to Annie Wright Schools and eventually Capital High School.
Though she first discovered her love of performing through a local production of "South Pacific" at age 7, it was during high school that Mumford began showing serious interest in acting by taking part in different school plays, even performing at Olympia's Capital Playhouse.
She went on to continue her education and graduated in 2009 from New York University's Tisch School of the Arts, where she also studied with the Atlantic Theatre Company's Atlantic Acting School. During that time, Mumford starred in her first short film, "Some Boys Don't Leave" alongside Jesse Eisenberg, and was an understudy for the Broadway production of "Speed the Plow."
The actress is currently in a relationship
If you do not follow Eloise Mumford on her social media accounts, you might not be aware that she's currently in a relationship with fellow Hallmark Channel actor Brett Dalton. Dalton had previously starred in three projects for the network, but the two first appeared alongside each other in the 2021 Hallmark film "One December Night" and quickly sparked dating rumors. Though the couple seems lovey-dovey in the vacation pictures seen on the actress' Instagram account, they were originally very private and didn't post many pictures together.
It was until fans dug deep into their social media accounts that Mumford and Dalton were outed. Along with the rumors linking the pair together, fans started piecing things together after the couple was seen on vacation at Universal Studios together, along with Dalton's daughter. They finally made their relationship official on their socials in August 2022 and have since posted more photos together.
Eloise Mumford is an outdoorsy person
The "Presence of Love" star is an outdoorsy person with an apparent love for hiking, camping, and kayaking. In fact, the whole Mumford family seems to love bonding over outdoor activities.
In August 2021, the actress highlighted a hike she took with her mother on Instagram. She showed the utmost love for both her mom and the beauty of being out in nature, with a caption that read, in part, "My heart can't hold my gratitude for this woman who has taught me the glory of these mountains, the name of every flower, the power in our aching legs. We have 17 miles to hike out ahead of us before bed, and with each step, my gratitude spills out: for the unspeakable beauty of the wild, for my tough + tender body that always carries me through it, and for these moments together — just the sound of our breath, our feet on the ground, one steady step in front of the other, our hearts holding so much as the world spins and spins."
Mumford also seems to enjoy spending time on the water, as she's shared several pics with her dad doing just that.
She stands for what she believes in
Eloise Mumford constantly speaks up on certain issues that she believes in. On her Twitter account, the "Fifty Shades of Grey" star can be seen retweeting posts that support different advocacies and campaigns, including the International Alliance of Theatrical Stage Employees, and encouraging her followers to vote. The actress is not afraid of dipping into political issues if she feels the need to.
Although the actress isn't very active on the platform, her previous tweets are proof that she's not afraid to speak up. She barely uses her account for personal posts but instead is one of the celebrities who utilize their platform to help. She has previously retweeted former president Barack Obama and President Joe Biden. Her last tweet was on February 9, wherein she shared a link to a donation drive, writing, "If you are looking for some way to help during this heartbreaking time in Turkey and Syria, please consider donating to the White Helmets' rescue efforts."