Whering Is The App That Digitizes Your Wardrobe (So You Can Finally Have Cher's Closet From Clueless)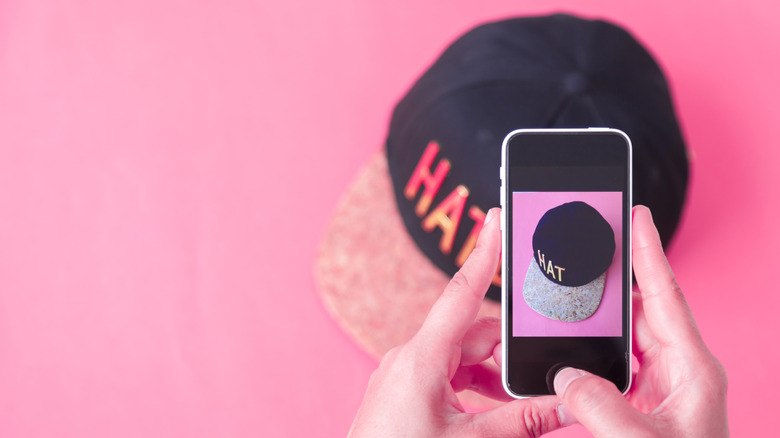 Nitiphonphat/Shutterstock
As with pretty much every aspect of life in the 21st century, fashion is intertwined with technology. Social media users keep their thumbs on the latest styles and popular items by viewing posts from influencers to brands themselves. Many attribute the rise in online shopping to the vanishing of department stores. Brands like Sears and K-Mart have nearly vanished altogether. Many attribute this change to the rise in online shopping. However, more is at play when using technology for your fashion needs.
In 1995, Cher Horowitz (played by Alicia Silverstone) was ahead of her time. In the film "Clueless," Horowitz used a computer to put together outfits. Her computer held images of all of her clothes and paired items for her to wear. Whatever she chose to wear even appeared on a photo of her on the computer's monitor. As "Clueless" quickly approaches its 30th anniversary, the power to digitize one's wardrobe is finally here in the form of a new app called Whering. Here's how it works.
Whering uses your clothes to create outfits for you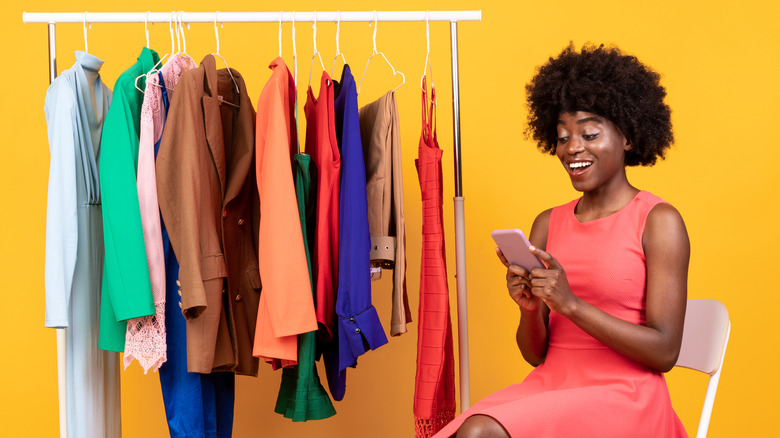 Prostock-studio/Shutterstock
Whering is an app that allows users to upload photos of their clothing items and create outfits just as Cher Horowitz did in "Clueless." Whering not only helps users sort through their clothing inventories but also offers styling tips and makes outfit suggestions with what they already own. If there are items they have their eyes on, Whering users can create a wish list within the app as well. But the app's features do not stop there.
Instead of simply helping users identify what is missing from their wardrobe, Whering suggests sustainable brands to consider before making purchases. The app even offers used clothing items and accessories available for purchase through the app's partnership with Vestiaire Collective, a luxury resale marketplace. As brands and consumers alike try to lighten their impact on the environment, buying used items either from thrift stores or through websites like Vestiaire Collective is all the more important in today's day and age. 
Whering can help you save money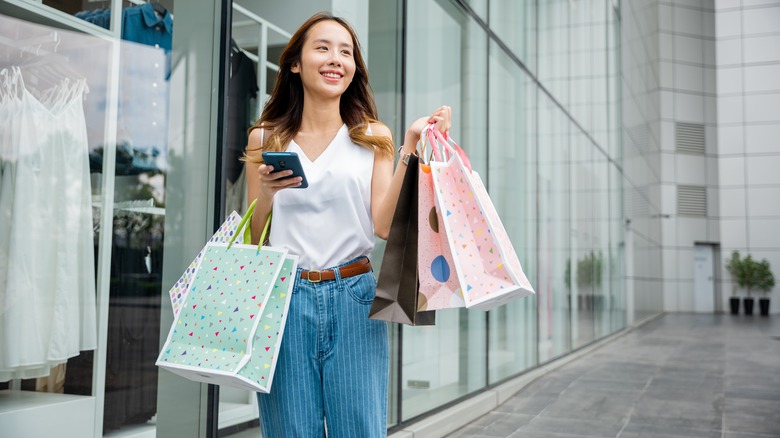 Sorapop Udomsri/Shutterstock
Whering helps users not only shop sustainably but also avoid buying items that they already have. How many times have you been out shopping and then wondered if you already have an item too similar to one that you see at the store? With Whering, you can take your catalog with you (on your phone) to reference anywhere and avoid buying the same thing more than once. This is great for your wallet and for the planet. After all, around 92 million tons of clothing go to landfills each year.
Apps similar to Whering include SYW (Save Your Wardrobe) and Own Kind Outfit Planner. In keeping with environmentally friendly consumerism, SYW partners with clothing and apparel repair or donation companies, allowing users to make their items last longer or find new homes. Own Kind Outfit Planner lets users create collages like mood boards out of their own clothes. Oh, and by the way, all of these apps are free to download.