The One Myth You Need To Stop Believing About Crow's Feet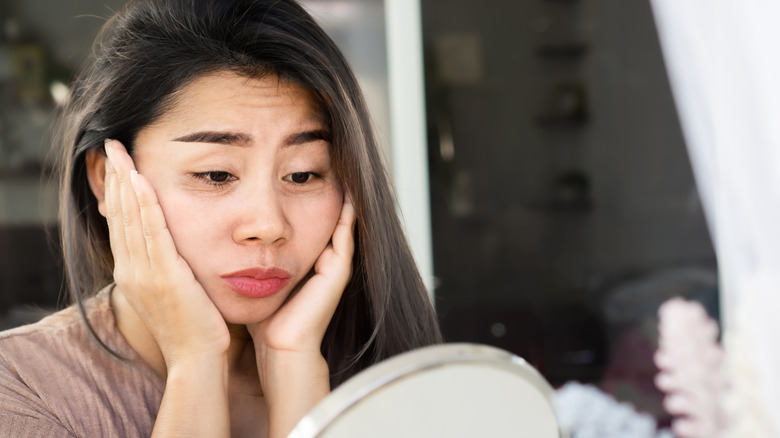 Doucefleur/Shutterstock
First things first — those little lines near your eyes — often referred to as crow's feet — are very common and perfectly lovely. You might see them when you smile or laugh; they form around the outermost edges of your eyes. However, these little eye-framing lines are often one of the many naturally occurring facial features that folks want to prevent or hide. So, we're here with a bit of self-love advice and crow's feet wisdom.
If you've ever seen the Netflix show "Queer Eye," you know grooming expert Jonathan Van Ness. He has a genuine approach to all things beauty-related. And in his book "Over the Top: A Raw Journey to Self-Love," he's quick to remind fans that "comparing ourselves to people on social media is as risky as using WebMD to diagnose yourself. You'll end up way more stressed than before — just don't even go there." So, above all, Van Ness prioritizes a balance of self-acceptance and putting your best self out there each day. And, yes, this holds true even on days when a five-minute self-care activity is all you have time for. With this in mind, he often shares skincare tips celebrating prevention while embracing our unique beauty.
So, using Van Ness as inspiration, we can accept that many of us will experience the fine lines of crow's feet. But, more importantly, that acceptance can include awareness and a few tips and tricks to prevent or minimize them.
There's more to crow's feet than meets the eye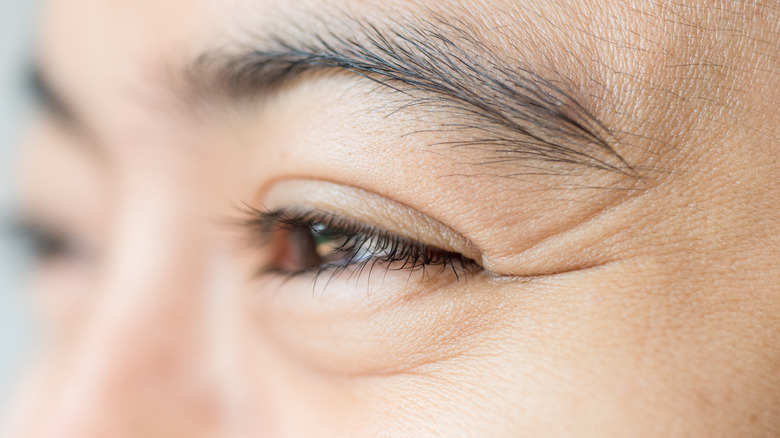 life-literacy/Shutterstock
As the years roll on, our skin changes. Most people will experience a dwindling of the skin's moisture and ability to bounce back, often called its elasticity. And "a combination of loss of skin elasticity and collagen, and skin movement are the main causes of crow's feet," according to Dr. Michael Prager, a doctor in London specializing in medical-based cosmetic treatments. In an interview with Harper's Bazaar, he explains how the thinner skin around the eyes is especially prone to wrinkles as a result.
And Dr. Sophie Shotter adds to Prager's insights that "The skin around the eye also has very few oil glands, meaning it can be prone to dryness, which can exacerbate the look of fine lines." Plus, she says that good old-fashioned gravity plays a role, too — as the eyebrow and forehead areas begin to relax, it can cause downward pressure on the outer corners of the eyes. All of which can add to the effects of crow's feet.
So, on the one hand, crow's feet look like joyful little exclamation points. And with this, it's often thought that these happy expressions cause deepening crow's feet. But Prager and other skincare experts maintain that the more significant concern in the deepening of crow's feet is quite preventable. In fact, there's one bad habit that could be a sneaky cause of wrinkles — from crow's feet and beyond.
Use this tip to slow the development of crow's feet
Prostock-studio/Getty Images
Sure, you might notice crow's feet more when you laugh or smile, but these are not the cause of crow's feet. And although the root cause is loss of elastin and collagen, there is, in fact, a common beauty faux-pas that plays a big role in deepening these lines. A clinical associate professor of dermatology at New York University Medical Center summed it up in an interview with Real Simple. Dr. Doris Day, author of the book "Beyond Beautiful," explains that squinting, more than most facial expressions, will increase the hollowing of crow's feet.
Because the eye skin has less natural oils, sun exposure, Day explains, will hasten the development of crow's feet, especially if you find yourself squinting a lot. So, she suggests using "a moisturizing eye cream that contains antioxidants to keep the area hydrated and prevent damage from free radicals triggered by the environment." As an illustration, Dr. Sam Bunting, a host on TLC's "Extreme Beauty Disasters," suggests to Harper's Bazaar that people should use "sunscreen and antioxidants by day and things that thicken the skin by night." This combination protects the skin's collagen from the daytime sun and helps restore its production cycle at night, which can slow the natural progression of crow's feet.
So,given that laughs and smiles aren't the cause of crow's feet, get out there and embrace all the joys of life. Just be sure to apply that sunscreen, honey.