The Passion Shiloh Jolie-Pitt And Her Dad Both Share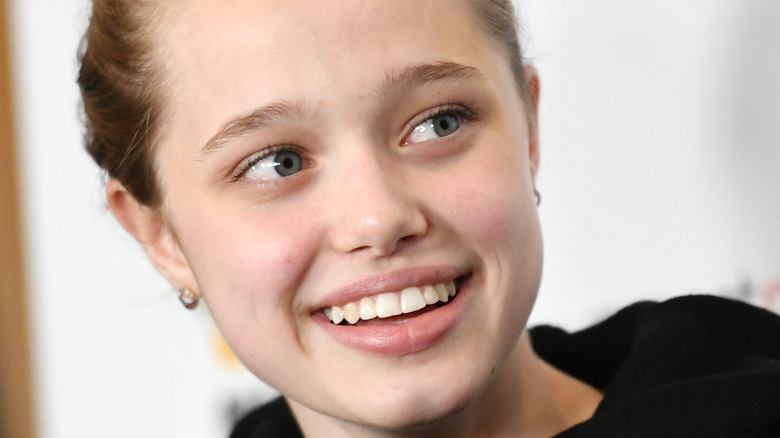 Jc Olivera/Getty Images
Once, Angelina Jolie and Brad Pitt ruled the red carpet as one of the most prominent Hollywood couples ever. When they weren't making headlines for their movie appearances, they were garnering attention for their family news. Before her marriage to Pitt, Jolie had already adopted three children as a single mother: Maddox Chivan, now 21; Zahara Marley, 18; and Pax Thien, 19. Jolie and Pitt went on to have three children together, for a total of six: Shiloh Nouvel, 16, and twins Knox Léon and Vivienne Marcheline, 14. Pitt also adopted the three older children, and they all carry the hyphenated surname Jolie-Pitt. The actors finally wed in 2014, with Jolie wearing a bespoke Versace gown with replicas of the children's drawings sewn into the train.
Sadly, the couple's union fell apart just two years later, and the divorce was anything but amicable. In fact, Jolie and Pitt are still enmeshed in a court battle for custody of their five younger children; Pitt had won joint custody, but the decision was tossed out weeks later after the judge was disqualified from the case. In the meantime, Jolie is adjusting her life to accommodate the kids' right to see their dad. "I would love to live abroad, and will do so as soon as my children are 18," she once told Harper's Bazaar. "Right now, I'm having to base where their father chooses to live." Still, there's no denying that at least one of her children is taking after their father.
Brad Pitt and daughter Shiloh share a love of fancy footwork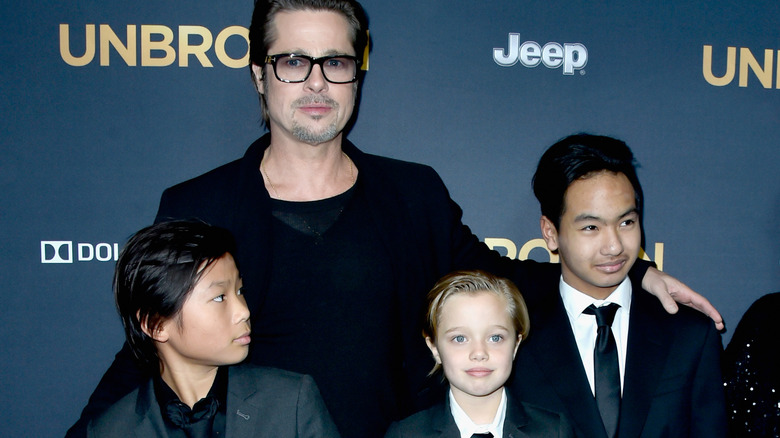 Frazer Harrison/Getty Images
Reports from Us Weekly claim Brad Pitt's relationship with his oldest sons, Maddox and Pax, has soured in recent years. However, the outlet adds that the actor's bond with his four younger children is secure. He "enjoys quiet time" with them when they visit his L.A. residence, and readily travels to see them for special occasions such as Vivienne and Knox's birthday. Pitt's relationship with daughter Shiloh is said to be especially strong; a source once told Life & Style Weekly that "the pair have a loving, fun and authentic relationship and are cut from the same cloth." The father and daughter spend their quality time making art in his studio, playing music, and watching movies. 
They also have a surprising shared interest: dancing. It's hard to imagine the star of "Ocean's Eleven" and "Fight Club" cutting a rug on the dance floor, but Pitt has indeed taken to the art form. He told W Magazine recently, "I found myself enjoying a bit of a dance lately," adding that it "has become part of my future." As for Shiloh, she has been studying dance for about two years with Millennium Dance Complex. The Los Angeles studio offers classes in many dance disciplines, particularly hip-hop and jazz funk.  The experience has not only given her a boost in self-confidence, it has also introduced her to a new group of friends who have bonded over their shared interests.
Shiloh's dance moves have gone viral
Shiloh Jolie-Pitt's dance skills were recently made public when her dance group posted a series of videos of the class busting moves to hits from top arists. Here, you can catch Shiloh dancing to Doja Cat's "Vegas," which went viral in the spring of 2022; she's the one front and center. Shiloh is also seen here in the group's performance of Lizzo's "About Damn Time"; both were choreographed by British talent Hamilton Evans. Most viewers were quite impressed, based on the comments. They noted that while the young Jolie-Pitt is still a little inhibited about letting her personality shine through, her technique is excellent. "Cleanest execution, highlighted the movements of the arms and hands...she does it elegant not aggressive without losing that urban style," one wrote. One of Shiloh's biggest fans, naturally, is her dad. In an interview with Entertainment Tonight, Brad Pitt said that the video of his "beautiful" child "brings a tear to the eye," and joked, "I don't know where she gets it from. I'm Mr. Two Left Feet here." 
Although it's too early to say whether the teen is serious enough about the art to make a career of it, both Pitt and Angelina Jolie would support her if she did. A source recently told Us Weekly, "Brad and Angie are both very proud. They'd have no issue if she wants to turn pro, but they're not pushing it on her by any means."