Will Sarah Ferguson Be At King Charles' Coronation? Here's What We Know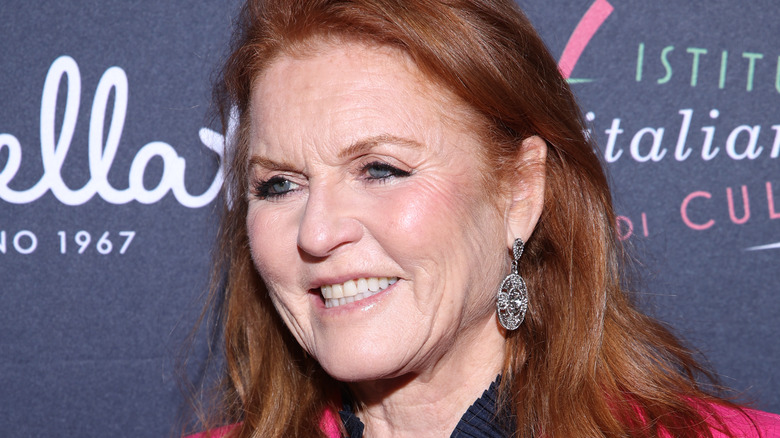 Daniele Venturelli/Getty Images
While it may seem odd to some royal fans that Sarah Ferguson, Duchess of York, who is widely known as Fergie, wouldn't be automatically invited to the upcoming Coronation of King Charles III and his wife Queen Consort Camilla, the truth is that as long-standing as Fergie's relationship with the rest of the royal family is, it has also been very complicated.
Fergie was formerly married to Prince Andrew, brother to King Charles. And while she divorced Andrew in the 1990's, she retained her title of Duchess and has remained on good terms with Prince Andrew, in spite of the recent scandal that saw him settle with Virginia Giuffre for an undisclosed amount of money after she brought him to court accusing him of sexually assaulting her when she was an underage teenager. Sarah Ferguson is also close with the daughters she shares with Andrew, Princess Beatrice and Princess Eugenie, as well as their respective husbands and children.
Despite this closeness, Fergie has, in the past, been long-banned from some of the royal family's most intimate gatherings, like their annual Christmas celebration at Sandringham, which she was finally invited to return to this past year, after 30 years of snubs (via Cosmopolitan). So let's take a look at Fergie's complicated history with royal celebrations.     
Has she received an invitation?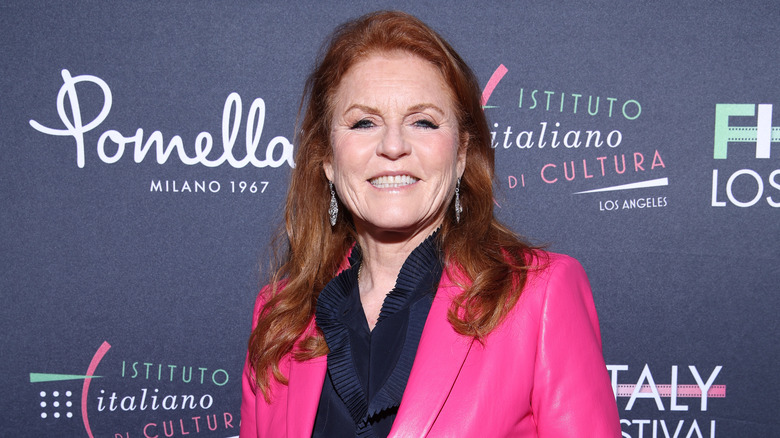 Daniele Venturelli/Getty Images
As of now, Fergie has reportedly not received an invitation to the upcoming coronation of King Charles III and Queen Consort Camilla (via Hello Magazine). And while that may not mean that she won't receive one, as official invitations have not yet gone out, people on the guest list have reportedly been told to save the date in advance of receiving a formal invitation. For instance, Prince Harry and Meghan Markle, Duke and Duchess of Sussex, have been invited, though we do not yet know whether they plan to attend.
Because of Fergie's particularly complicated history of being invited/uninvited to specific royal celebrations, we imagine this could still go either way. So what has happened in the past that has left her on this uncertain ground?
The reason Fergie was not invited to celebrate Christmas at Sandringham for a whopping three decades is because of a scandal that, frankly, pales in comparison to what her ex-husband has now been accused of, which we imagine is at least partially why her ban was lifted. After her split from Prince Andrew in 1992, Sarah Ferguson was photographed at a pool with her then-boyfriend, who was pictured kissing and sucking on her foot. As a result, the late Prince Philip banned her from Christmas celebrations at Sandringham (via Cosmopolitan). When King Charles took the throne in late 2022, he reversed that decision and invited her back.      
Fergie's relationship with Diana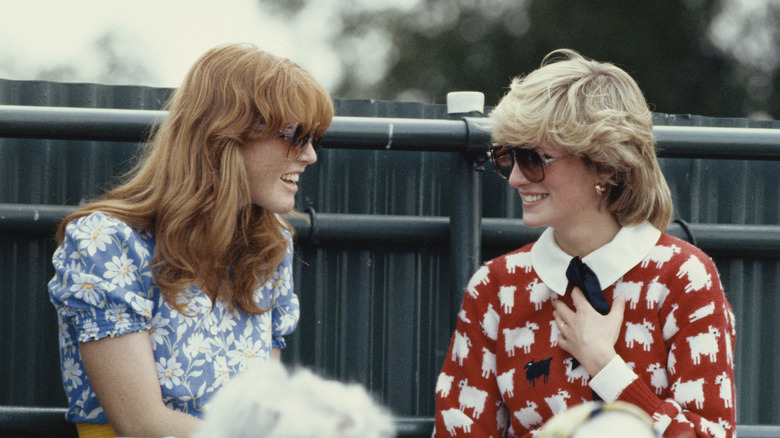 Georges De Keerle/Getty Images
Fergie's lifelong closeness to the late Princess Diana also meant that her feelings were likely complicated where it came to Charles and Camilla. In her 1996 autobiography, Sarah Ferguson said of Diana, "She was two years younger than I, and I strove to support and protect her as I would a younger sister—as I still do today, as a best friend" (via Town and Country Magazine).
Diana and Fergie had been close friends since their teenage years, and were in fact fourth cousins. Their mothers had gone to school together, and so the two future princesses had a relationship with each other before either married into the royal family. Because of this lifelong closeness, the two became natural confidantes when they also became sisters-in-law. And when they each struggled with the immense scrutiny the media put them under while they were married and, later, after they were separated from their respective husbands, they had each other to lean on, to write to, and to confide in. 
While we can only speculate as to what Fergie then truly thinks of Charles' marriage to Camilla, with whom he now-famously cheated on Diana, one could hardly blame her for having complicated feelings about the relationship as a whole and coronation specifically.