Not Just For Dating: Can Bumble BFF Help Create Meaningful Friendships?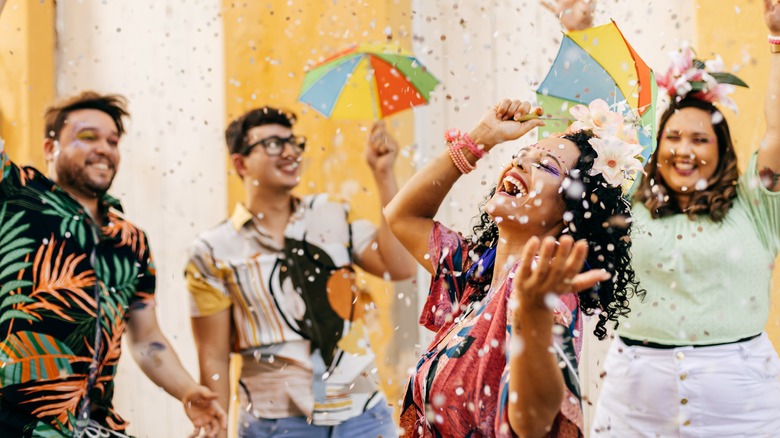 Kleber Cordeiro/Shutterstock
Let's face it, making new friends as an adult is not the easiest thing to accomplish. Changes in career, relationships, or family life can all be reasons why you may notice your friend group depleting with no connections in sight. Dealing with friendships drifting apart can be a depressing time for some, as it is an indicator of the inevitable aging process. On the flip side, others embrace the socially stagnant point in their lives as a time to meet new people. But how?
Making friends as a grown-up is vastly different from when you were younger. As a kid, there were school and extracurricular activities that encouraged camaraderie. In adulthood, unless you're bonding with your coworkers outside of work or hanging out with people from your church, you may find that you have no one to join you for happy hour. Bumble, considered one of the best dating apps, acknowledges that this is a major issue for adults. In 2016, they offered a solution: Bumble BFF.
This extension of Bumble is geared toward platonic friendships. It allows you to swipe just as you would on the dating version, only this time, you're browsing for potential friends instead of lovers. But does Bumble BFF actually foster lifelong friendships? That's one question that remains to be seen.
Be intentional when swiping for friends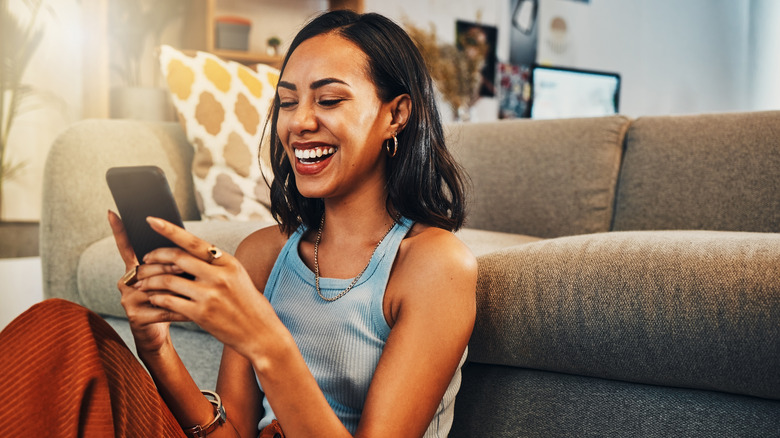 Peopleimages/Getty Images
With any social app, whether for dating, career networking, or making friends, being intentional yields the best results. Danielle Bayard Jackson, Bumble BFF's resident friendship expert, backs this approach. She told Bustle it's best to "let folks know what you're all about and what you're looking for in a new friendship, whether it's an exercise buddy or someone to explore the town with." 
She also suggests the time to read a person's profile. Take a look at their interests and profile badges. This helps you better understand how well you two will mesh with one another. Make sure you're also putting effort into showcasing your interests. Do you teach virtual makeup classes? Are you an animal shelter volunteer? These are all hobbies that should be proudly showcased on your profile.
Being intentional on Bumble BFF also means making your profile as attractive as possible. Jackson suggests uploading at least four photos of yourself and saving the group pics for later. Just as with the dating leg of the site, you want to make sure future friends know who you are. According to The Express Tribune, a study conducted by researchers from Nanyang Technological University Singapore found that selfies offer clues about the type of person you are. Big smiles indicate a kind heart, so be mindful of how you are presenting yourself.
Do Bumble BFF friendships actually last?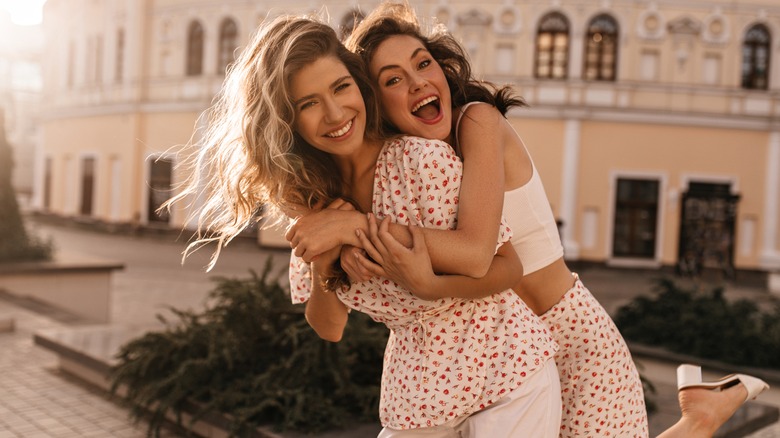 Look Studio/Shutterstock
Lifestyle and business coach Chalene Johnson describes close friends as people who've endured the worst with you yet still pick up your calls during a breakup or offer you affirmations when life gets hard. You might not talk to these individuals daily, but the bond remains untouched. Sadly, Power of Positivity reports that research published in the American Sociological Review found that most Americans only have one close friend. Judging by honest reviews of Bumble BFF, your next bestie may not be waiting for you on the app.
Medium blogger Zulie Rane relocated in 2021 and sought friendships through Bumble BFF. Ultimately, she met three women but found that Bumble BFF focused primarily on the number of connections as opposed to their quality. As Rane put it, Bumble BFF "tries to treat friendship like dating, and that doesn't work."
The Everygirl contributor Beth Gillette also experimented with Bumble BFF in her quest for companions. She reported even bleaker results, concluding that many of her matches were "looking for roommates or were promoters at clubs." Her messages often went unanswered, leaving her with the same sting of rejection she felt when ghosted in the dating world. However, she did concede that the app got her "in a mindset to take chances and meet people IRL."
In the end, the verdict is still out on Bumble BFF's effectiveness. But hey, if you find yourself socially depleted and simply need a buddy to grab Starbucks with, it's worth a try. If you find yourself not making any connections, don't fret. There is a big world outside the internet filled with people likely waiting for someone like you.