How To Dress For A Wedding With A Traditional Aesthetic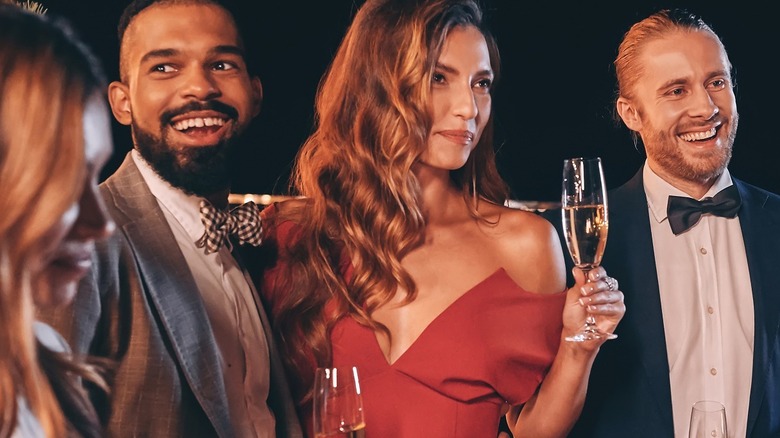 G-Stock Studio/Shutterstock
As a wedding guest, there's very little you have to worry about. You get to show up, watch the people you care about tie the knot, eat free food, and dance the night away. One of the only things you need to concern yourself with is what to wear. You want to show up wearing the right outfit and looking your best. Trust us, there are some things you should definitely wear at a wedding, and some things you should definitely not.
So, what does it mean to look your best? Well, it all depends on the dress code. When you receive a wedding invitation, you'll probably see what the nearlyweds want everyone to wear on their big day. There are many different wedding dress codes. However, if the nearlyweds are going for a more traditional wedding aesthetic, then you'll probably see one of the following requests: white tie, black tie, formal, cocktail, and semi-formal.
While more and more couples are partaking in the un-wedding trend or less traditional wedding ceremonies, there are plenty who still want that traditional wedding feel. We're here to give you some guidance on dress codes that fit the traditional wedding aesthetic and what to wear.
White tie — dressed to perfection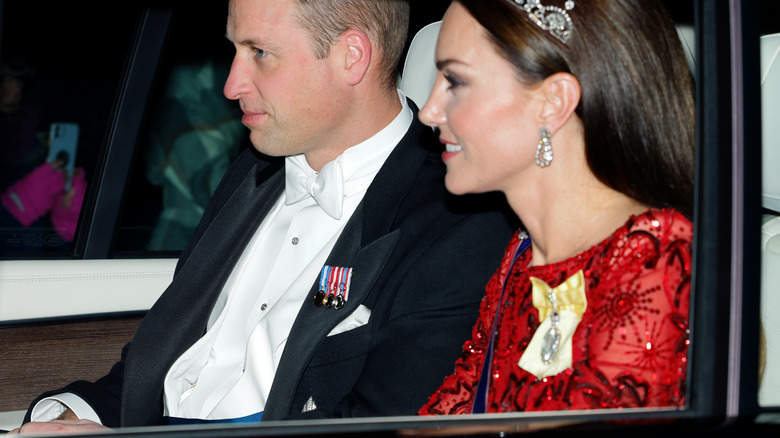 Max Mumby/indigo/Getty Images
If the nearlyweds are shooting for the most elegant traditional aesthetic possible, they may ask their guests to dress in white-tie attire. White tie isn't as common for modern weddings, but it's still an aesthetic that's around. As far as wedding dress codes go, nothing is as lavish and elegant as a white-tie affair. We're talking full-length gowns and tuxedos — think of a White House event or a royal wedding! A white-tie wedding requires guests to show up looking their absolute best. If you find yourself invited to a white-tie wedding, there are some guidelines you should definitely follow.
Full-length dresses and tuxedos with a white tie are a must and are pretty much non-negotiable. This is the chance for you to channel your inner royal and go all out. This is an opportunity to bust out a full-length ball gown and fancy jewelry. If you want to feel extra glam, you can opt for a tiara and gloves. Sounds fabulous, right?
Black tie — a glamorous event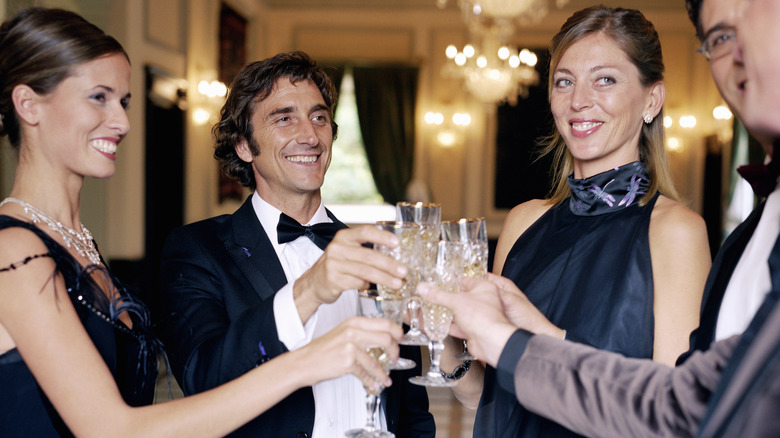 Allan Danahar/Getty Images
For the nearlyweds looking for a traditional aesthetic that's still formal but maybe not royal wedding status, they might opt for a black-tie dress code for their guests. Black tie is white tie's slightly dressed down sibling. Guests are still expected to show up looking their best, but the rules are a little less strict.
Full-length dresses are the most appropriate option, but it doesn't have to be a ball gown; although, if you want to go for it, do you! For black-tie weddings, full-length dresses are recommended, but you have a lot more creativity with the style and shape of the dress. In some cases, cocktail dresses can fit the bill as long as they are the right length. Even pant suites are a great option for black-tie weddings. It's also the perfect time to wear more elaborate jewelry, like a string of pearls or diamonds.
Formal — dressed to impress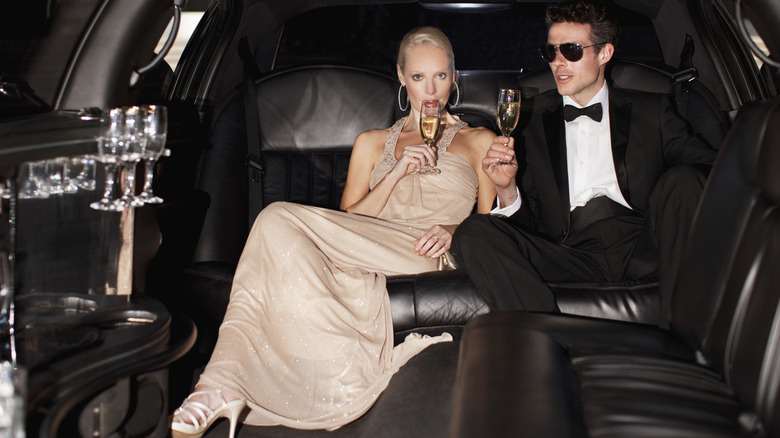 Tom Merton/Getty Images
Some couples may want to give their guests a little more wiggle room with the dress code while still remaining fancy. This is where the formal dress code comes in. Formal is more common than white tie and black tie for modern weddings and can easily fit into the traditional wedding aesthetic. The "rules" for formal dress are much different than white tie and black tie.
If you're attending a wedding with a formal dress code, you have a lot of freedom when choosing your outfit. Unlike white and black tie, where full-length dresses are basically a requirement, you can wear whatever length you want to a formal wedding. According to The Knot, a formal dress code is your chance to play with lengths, patterns, and different fabrics so take the opportunity to wear something you feel absolutely amazing in. You can also rock a jumpsuit or a pantsuit if that's what you prefer. Really, there aren't many limitations as long as it's formal. Just be mindful of your fabric choice and avoid materials such as cotton or any that might come across as too casual.
Cocktail — ready to party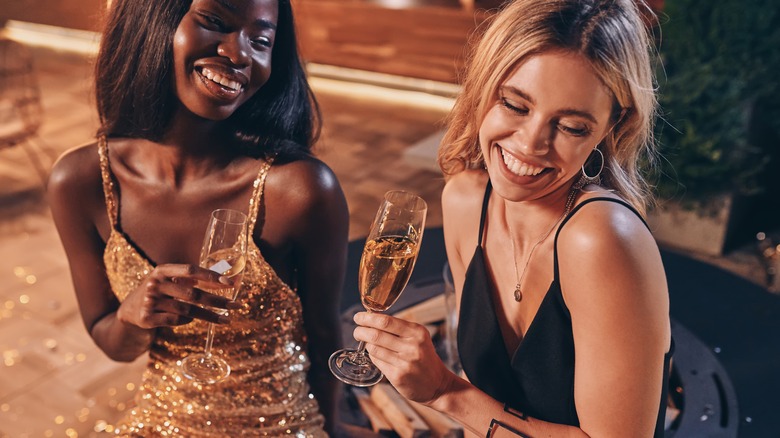 G-Stock Studio/Shutterstock
You may receive a wedding invitation that says "cocktail attire" as part of the dress code. So what does that mean? Well, cocktail is still dressy but not as fancy as formal dress. Cocktail is another great dress-code option for nearlyweds with a traditional wedding aesthetic. It allows guests to get dressed up without going too overboard. If you're invited to a wedding that requests a cocktail dress code, then you have quite a few options for what to wear.
Whereas white tie, black tie, and formal dress all feature more full-length dresses, cocktail attire can feature shorter dresses. But we're not talking mini dresses. According to Brides, the goal is to look elegant while wearing a "knee-length, tea-length, or midi dress." So, we're not going for an extravagant ball gown, but we're not going for a dress you would wear to the club either. Essentially, cocktail attire is a shorter take on formal wear. This is a great occasion to wear a dress with a bit of flare, like sequins or feathers.
Semi-formal — a little more laid back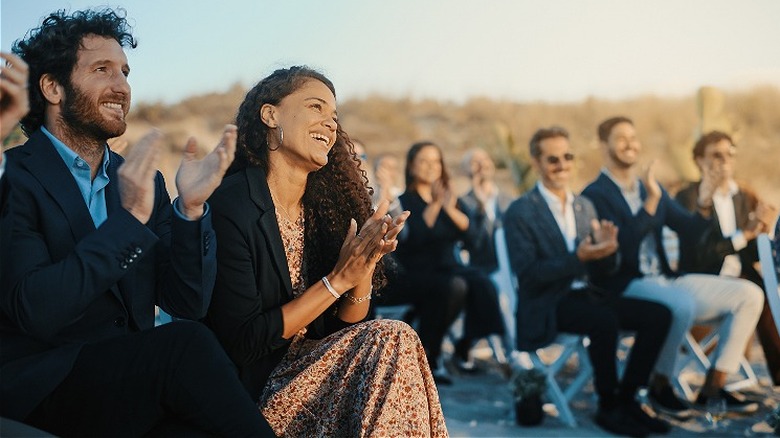 Gorodenkoff/Shutterstock
Another common wedding dress code that you might see at a wedding with a traditional aesthetic is semi-formal. Semi-formal dress is a slightly toned-down version of cocktail. With cocktail dress, it's a good time to wear bolder patterns and fabrics. With semi-formal, the goal is to look sharp with more understated garments. "Solid, darker colors and subtle patterns, such as a classic floral print or stripe, are always safe bets for this dress code," according to The Knot.
With semi-formal dress, shorter-length dresses are appropriate. If you find yourself wanting to wear a full-length dress, opt for a material that fits the dress code. You probably don't want to show up in a silky ball gown, but a flowy floral dress works great. Jumpsuits are another great option for a semi-formal wedding. On the flip side, you want to be sure to still dress nice and not wear anything too casual.
Religious and cultural weddings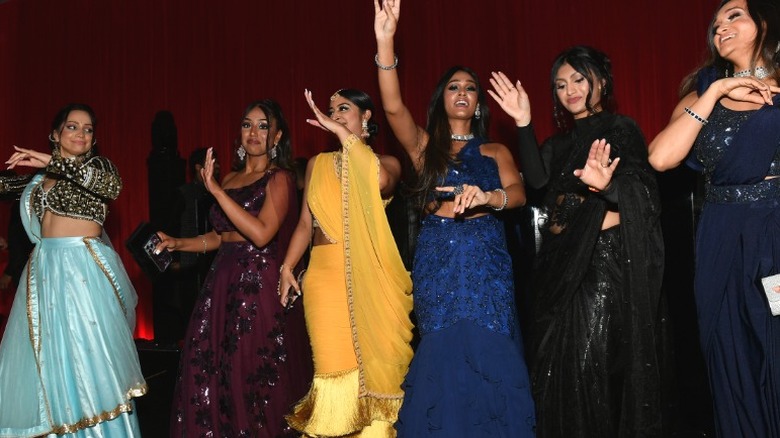 Paras Griffin/Getty Images
The definition of a traditional wedding aesthetic changes depending on the part of the world you're in and varies across different cultures and religions. If you receive an invitation to a traditional cultural or religious ceremony, you want to make sure to do your research on what is appropriate to wear. The most important thing is to observe and respect whatever traditions the nearlyweds include on their big day — the last thing you want to do is wear something that might offend them or someone in their family.
For example, if you're invited to a traditional Indian wedding, The Knot suggests you wear bright colors-except for red, since that's for the bride! You also shouldn't wear black. Or maybe you've been invited to a Jewish wedding. There are some considerations you should think about for this too. If the wedding is in a synagogue, your shoulders should be covered, and your outfit should be on the conservative side, according to WeddingWire. 
You get the gist! We love our friends and their diverse cultural and religious traditions, so let's be sure to respect those on their big day.
Take the venue into consideration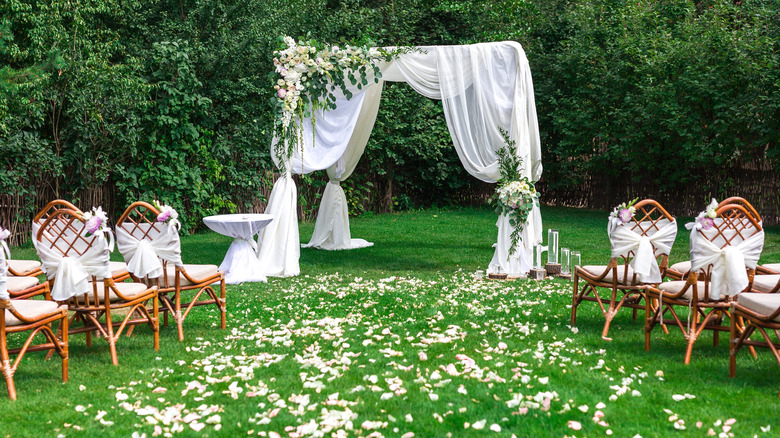 Dzevoniia/Getty Images
When deciding what to wear to a wedding, the dress code isn't the only thing to take into consideration. The wedding venue should play a big part in your choice of attire. Insider suggests even going as far as scoping out pictures of the venue online before making a decision on your fit. It's likely that the nearlyweds will choose a dress code with their venue in mind. Regardless of the dress code, however, your look should tie in with the venue.
If you're attending a wedding at a church, synagogue, or other religious institution, you should follow the dress code for that specific venue, but do so conservatively. You wouldn't want to show up in something too short or wear a plunging neckline. Perhaps the wedding is at a vineyard, in which case you can opt for a pretty floral dress or something flowy. The goal is to express your personal style in coordination with the venue.
Dress for the season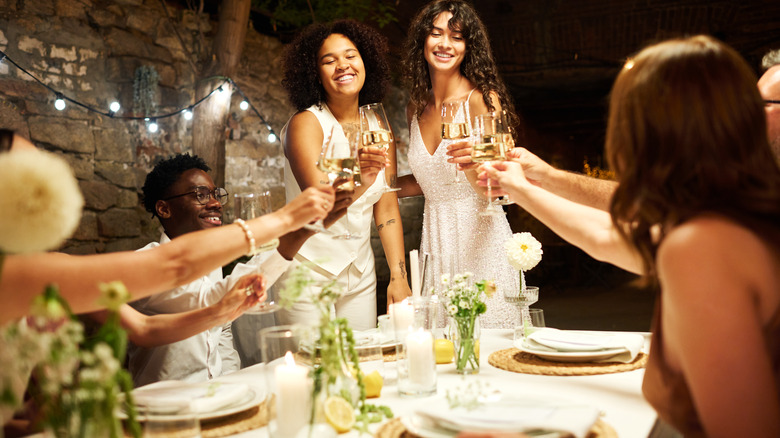 Shironosov/Getty Images
What you wear to a wedding in the spring and summer will drastically vary from what you would wear to a wedding in the winter. Of course, you'll need to take the dress code into consideration, but there's something out there for every dress code and season. The time of the year will determine how many layers to wear, what kinds of fabrics are best, and even what colors and patterns are appropriate.
Let's say you're invited to a wedding in the summer. There's a strong chance it's going to be warm or even downright hot if it's an outdoor ceremony. In this case, you'll want to wear something that not only fits the dress code and venue, but is light and breathable to help keep you cool. Summer weddings are also a great time to wear brighter colors and florals. On the flip side, if you're attending a winter wedding, you'll likely reach for more layers. According to The Knot, Fall and winter weddings are a great chance to wear richer tones and fabrics such as velvet.
Wear the right accessories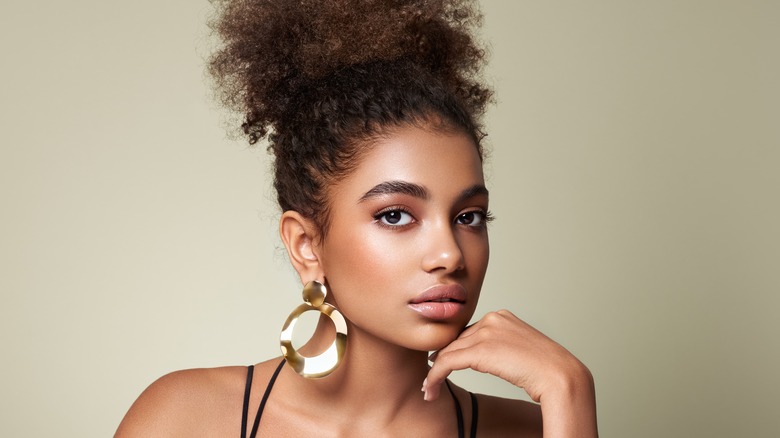 Oleg Gekman/Shutterstock
No outfit is complete without some amazing accessories to tie everything together. The kinds of accessories you choose depend on the dress code, so you want to be sure to choose the right shoes, jewelry, and handbag to go with your look. No wedding look is complete without the perfect handbag. How else are you going to carry your phone and other essentials? A bag is a great way to accessorize your outfit, and the possibilities are endless. You could opt for a bag that matches your shoes or choose a vibrant color to make your fit pop.
Jewelry is another fun way to add some flare to your ensemble. White-tie and black-tie events are the perfect chance to bust out some extravagant-looking jewelry and even a tiara if you're feeling extra. If you're attending a wedding with a cocktail dress code, you can wear a bolder piece of jewelry to spice things up.
Another important accessory to your fit is the shoes. The dress code is the number one determining factor when it comes to your shoes. In large part, heels are the most acceptable shoe to wear at any wedding and are always a safe bet. However, in some instances, you can get away with wearing wedges, flats, or sandals depending on the dress code.
How to style your hair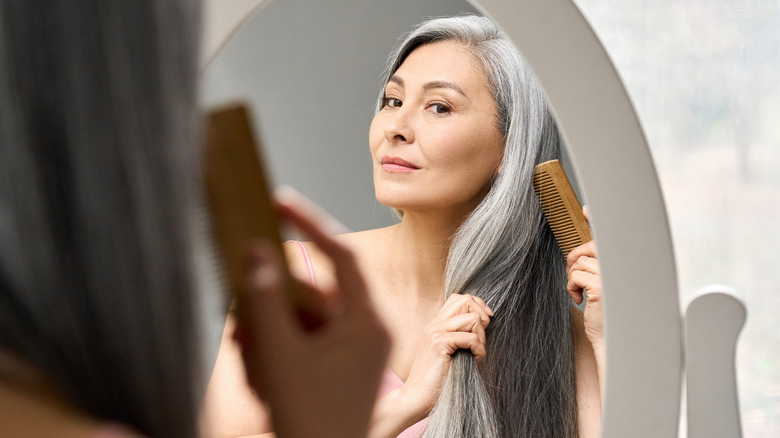 Insta_photos/Getty Images
Once you've nailed down the outfit and accessories, the last thing to decide is how to style your hair. Of course, you want to choose a hairstyle that you love and feel great wearing. However, the dress code should play a part in what hairstyle you choose. It's also a good idea to take the season and venue into consideration.
There are tons of hairstyles you can choose from like updos or curls. Even a sleek pin-straight hairstyle would look amazing with the right outfit. If you're attending a white tie, black tie, or formal wedding, your hair should look fancy. It's the perfect time to rock an elegant updo or some beautiful, Hollywood curls. Maybe you're going to a summer wedding, in which case Brides recommends a twisted ponytail. Regardless of the dress code, you should put some time and effort into creating a nice, clean, polished hairstyle to compliment your gorgeous outfit.