Fixer Upper: The 5 Best And 5 Worst Things About The Show
Fixer Upper is no longer just a home and design show. The HGTV series, which is fronted by the super-talented (and precious) husband-and-wife duo Chip and Joanna Gaines, has surpassed its status as a television program — it has become a cultural moment. You can't say the word shiplap or reference the town of Waco, Texas without invoking instant recognition among Fixer Upper fans. At this point, the show is so successful that even non-fans would probably make the connection.
Like all things in life, though, you have to take the good with the bad. And while Fixer Upper is just about as perfect as you could hope for in a reality-based renovation show, it's not entirely without its quirks and misgivings.
Whether you're an avid watcher or a new fan, you may be thinking, "What misgivings?!" So consider the following breakdown a primer on the things everyone loves about Fixer Upper — as well as the things we could live without. 
Best: Joanna Gaines' style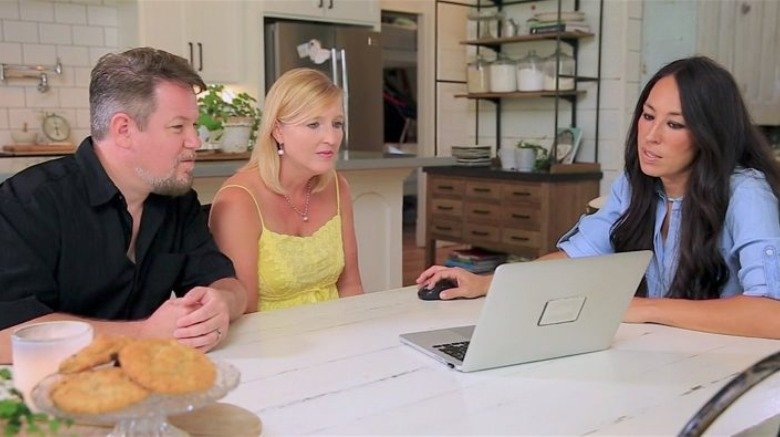 If Helen of Troy boasted the face that launched a thousand ships, but you might say Joanna Gaines is the face that launched a thousand ship-laps. Oh, who are we kidding? Make it a million. Jo's modern-vintage farmhouse chic style has basically taken over social media — as it should. And it isn't just her design style that's enviable, either. The HGTV host's laidback Southern fashion sense and overall chill vibe make her someone worth emulating on pretty much every level.
Perhaps Joanna's appeal is rooted in the fact that the interior design maven appreciates the simpler things in life. "There was a place and time when less was more," she wrote on the Magnolia blog in 2014. "People didn't over crowd their spaces and their homes were functional and practical. They worked hard on the land and their home served as a place of rest to prepare them for another hard day of working the fields. Call me old fashioned but I am truly inspired by this way of living."  
No muss, no fuss. What's not to love? 
Worst: Chip's jokes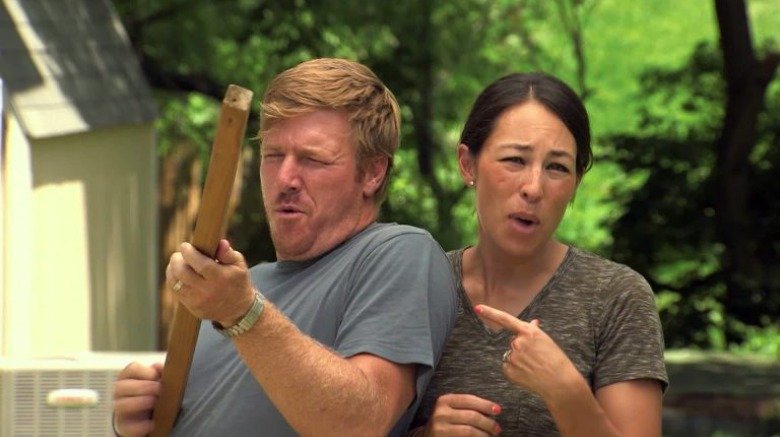 Take this critique with a grain of salt, because Chip's jokes are dad jokes. As in, they're so bad they're good. From poking fun at Joanna's obsession with shiplap to pretending to warm up his singing voice mid-take, Chip always has something to say (or do) to make his wife laugh. Or, depending on who you ask, drive her crazy.
Because, in all seriousness, it does sometimes get grating when he constantly interrupts Joanna. Fixer Upper fans know that Jo is a perfectionist when it comes to her work, so we can't imagine how frustrated she must get when Chip won't get his act together while she means business.
To Chip's credit, though, he seems self-aware of the fact that he's lucky to have such a patient lady in his life. "There are so many places she's refined me as a man, as a husband," he told Success in 2017. "I'm a better person because of the experiences we've had together."  
Best: The abundance of DIY ideas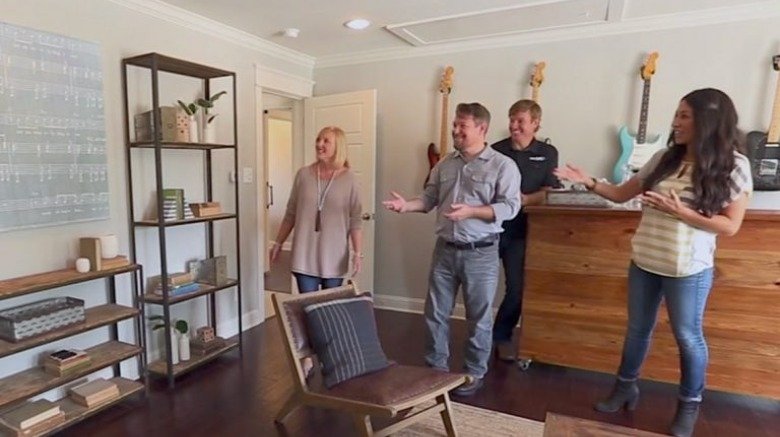 Because Joanna and Chip Gaines are adamant about upcycling and using found objects in their projects, Fixer Upper always gets the creative juices flowing. The couple has a special way of incorporating everyday items into their designs and elevating them into art. If Joanna can use an old wooden toolbox to corral crayons, you can too, right?
Remember the table in the Gatecrest House's atrium that featured an herb garden running right down the center? Or how about when Joanna artfully arranges wooden frames on a mantle, like she did in The Chicken House? 
And do we even need to dive into how Joanna's go-to craftsman, Clint Harp, makes fans want to go out and buy all the wood? Surely with some sweat equity and a little creativity, you could whip up an iconic farmhouse dining table too — at least those are the little lies we all tell ourselves when watching Fixer Upper.
Worst: The lack of home design how-to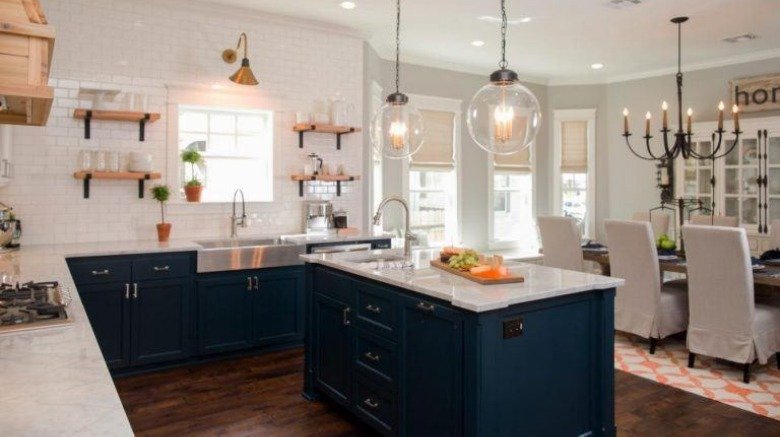 Here's the thing: we're not all Chip and Joanna Gaineses in this world. Some of us can't look at a pile of boards, an old box, some paint, and a few buttons and MacGuyver together a beautiful piece of home décor on our own. However, it's could be done with a bit of direction — and that's where Fixer Upper is lacking. 
You'll fall in love with a clever idea the Fixer Upper couple has used in a home reno only to realize you have no idea how to recreate it. While it's possible to dig up some background info on their behind-the-scenes blog, it would be really nice to have a resource guide for each episode that includes tools needed and step-by-step instructions for some of the episode's defining pieces or projects. 
Luckily, Chip and Joanna's recently announced new series, Behind the Design, sounds as though it might address this issue on some level. On Instagram, Joanna explained in a video that the spinoff will give more of an "inside scoop" on all of the Fixer Upper renovations. Fingers crossed it includes directions.
Best: The hope of home ownership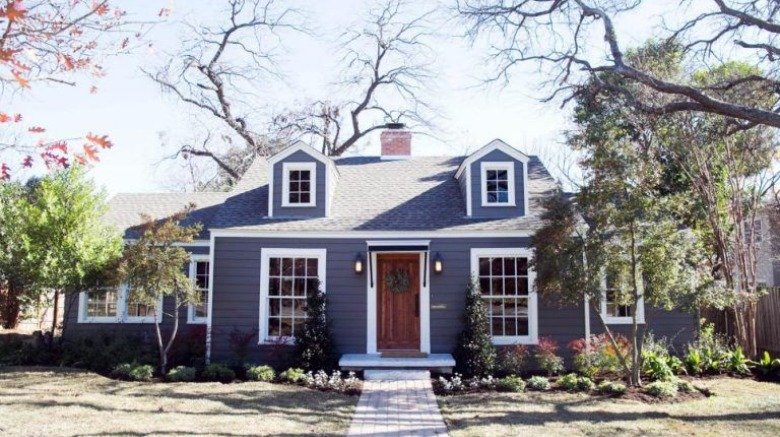 If you aren't already a homeowner, watching Fixer Upper can make you starry-eyed over the idea. It seems entirely possible to have your cake and eat it too. Or, in this case, buy a beautiful house and not go broke. 
Unlike shows such as Property Virgins, House Hunters, and let's not even start on House Hunters International (what do you mean you're 23 years old with a million-dollar budget set aside for a beach bungalow?), the people of Fixer Upper all seem to have totally doable budgets. You mean it's possible to plunk down only $25,000 for a house, give the Gaineses $75,000 to do their thing, and walk away with an abode worth well-over the investment you put into it? Sign us up! 
Seriously, can you remember a time you watched Fixer Upper and got sticker shock over the cost of real estate? No? That's because it basically never happens on this show. Sure, the series still features families at many points on the budgetary spectrum. But, for the most part, Chip and Joanna make the dream of homeownership seem like an attainable reality. 
Worst: The illusion of affordability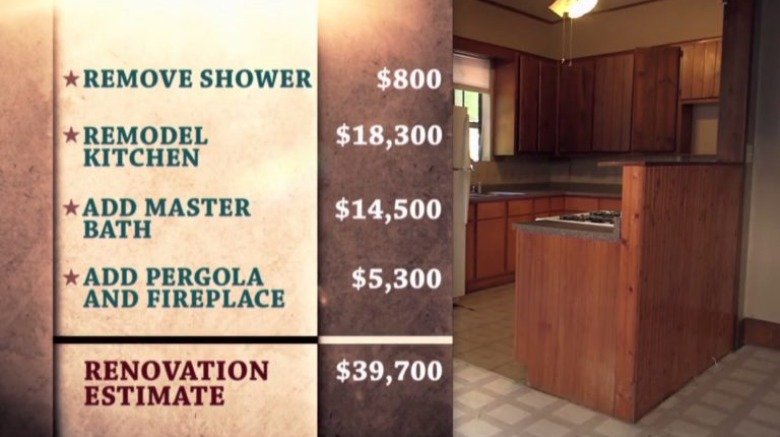 Of course, there's a catch. There's always a catch. No, it isn't any sleight of hand or manipulative marketing by HGTV or the Gaines. Rather, it's simply a matter of the housing market. 
All homes aren't as affordable as those in Waco, Texas. According to Trulia, the average home price in the area is only $168, 265. And if you're willing to look in up-and-coming or "transitional" neighborhoods — which Chip and Joanna often pull from — you'll get even more bang for your buck. 
In many other parts of the country, though, you'd probably be disappointed at how short your budget stretches. Heck, the disparity is even evident in the same state. Make the short hop down to the hip and trendy city of Austin, Texas, and you'll find the average house listing is $519,732. 
So, sure — you too can score an amazing deal on the potential home of your dreams. However, you may just have to move to Waco (or some other part of small-town America) to see that come to fruition. 
Best: The homeowners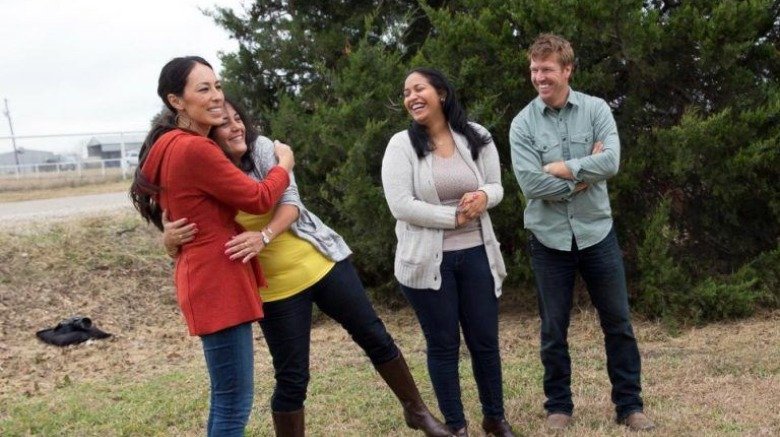 Like sunflowers drawn to the light, cool homeowners seem to gravitate toward Chip and Joanna. This is worth noting since it's not always easy to relate to the people featured on home and design shows. Yet, it certainly seems to be the norm on Fixer Upper.
Not only do the homebuyers Chip and Jo work with seem super down-to-earth, but they also appear to understand that sometimes unexpected things happen — and when they do, you've just gotta roll with the punches. Accordingly, they don't freak out when a bump in the road occurs (Chip found what in the basement?!). They also don't complain about the process like the homeowners on Love It or List It do.
Fixer Upper couples seem like people you'd actually want to toss back a couple of beers with, preferably alongside Chip and Jo. Bonus? The camaraderie seen onscreen is genuine. In an interview with blogger Rachel Teodoro, Season 3 homebuyer Jaime Ferguson revealed of the HGTV hosts, "They are great to work with. Chip is 100% a goofball. In fact he had us laughing the entire time to the point that it was all edited out." 
Worst: The ugly crying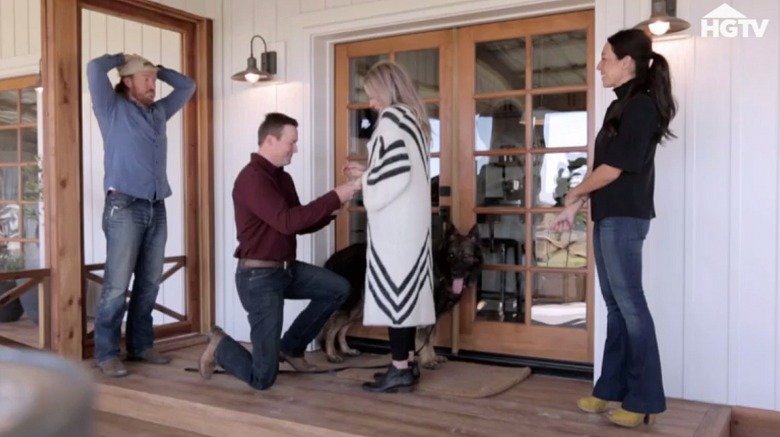 No, Chip and Joanna don't ugly cry. Fans do. And it's all the husband-and-wife duo's fault. Fixer Upper may not be a sob-fest along the lines of Extreme Makeover: Home Edition, but that doesn't mean it's not a tearjerker too. The waterworks don't happen every episode, because Chip keeps things pretty light with his hilarious antics. However, the show does occasionally feature a sentimental slant that centers around the family whose home they're renovating. 
Case in point? Patti Baker, a widow who enlisted Chip and JoJo to help give her a fresh start in a Waco bungalow after she lost her husband. Another example? When Joanna's sister, "Mikey" moved back to the town and revealed to Chip and Jo that she was expecting. And, really, who could possibly forget when wounded U.S. Marine veteran "TJ" Brooks proposed to his girlfriend Stephanie during their big reveal? 
If you're getting misty-eyed just thinking about these episodes, you're not alone. Maybe Joanna and Chip's next venture should be launching their own wine label so fans have something to drink-slash-hug during particularly poignant Fixer Upper moments. 
Best: Chip and Joanna's dynamic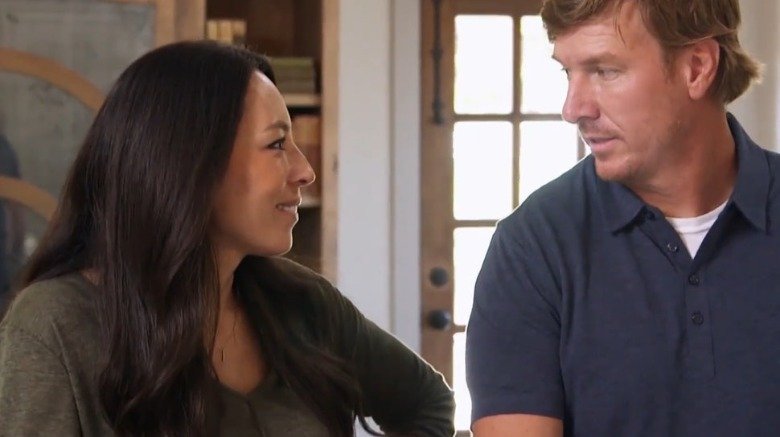 Could these two be any cuter? Gah! They're funny and supportive and loving. They clearly put their family first, and it's always a breath of fresh air when fans get to see their parenting in action on air. It's so love-affirming to watch a real-life couple who seemingly hasn't let fame affect their core values — one of which is being partners in every sense of the word.
"Jo and I both made a commitment pretty early on that the two of us are the most important variable," Chip told People in 2017. "If we can figure out how to be right as a couple, then obviously we have a lot better opportunity to be right for our kids."
It's safe to say they've done a solid job of figuring out "how to be right," and the couple attributes much of that to a tried-and-true approach: hard work. "Marriage requires effort and time and talking and connecting," Joanna emphasized to People. "You have to maintain it." It's official — these two embody #RelationshipGoals. 
Worst: Chip and Joanna's dynamic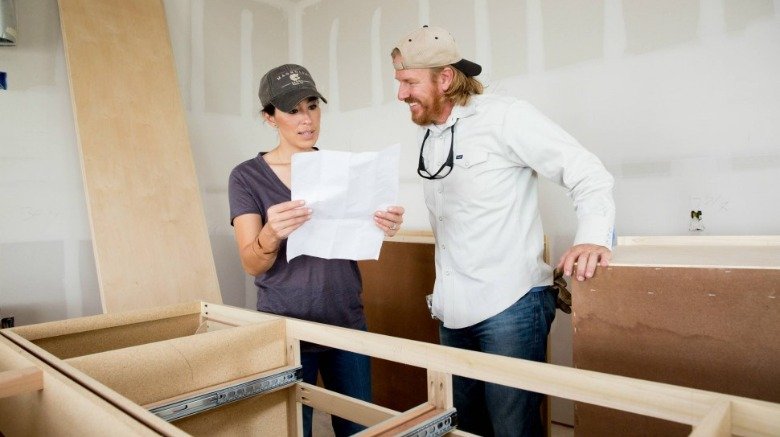 Let's play devil's advocate here for a moment, shall we? Chip and Joanna's relationship can mess with your head if you let it. To be clear, it's impossible not to adore this affectionate duo. C'mon though, they make it look impossibly effortless to have it all — a feat many of us long ago accepted was, well, just impossible. 
Naturally, everyone feels happy for them because they absolutely deserve all the good stuff that come their way. But, like, what hope is there for the rest of us? While no one begrudges them their adorable relationship, fans are perfectly entitled to feel a little salty (see also: jealous) over it too. 
Having said that, Chip and Joanna's marriage does prove it's possible to be wildly in love long after the "honeymoon phase" is over. The Fixer Upper hosts have been hitched for more than a decade and clearly still can't keep their hands off each other — hello, baby number five! 
Still, it sure would be nice if the pair could package up their sweet dynamic and stock it on shelves at Magnolia Market alongside the distressed candlesticks and tea towels.