Botox Resistance: What Is It And Can You Reverse It?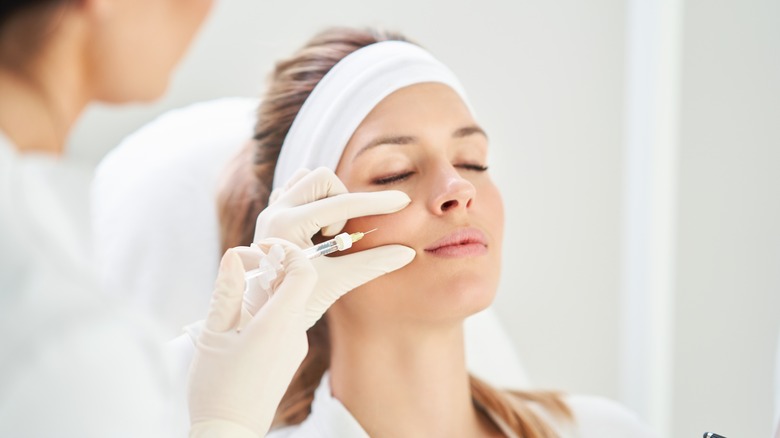 Kamil Macniak/Shutterstock
Botox, also known as Botulinum Toxin, has become a staple in many people's skincare regimes to achieve glowy, younger-looking skin. According to The American Society of Plastic Surgeons, "injectables continued to be the most sought-after treatments in 2020" and the trend isn't going anywhere. With less stigma surrounding the skin treatment, it's become widely accepted in today's society to get Botox or filler.
Botox is used as more of a preventative measure and can help reduce the look of fine lines, creases, and wrinkles on the skin. With more and more people opting to get the popular skin treatment, it's important to debunk any Botox myths and uncover the truth about how it works. If you regularly get injections, you may have heard reports circulating in the beauty industry that Botox can eventually stop working. To clear up any confusion about Botox resistance, here's everything you need to know about the skin treatment.
What is Botox resistance and how does it happen?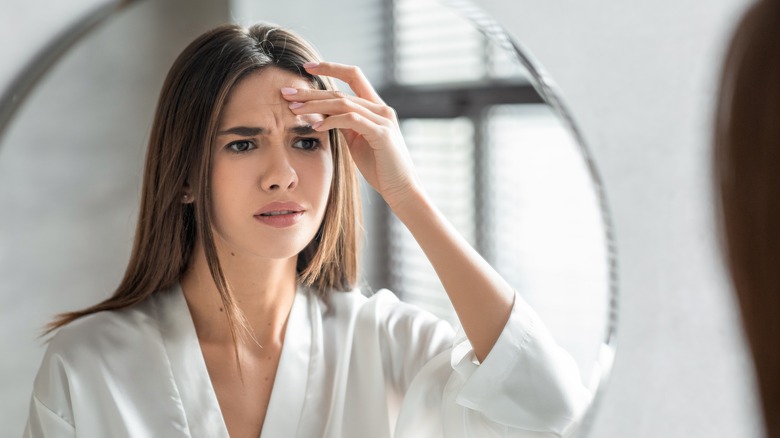 Prostock-studio/Shutterstock
Botox resistance is a phenomenon that can affect those who regularly get the rejuvenating skin procedure. There are a few factors that can contribute to how likely you are to experience Botox resistance. According to board-certified dermatologist Dr. Michelle Henry, "The data that does exist suggests that two factors are important: protein load per effective dose (volume) and frequency of exposure" (via The Zoe Report). If you get touch ups from your doctor regularly, you could be more vulnerable to experiencing Botox resistance.
Before you start to panic, it's important to keep in mind that developing a resistance isn't that common of a side effect of injections. Not responding to Botox injections is a very rare occurrence and it's been thought that only "between 0.5 and 3% of patients don't respond at all to the neurotoxin" (via Daily Mail). Although an extremely rare phenomenon, experiencing a resistance to Botox can still happen. However, there are a few measures you can take to fix it.
How to avoid and fix Botox resistance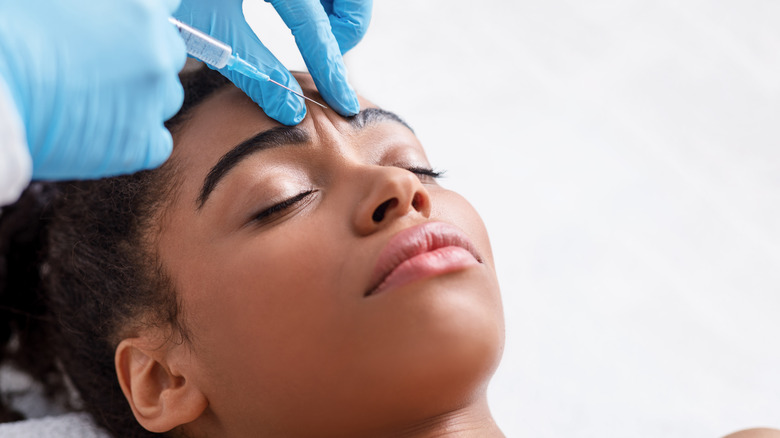 Prostock-studio/Shutterstock
If you get Botox regularly to revive and freshen up your skin, you may be wondering how you can make sure you don't develop resistance to your beloved anti-wrinkle treatment. It's essential that you avoid visiting your doctor too often for injections. According to The Zoe Report, people will typically have to get recurring injections every three to six months, but this varies as each person reacts to Botox differently. Make sure to speak with your doctor before making any changes.
If you find that your Botox injections no longer seem to be working as well as they once did, speak with your doctor about trying to up your dosage, coming in for more frequent treatments, or changing the brand of Botox you use. There are several different brands of Botox out there that give you the same benefits, and may fix any resistance issues you're facing.
Whether you're considering getting Botox for the first time or have been receiving regular treatments, don't spend too much time worrying about whether or not your anti-wrinkle go-to will eventually stop working. There are many solutions you can consider and chat to your doctor about to keep your skin looking youthful.