The Viral Aerie Crossover Leggings Have A New Design (And It Makes The Back Look Even Cuter)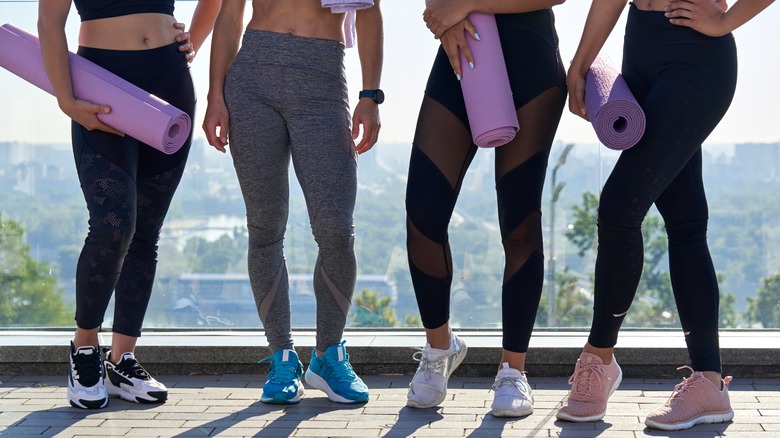 Ground Picture/Shutterstock
Aerie struck gold a while back with their insanely popular crossover leggings. Not just any old pair of leggings, Aerie's take features a V-shaped waistband across the front. The crossover leggings first went viral online in November 2020, when TikToker Hannah Schenkler uploaded a video dancing to "Drummer Boy" by Justin Bieber. 
It immediately blew up, not even necessarily because of her purposely low-energy dancing, but due to the blue crossover leggings Schenkler happened to be wearing at the time. The internet went wild for them and customers flocked to Aerie, causing the leggings to sell out multiple times. The video really paid off for Schenkler too, as the company quickly hired her to create some sponsored posts advertising their clothing line.
Aerie's iconic crossover leggings have continued to be successful, with the company consistently dropping new colors and patterns to keep us invested. And now, they have unveiled a trendy, updated version of the design itself that's an absolute must-buy. 
Seeing double with the double crossover
Introducing the classic crossover's cool new cousin: the double crossover. Aerie's latest innovative leggings feature the same V-shaped waistband as the original design. This time, however, it's on both the front and the back of the waistband. The leggings are made with Aerie's Real Me fabric, which is described as being super soft and lightweight. The new double-V waistband, plus the Real Me material, therefore provides the utmost comfort and support for wearers. 
Whether you wear the leggings to work out, lounge around, or hang out with your friends, they're guaranteed to do the job. In addition to providing comfort and light support, the double-V waistband of the leggings is flattering on any body shape and looks incredibly chic. Aerie also manufactures the double crossover in a wide range of sizes and lengths. This makes them not only a super stylish staple but an accessible piece for anyone's wardrobe as well.
Double crossovers come in different styles
You can choose between two different styles when purchasing the double crossover leggings; a skinny or a flared leg. As for the color, there are plenty of eye-catching options such as kelly or olive green, hot pink, denim blue, dark brown, and classic black. Some of the shades have a marbled look to them, while others are solid. One Aerie customer rated the flare leg double crossovers five out of five stars, noting: "Such a flattering fit and truly the softest leggings for sitting at home or working out. A staple for sure." 
Another customer raved that the skinny leg double crossovers, which she also gave full marks to, are, "My new favorite leggings!" If you do decide to purchase a pair of double crossover leggings from Aerie, you can easily incorporate them into a cute set with a matching sports bra. The company sells a whole variety of sports bras and shirts in shades that match their leggings, so you can pair the same color together. 
Or you could even mix and match different shades based on your personal preference. No matter what you choose to pair your double crossover leggings with, they should make you look and feel good. They are comfortable, versatile, and accessible — the ultimate crossover of fashion and function.