General Hospital's Parry Shen Shows Fans A Tender Moment With The Original Wiley Twins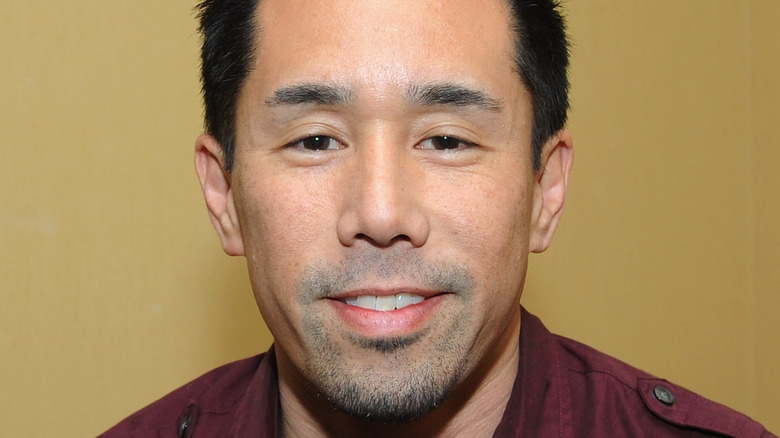 Bobby Bank/Getty Images
Baby switches are one of the most common tropes seen on soap operas, and "General Hospital" is no different. When Brad Cooper (Parry Shen) and his husband Dr. Lucas Jones (Ryan Carnes) decided to adopt a baby, they had no idea that major drama would ensue. Lucas went to work at the hospital, leaving Brad home to watch the child they had named Wiley. Sadly, the baby died of SIDS, and Brad was beside himself. He took the baby to the hospital, but along the way the distressed parent encountered the evil Nelle Benson (Chloe Lanier), who convinced him to swap his deceased baby with her newborn. This created a huge mess, especially when the truth was revealed that the living baby's father was the wealthy Michael Corinthos (Chad Duell). Thus, custody battles ensued, along with Brad being sent to prison for a while.
Twins Erik and Theo Olson played Wiley from the time he was born in 2018 until September 2021, when their father got a job in France. Their mom, Jacks — who manages the boys' social media accounts — heartbreakingly posted the news that the boys were leaving "GH." On the twins' Instagram page, their mom expressed her sadness that the fans wouldn't get to see the boys grow up on the show. 
But fear not, the Olson twins are still in contact with some of their co-stars.
Shen keeps in touch with his little former co-stars
When Erik and Theo Olson left "General Hospital," Parry Shen couldn't let his tiny co-stars go without a proper goodbye. He posted several pictures and a video of him with the cute tykes and their mom, Jacks, on Instagram, writing, "There was NO way I was gonna let @theo_erik_olson relocate to France this summer without seeing them for one last time." Recently, Shen sent some keepsakes to the Olson twins in France. Jacks sent him back a video of the family opening up Shen's envelope that had pictures of the kids with Shen, Ryan Carnes, and Chad Duell. 
He posted the video on Twitter with the caption: "Re-sent these mementos to @Theo_Erik_Olson to have in their new home in France (originals got lost in the move) to always remember their time in #GH as Wiley. Miss you all — and don't worry, it's not just you guys — I can't tell @RyanCarnes1 & @duelly87 apart either." Shen was referring to "GH" co-stars Ryan Carnes (Lucas Jones) and Chad Duell (Michael Corinthos). In the video, mom opened the letter, showing the photographs to the boys, saying, "That's you guys when you were babies!" She pointed out the actors holding them in the photos, and the kids remembered them. 
The general consensus from fans was that the gesture was sweet and the twins were cute, and we're glad to see Shen staying in touch with the adorable duo!