Home Town's Erin Napier Gushes Over Surprise Visit From Princess Diana's Former Chief Of Staff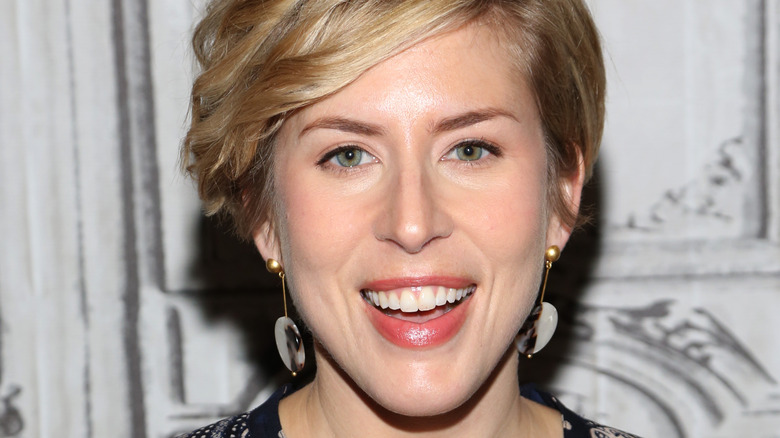 Manny Carabel/Getty Images
You may be used to seeing her on HGTV in "Home Town," but Erin Napier has plenty of passions beyond interior design. Before becoming an HGTV star, Erin Napier had an interest in Princess Diana, and this interest recently had a full circle moment. In an Instagram post, Napier revealed that she had met Patrick Jephson, former chief of staff to Princess Diana, alongside his wife Mary Jo. Needless to say, she was thrilled.
Sharing that her friend and "Home Town" regular Mallorie Rasberry informed her of Jephson and his wife's visit, Napier stated, "I never would've gotten to meet two people so closely involved with events from world history." The visit seems to have had an emotional effect on Napier, with the HGTV star sharing a personal story alongside details of the encounter. The post included four photos — two of Jephson with Princess Diana, one of Napier, her husband Ben, Jephson, and Mary-Jo, and a split image of Princess Diana and Napier's mother. Though it may seem like a random coincidental encounter, Napier explained in detail what the visit meant to her.
The visit appears to have had a big effect on the HGTV interior design expert
The HGTV star informed her followers of how she has been "completely enthralled by Princess Diana since I was a little child" due to her mother sharing similarities to the late princess. Speaking of Diana's death, Napier revealed, "It was the first death of someone I felt I somehow knew, though we'd of course never met. I told him (Jephson) this story with tears in my eyes and then I laughed at how ridiculous I felt and he told me, 'Diana always wanted a daughter!'" She finished the post by saying she "got to shake the hands of living history" and that she "won't ever forget" meeting Jephson and his wife.
Despite his high-up role, Jephson had a rocky relationship with the royal family. He was involved in the scandal surrounding the controversial 1995 BBC interview with Princess Diana, in which journalist Martin Bashir was found to have faked documents that included Jephson. In 2021, the BBC paid Jephson a large undisclosed sum of money as part of an apology for the damage caused, as well as publicly apologizing in 2022.