The Easiest Way To Figure Out Your Skin's Undertones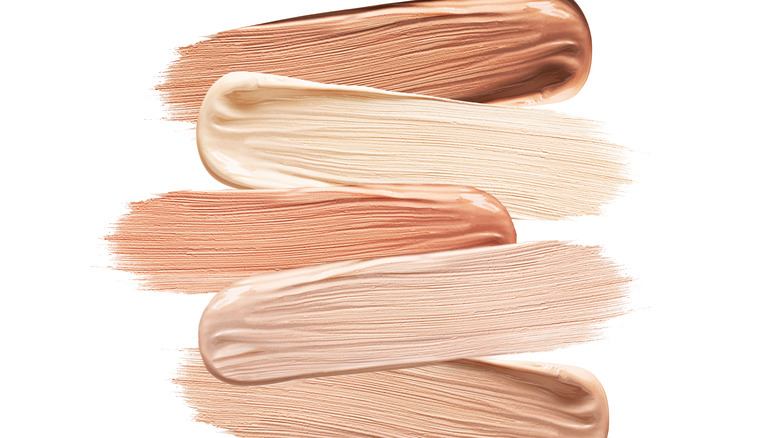 puhhha/Shutterstock
With the endless options of makeup out on the market today, trying to find the right makeup shades and colors for your skin can be confusing and a never-ending ordeal. Add in talks of skin tones and undertones, and you may be feeling more lost than ever. There are few things worse than spending time and effort on your makeup look, only to see your foundation isn't blended right and looks off.
Your skin's undertones and makeup go hand in hand. If you don't know what undertones your skin has, chances are you're probably wearing the wrong shade of foundation, concealer, and makeup. When your makeup always looks slightly unblended or you notice lines of demarcation, it's time to check your skin's undertones. When you use the right shade of foundation for your skin, your makeup will look a lot more effortlessly blended. Fortunately, there's a super easy and quick way to find out so you can get your makeup looking natural and flawless.
The difference between your skin's tone and undertones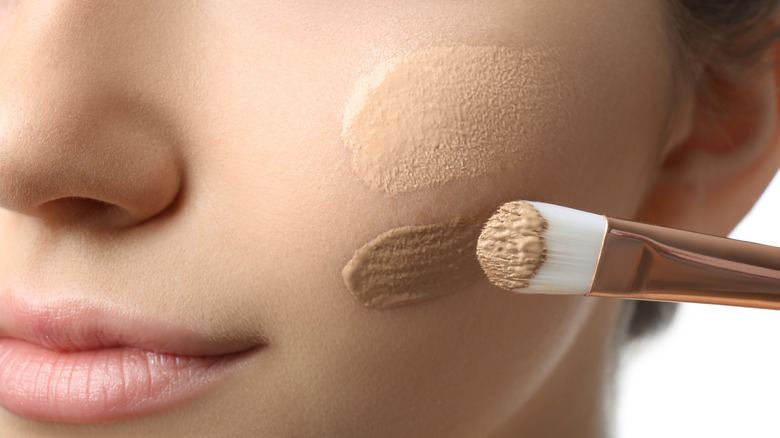 New Africa/Shutterstock
Although they sound similar, your skin's tone and your skin's undertones are two completely different things. Your skin's tone is the tone of your skin that's on the surface level only. According to Skin Kraft, "Skin tone is determined by the amount of melanin (skin pigment) present in the uppermost layer of your skin." Your skin's tone can change depending on the amount of sun you get, while your skin's undertones don't change at all.
Your undertone is the shade that's underneath the surface level of your skin. Makeup Artist and Temptu Global Educator Tanya Deemer tells Cosmopolitan, "Your skin's undertone is the permanent, underlying color that your skin tone casts (i.e., a warm, cool, or neutral tone)." When you have warm undertones, your skin has gold, yellow, or peachy undertones. Cool undertones are when you have pink, red, or blue tones, while neutral undertones are when your skin has a combination of warm and cool tones. 
How to find out your skin's undertones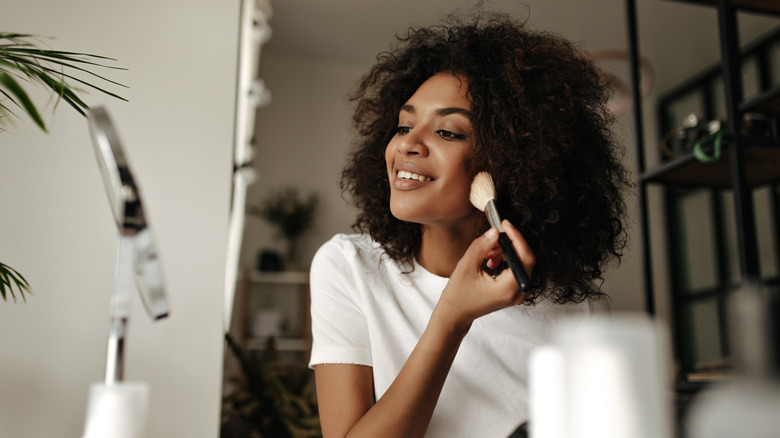 Look Studio/Shutterstock
Makeup artist and Director of Artistry and Education for Tatcha Daniel Martin tells Byrdie, "When trying to find the right shades, I like to match from the center of the face down to the middle of the neck, as this will give you the most accurate representation and allow you to see any redness you may want to cancel out."
One of the easiest ways to figure out your skin's undertones is by checking the veins on your wrist. If your veins have a green shade to them, you most likely have warm undertones. If your veins have a blueish color to them, then you probably have cool undertones in your skin.
If you're still left confused about which skin undertone is yours, put on a few pieces of jewelry to find out. Try on gold jewelry and see if it looks good against your skin — if it does, you probably have warm undertones. If silver looks better, your skin may have cool undertones. When you find out what your skin's undertones are, you'll be able to create beautiful, unblemished makeup looks.