Lady Gaga's Oscars 2023 Performance Look Is Just As Raw As Hold My Hand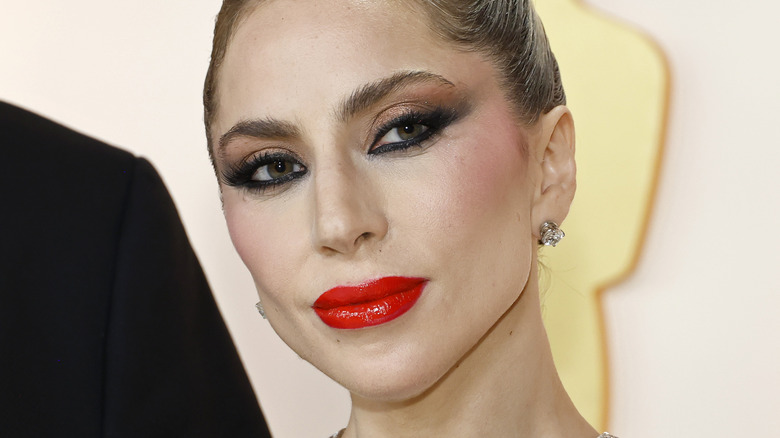 Mike Coppola/Getty Images
While the Oscars is known for beautiful gowns and glamorous looks, one star known for her ever-changing looks throughout the years ditched the glamour and performed her Academy Award-nominated song in jeans, a tee shirt, and no makeup at the 2023 Oscars. Lady Gaga, whose ballad "Hold My Hand" was featured in "Top Gun: Maverick," surprised everyone when she made a last-minute appearance on the red carpet before the Oscars, despite previous reports she wouldn't be in attendance for the annual awards ceremony.
Dressed in a sheer, long-sleeved black Versace dress complete with corset boning, a sleek hairdo, jewelry, and full glam makeup, she looked stunning as she made her way into the Dolby Theatre for Hollywood's biggest night of the year. However, when she appeared on the Oscars stage to perform her song nominated for Best Original Song, her appearance was as raw as the performance that followed, much to the audience's delight.
The song was stripped down, as was Lady Gaga's appearance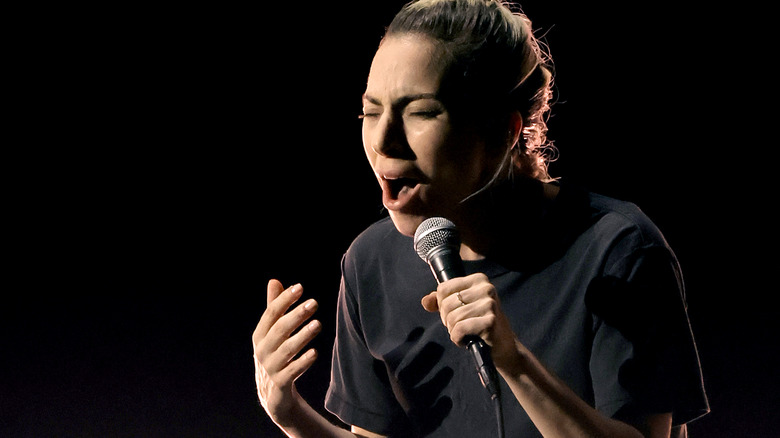 Kevin Winter/Getty Images
In contrast to her full-glam red carpet makeup look, Lady Gaga appeared bare-faced for her performance. Taking to the stage in jeans and a plain black tee against a black backdrop, Lady Gaga was accompanied by a band as she sat on a bar stool and introduced "Hold My Hand," saying (via IndieWire), "I wrote this song with my friend Blood Pop for the film 'Top Gun: Maverick' in my studio basement. It's deeply personal for me and I think that we all need each other. We need a lot of love to walk through this life. And we all need a hero sometimes. There's heroes all around us in unassuming places, but you might find that you can be your own hero, even if you feel broken inside."
No stranger to pushing boundaries in Hollywood, Gaga performed the powerful ballad, giving her all to the searing vocals that are all about comforting someone who is hurting. When the song debuted in April 2022, Lady Gaga tweeted about it, writing, "This song is a love letter to the world during and after a very hard time."
Following her performance, a title card honored the late director Tony Scott, who directed the original "Top Gun" in 1986. Despite her powerful performance, the Oscar for Best Original Song went to "Naatu Naatu" from the Indian film "RRR."
Lady Gaga didn't let her glam look stop her from being kind on the red carpet either
Neilson Barnard/Getty Images
Lady Gaga's raw performance of "Hold My Hand" was one of the best moments from the 2023 Oscars, with many people taking to Twitter to praise her for her heartfelt delivery. One user wrote, "Imagine the pressure of just standing there and that the whole performance relies on you (no dancers, fire,tc), with comfortable clothes and nothing more than your voice and still kill it. She is a genius." Another tweeted, "its like the Oscars version of The Voice cuz that was all about the vocals, the message and the feels. Not flashy looks and makeup. Pure Gaga. Loved it."
While her striped-down performance was one viewers won't soon forget, it wasn't the only reason Lady Gaga was the talk of the night. Earlier on the red carpet, she proved what a considerate person she is when she rushed to the aid of a photographer who tripped, tumbling hard onto the red carpet — which was actually champagne-colored this year. Ignoring her up-braided hair, Versace gown, and heels, Lady Gaga quickly turned and rushed to assist the unlucky photographer after he fell in a video shared on Twitter. A viewer tweeted, "Notice how she didn't even think about it, it was in her reflex to help him, she's just genuinely sweet and kind."