Yes, You Can Embrace Bold Chartreuse Colors Without Going Overboard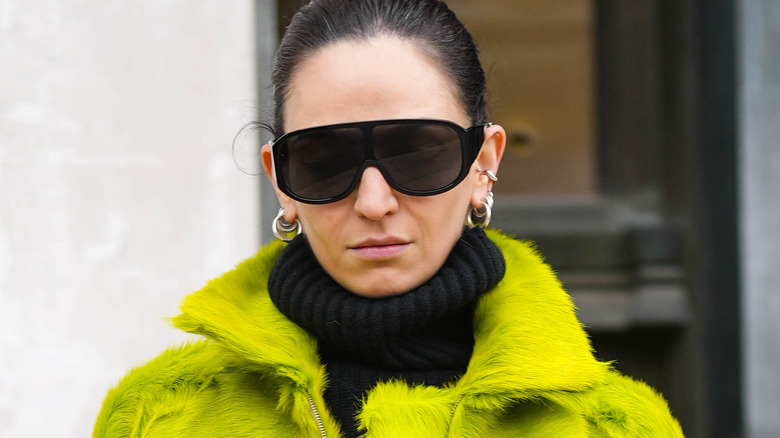 Edward Berthelot/Getty Images
There has often been an unspoken rule in the fashion world regarding integrating brighter colors into your wardrobe. For the longest time, orange was a color to avoid, and yellows only worked on certain skin tones. The thought of wearing a lime green shade was not something most people would even consider. However, the amazing thing about fashion is that as trends evolve, new looks are not only embraced, but encouraged. Now, sneaking in pops of color is one of the most flattering fashion styles for women in their 20s.
It's all about balance and working to seamlessly integrate more unique colors into your overall outfit. For example, certain shades of green have long been accepted because of their resemblance to nature. Dressing in the darker hues of a forest or the foliage of a sage plant was classy and elegant. Other, more unique shades of green were societally deemed off-limits.
However, if you are feeling bold and confident, you may be motivated by the celebrities who are choosing to embrace chartreuse, a green color inspired by French liqueur. Chartreuse is a neon mixture of yellow and green that uniquely combines warm and cool tones. It's a color trend that is truly unexpected but surprisingly stylish.
How to add chartreuse pieces to your wardrobe
The goal with any bright color that you are wearing for the first time is to take it slow and steady. Try to find individual pieces that you naturally feel comfortable in already. This could be a crop top or a mini skirt. Picking out one of these items in chartreuse allows you to pair it with other solid neutrals. White or black skinny jeans with a chartreuse blouse are perfect for Sunday brunch. Plus, taking this approach will allow the color to pop without becoming overwhelming.
Another way to balance chartreuse is to pair it with other bright colors like blues and reds. We've seen celebrities like Kendall Jenner and Emily Ratajkowski do this with bodycon dresses and T-shirts. Bella Hadid and Kylie Jenner have also embraced this trendy color by adding a chartreuse jacket or blazer to their outfit for a bolder look.
Once you become more confident in this color, you can choose to rock bolder colorful looks that celebrities are surprisingly obsessed with. Actress Laya DeLeon Hayes has been seen rocking a solid chartreuse two-piece dress on the red carpet. With the flowy skirt and fluffy sleeves, you may think this is too much for this color. However, showing a little bit of your midriff and featuring your high heels actually creates an excellent balance.
Don't be afraid of color or patterns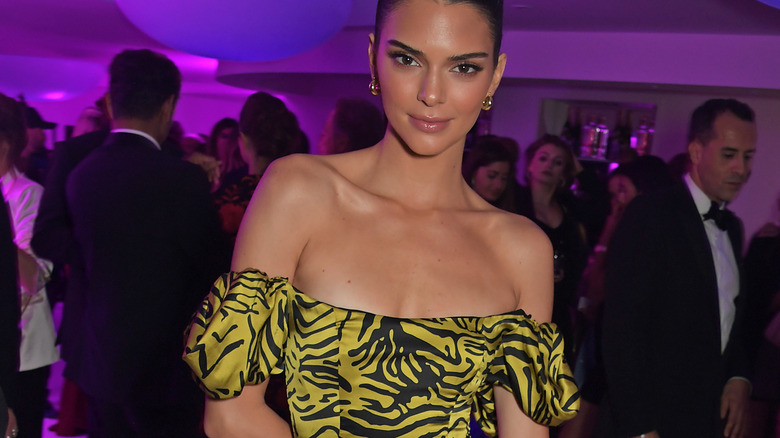 Dave Benett/amfar/Getty Images
While neutral colors have their time and place in fashion, it's hard to beat an outfit's unique and bright pop of color. Color has the ability to change an entire look with a single piece, and it's something you shouldn't be afraid to experiment with. Of course, common colors that feel more familiar might be what you initially reach for. However, finding those in-between shades that are less common is what elevates fashion and sets new trends.
While wearing fun colors can actually improve happiness levels in many people, most avoid it due to a lack of self-confidence. British stylist Gok Wan explained to Good Housekeeping that there are ways to become more confident with your color choices. For starters, adding more color to your daily makeup routine can help you feel more comfortable with various shades. Before you know it, your purple eyeshadow will be screaming for a complementary green piece of clothing.
Another great way to branch out is by adding patterns to your outfits. Since patterned clothing often allows for more variety of color to be featured in the mix of shapes and swirls, it can help you embrace a shade like chartreuse without going overboard.