What Is 'Classiccore' And How Can You Incorporate It Into Your Closet?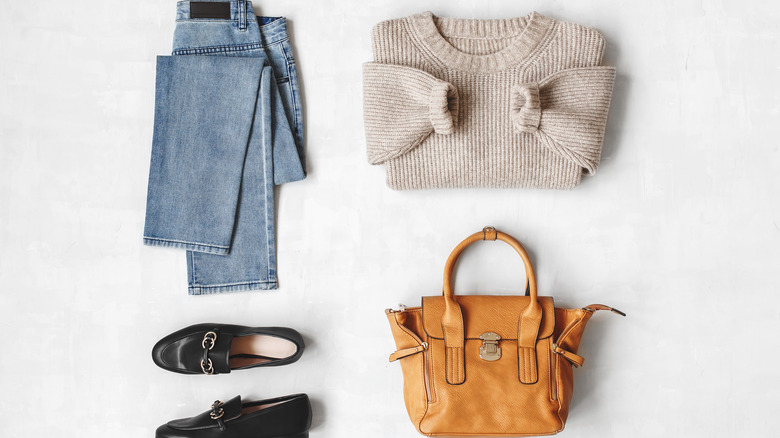 Nesolenaya Alexandra/Shutterstock
The trends change, and the receipts stack up (sigh). Welcome to the fashion challenge, friends. We're in an exceptional time in fashion's timeline — a time of ever-changing trends that celebrate moods, notions, and niche lifestyles. These trends, or "cores," are often driven by TikTok hashtags and are incredibly fun and expressive, allowing would-be fashion lovers to change the look of their wardrobe pieces and lifestyle elements, such as home decor.
Unfortunately, these trends might come and go quickly, so it might be tempting to overspend. Or, to save money, consumers might buy cheap, fast fashion-based clothing to stay current. Although this cheaply produced clothing is easy on the budget, its low cost is often because the manufacturing process relies on mass production, which TreeHugger reports adds to water pollution, unsafe sweatshops, and overall waste.
But nestled among the trends, there is a core that eschews fashion turnover and opts for timelessness instead. Classiccore is the opposite of trendy since its aesthetic relies on classic designs, silhouettes, and colors that are easy to mix and match. And in this instance, timeless is especially accurate, with many styles dating back decades or more. Take, for instance, the classic trench coat. It's been around since the 1800s, according to Smithsonian Magazine, so it's safe to say it has stood the test of time. And luckily, classic styling like the button-down shirts, blazers, and flats featured by Vogue are all up for grabs in this OG and oh-so-classy aesthetic.
Step one: keep it neutral
It was achingly difficult to choose a singular post from the My Chic Obsession Instagram feed, as it's a master class in classiccore. First, once you arrive, just scroll down slowly to get a general sense of the color scheme. You'll notice a lot of neutral hues, like cream, beige, and gray, as well as classic back, white, and denim. This is one way that a classic wardrobe lends itself to easy pairings. But, at a closer look, you'll also notice nothing overly trendy — just timeless pieces and the occasional pop of color.
Forget this one misconception about classiccore
But let's get squared away with one thing right off the bat. Classiccore isn't devoid of sex appeal, far from it, in fact. If you think about timelessness, there's an inherent swagger to silhouettes that have stood the test of time — take this TikTok post by The Chic Maven, for example. This classic sheath dress could have been plucked from the pages of a 1950s magazine, and yet, she looks fresh, modern, and low-key sultry.
Embrace Dakota Johnson's timeless aesthetic
Once you have a sense of what classic style is, you'll start to notice it everywhere, including celebrities like Dakota Johnson. TikTok influencer, @itsmontserratvarela, did a breakdown of Johnson's style and highlighted her use of classiccore essentials like a traditional blazer, simple tee, and timeless flats. Montserrat goes on to note that sometimes trendy pieces go in and out of style so quickly it can be a waste of money. But, she says, "Knowing your personal style is going to save you time and money — and space in your closet."
Stock up on classic style essentials
Among the classiccore essentials, you'll find pieces like neutral button-down shirts, straight-cut sweaters, and usually non-distressed denim. But one of the signature looks within classic styling is the ever-versatile trench coat, which can be worn over jeans or evening looks. Of course, one of the easiest ways to style your favorite trench coat is to choose one in a goes-with-everything color like beige. And, if you do opt for a pattern, keep it subtle; this will ensure it can be easily paired with just about any look you create.
Let Meghan Markle be your classic muse
If you gravitate toward classic styling, let Meghan Markle be your muse. She seems to have an ease with which she carries herself, and (of course!) part of that her is gracious personality, but it's also how she puts looks together. This looks roundup by YouTube creator @iamdelight shows Markle's consistent use of clean, classic lines in her wardrobe. Her day-to-day pieces are often slightly tailored in the waist area but not overly clingy, and patterns are kept to classics like stripes.
Lady Gaga reminds us that classiccore can be dramatic too
It's no coincidence that Lady Gaga wears a simple button-down shirt while collaborating with the prestigious champagne brand Dom Pérignon. The video is designed around the premise of timeless beauty, with elements of ballet, symphony music, and classic architecture. Gaga appears wearing a crisp button-down, left open, at times, revealing a simple black camisole. To complement the look, her wavy hair is back, with a simple, double-strap headband. The beautiful video is a reminder that Lady Gaga's beauty evolution is something you can tap into as well.             g
Add a low-prep preppy vibe to your classic looks
Classicore often incorporates preppy elements, like traditional button-down shirts, which can be worn with dress pants or jeans. But you can take that a step further and stock up on a few shirt dresses as well. It's a clean look, with the added benefit of almost no prep time whatsoever. With this in mind, you can have a few on hand — stripes, chambray, or classic white all work well for classic styling.
Curious about how to add add a pop of color? Just ask Reese
We're sorry-not-sorry to state the obvious, but Reese Witherspoon is one of the all-time queens of classiccore. Not only does she rock a blazer and jeans with the best of them, but she's also masterful when it comes to adding a pop of color. Overall, classic style is pretty straightforward — classic pieces in neutral hues and low-key patterns — but a pop of color now and again is also part of the style. And if you need inspiration, check out Witherspoon's yellow handbag.
When in doubt, just wear Ralph Lauren
Classic styling relies on elements that have endured decades of fashion trends. And one iconic brand that has been along for the ride is Ralph Lauren, a classic Americana brand with preppy vibes. Although it has evolved, over the years, to include bold patterns, now and again, overall, Ralph Lauren's look is consistently timeless. You can't go wrong with one of the brand's crew neck sweaters or classic button-down shirts. Just be sure to pronounce it correctly. A common mistake is to say "lau-REN," but it's pronounced like the common name "Lauren."
Yes! You can have a classiccore monochromatic moment
Okay, let's say you've checked all the classic style boxes, such as timeless tailoring and versatile, neutral colors — what's next? Take a cue from Gigi Hadid, and go ahead and add a few monochromatic moments into the mix. Here, she pairs a silky cream button-down with classic cream trousers, but be sure to note that pant seam. The look incorporates a seam that runs dead-center of each pant leg, adding to the crispness of the overall look — and creating a sense of height as well.