What A Hairdresser's Shampoo Station Really Says About Their Cleanliness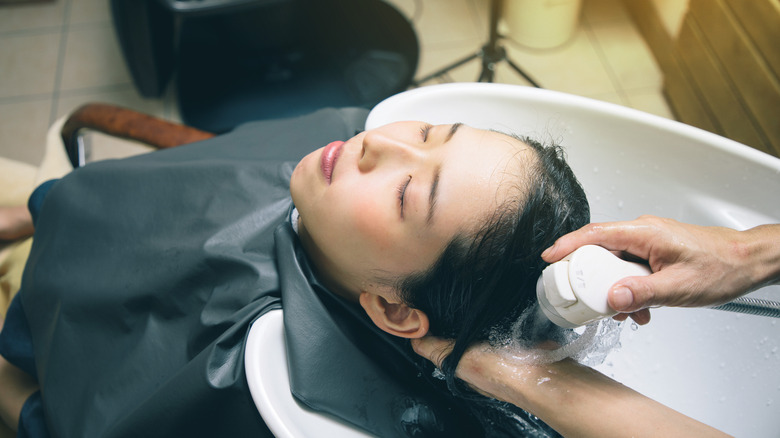 Metamorworks/Shutterstock
When you decide to make a visit to a hair salon, you've already gone through the motions of asking friends and family for recommendations, checking out the salon's Instagram page and reviews to see if they're any good, and possibly coaching yourself to trust the process and have faith in the outcome. Getting a haircut can be nerve-wracking.  
When you actually step through the salon doors, what you'd likely first notice is the ambiance and the attitude of the staff. It goes without saying that you want to feel welcome and you want to be dealing with friendly faces. A pleasant aroma and soft, relaxing music won't hurt either. While these are some of the obvious things you'd see, there are also more subtle cues you should be picking up on that could tell you whether or not this is the salon for you. 
Turns out that there's more to a salon visit than carrying a picture of your favorite celebrity's famous haircut as a reference. Your stylist's shampoo station might hold a tell-tale sign that you and your hairdresser are a bad fit. 
An untidy shampoo station might be a sign that the salon isn't good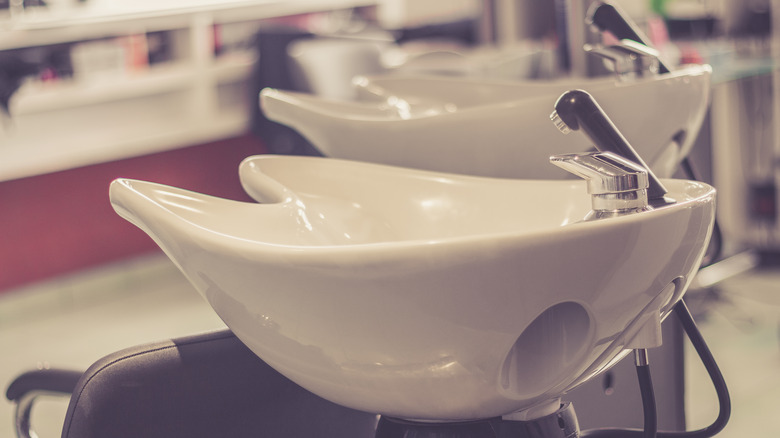 Thomas Alexander Nagy/Shutterstock
The difference between a good and bad salon could be your hairdresser's shampoo station, according to New York-based hairstylist Yureesh Hooker (via Insider). 
Hooker shared that it's important for the space to be peaceful and relaxing. After all, you're going to be lowering your tresses into a sink of sorts. "Are the shampoo bowls clean? Are the products dusted? Always look for cleanliness. Are they cleaning out the hair shafts? Is there color on the side of the bowl?" These are some of the questions that should be running through your mind as you take a seat to have your hair washed. Shampoo bowls are supposed to be cleaned several times a day, preferably with a soft-smelling cleaner that's not going to give you a headache.
Most hairstylists understand that maintaining clean salons is a crucial exercise in gaining the trust of their clients. It is also a requirement, because there's room for cross-contamination and bacteria-breeding given the nature of the service. Hooker added that it's nice if your hairdresser allows you to smell the shampoo they're going to be using on you. That way, you can make sure that what they put on you is something you like.
Here are some other things to look out for when it comes to cleanliness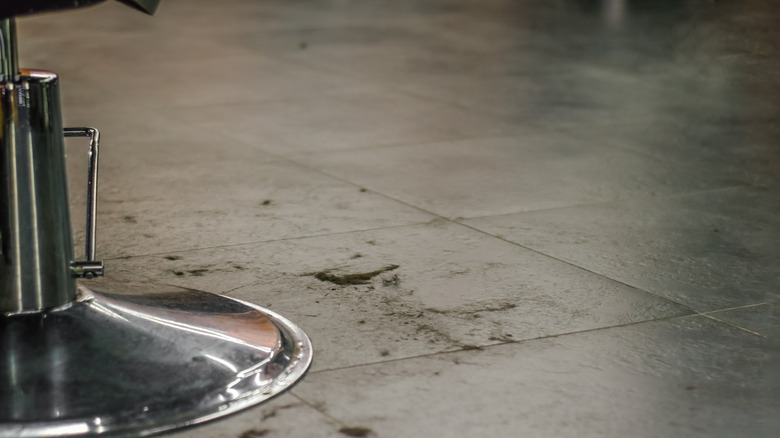 Nadzeya Makarevich/Getty Images
While you can go with your initial gut reaction as soon as you walk in, there are certain areas you should be specifically checking out when it comes to cleanliness. The first one might be right where you sit and wait. Is the furniture in the waiting room dusted? Are the carpets clean? What about the general aroma of the area?
The salon's floors could provide another clue. Do you see stray tresses from previous clients strewn on the ground? Professional hairdressers know the value of cleaning the space after each client. It is both a hygiene necessity and good business sense. Hairdressers are required to sanitize their hands and the tools they use regularly as well. Towels are meant to be washed and disinfected too. 
Taking a look at how their waste is organized could also tell you a lot about the establishment's cleanliness. You might not be able to see their storage space, but if you can, this could provide some useful intel. Becoming aware of standard hygiene practices could help you spot red flags that you might be going to the wrong hairdresser.