Staying Away From Selfies In Your Online Dating Profile Can Level Up Your Love Life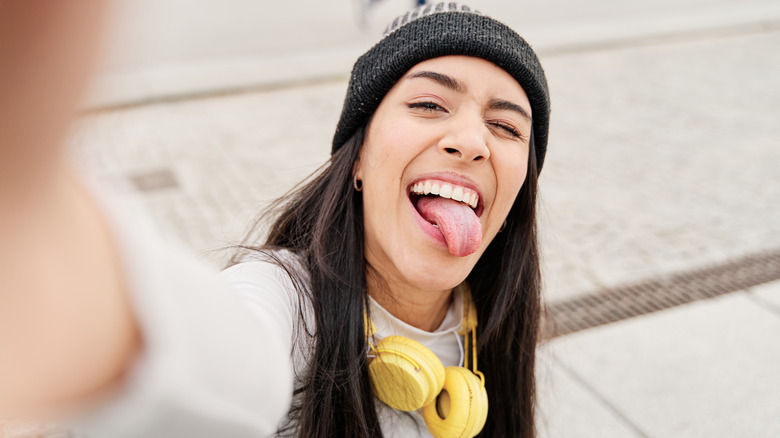 Oscar Martin/Getty Images
So your last date with someone you met online was a complete flop. It happens. Maybe the two of you didn't click or the venue just wasn't the right choice. Either way, you're back home and ready to jump into the fray again. After brushing up on the best online dating conversation starters, you hop back on your dating app of choice, ready to check out some more bios. Unfortunately, it might be your own profile that needs a once-over so you can stop getting duds and start finding true love.
It's the age-old question for users of online dating apps: How do we make sure our dating profiles attract the right match? It's probably one of the hardest parts of online dating and also the most important step. The dating profile is where we lay out who we are and what we're seeking in a partner. And that's about all we have to go off of, so if we blow that, well ... the rest of the experience typically follows suit.
Writing a poetic introduction or an adorably quirky joke are great ways to showcase your personality, but if you have a ton of selfies in your dating profile, then all the hard work you put into your text is most likely going to be ignored. Ridding your dating profile of selfies could be just the thing you need to take your love life to the next level.
Selfies don't show your true self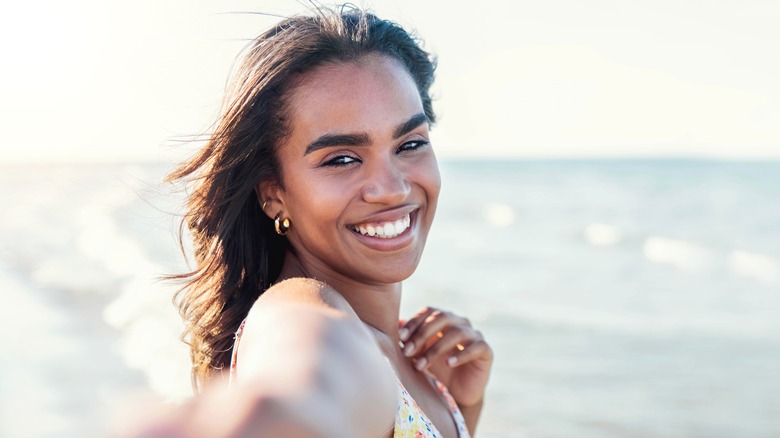 DavideAngelini/Shutterstock
Limiting your selfies is one of the best things you can do for your dating profile, professional dating coach Adelle Kelleher shared with Well+Good. People obviously tend to only show off their best features (looking at you, flexing Chads in the gym bathroom), but Kelleher promises better results when you meet in person if your match has seen other angles of you, even angles that aren't as flattering. We know it can be a little intimidating to show more of yourself, but doing so will attract someone who is intrigued by all aspects of you and your life.
It's not that a selfie is a fake version of yourself, it's just that it only captures a small portion of who we are. This applies to each and every one of us. And, let's be real, we might even throw a filter or two on our selfies or only ever shoot from our very best angle. There's nothing wrong with that, but it's not showing your potential match the full you.
Too many selfies could pin you as a narcissist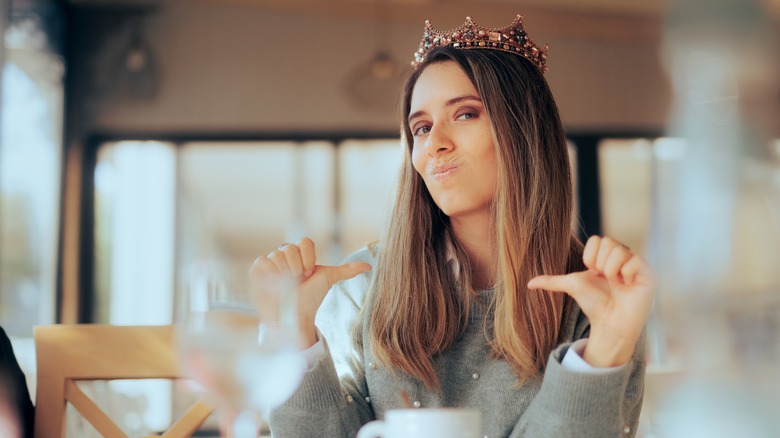 Nicoleta Ionescu/Shutterstock
Here's another big reason you should only have a selfie or two in your dating profile: Too many selfies is an online dating red flag. Excessive selfie-taking is a sign of a legitimate issue called "selfitis", which many people see as being narcissistic. That's not the look you want for your dating profile. Think about your own habits while scrolling through a dating app. Aren't you a little turned off by profiles that show nothing but selfies of the person and nothing else of interest?
Kelleher recommends viewing your dating profile as a story instead of a selfie museum. Who are you and what is it that you want people to know about you? Keep these questions in mind as you're choosing which photos to share on your dating profile. When you think about it, selfies don't really tell us too much about a person except they maybe have a great jawline or beautiful eyes. But a photo of you painting your next masterpiece, vibing at a concert with your bestie, or just giving your cat belly rubs says so much more about you than a selfie ever could. Share all angles of your life in your dating profile, and you'll attract someone who likes you for you and not just your pretty face.