Steps To Properly Clean Your Reusable Makeup Remover Pad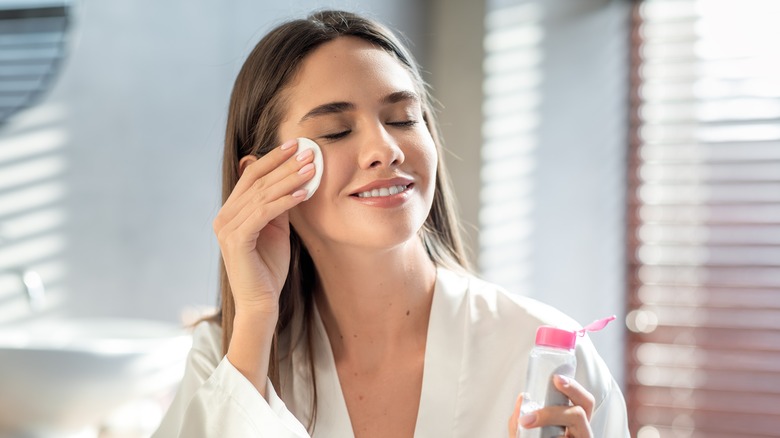 Prostock-studio/Shutterstock
Makeup remover wipes are a thing of the past, because reusable makeup remover pads are a thing of the present. Saving the environment one reusable pad at a time never looked, and felt, so good. 
Normal makeup remover wipes actually are extremely controversial not only because they aren't great for the environment, but certain brands could contain harsh chemicals that irritate the skin. Although they are used to remove makeup and typically unclog pores, there is talk that makeup remover can be bad for the skin. The biggest thing that can cause a lot of harm to the skin is fragrance, as this is an unnecessary additive that can cause a burning sensation on your face. If you're not yet convinced, another reason to quit using makeup remover wipes is because there are, according to Earthwatch Institute, approximately 9.3 million wipes flushed down the toilet each day. 
If you want to keep your skin, as well as the environment, happy and healthy, try the next best alternative route: reusable makeup remover pads. These pads are safe to use and easy to clean with just a few simple tools and steps mentioned below.
How to use a reusable makeup remover pad and where to buy them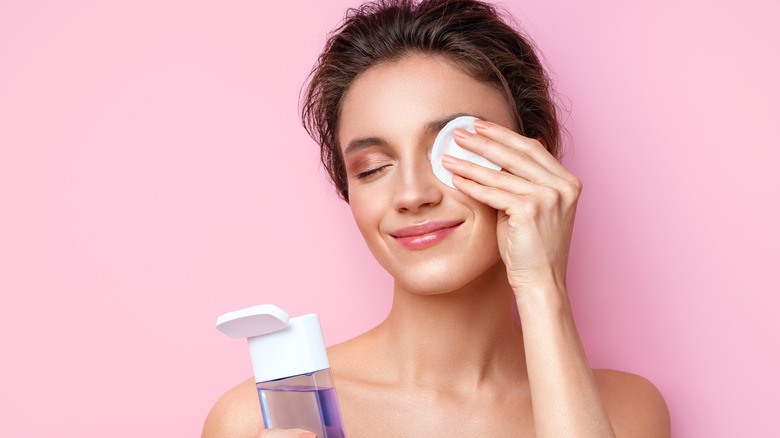 RomarioIen/Shutterstock
Before we get into the process of cleaning your reusable makeup remover pad, we should discuss how to actually use it in the first place. The process of how to use a reusable makeup remover pad is extremely simple. All you need to do is apply your favorite makeup remover — preferably one with non-irritating ingredients — onto the reusable pad and sweep it across your face until your makeup is completely off. And yes, you can use it on your eyes.
If you're unsure of where to go to buy a reusable makeup pad, you won't have to look too hard. They have become a lot more popular in recent years, and most pharmacies and makeup stores will sell them. For example, Ulta sells some from Tweezerman that come in a set of six for only $15. They are inexpensive and super convenient, as you can order them online or pick them up in store. Amazon also has a wide selection of options at various prices.
How to clean your reusable makeup remover pads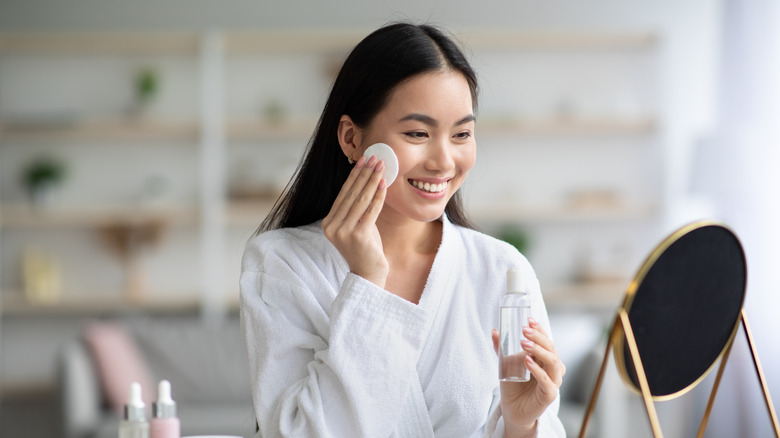 Prostock-studio/Shutterstock
So, let's get into it. How does one clean a reusable makeup remover pad? Well, there are a few ways to do it, but in general it is very easy. For a simple clean, just use your soap of choice and hand wash the pad with water. If you're looking for a deeper clean, throw the pads in a mesh laundry bag and wash them in the laundry machine. Let them air dry instead of putting them in the dryer.
Another way to clean a reusable makeup remover pad is by using a micellar water spray. According to The Best Stuff Experts, using a micellar water spray is a better alternative to regular micellar water because it won't leave the pad soaking wet and difficult to dry. With the micellar water spray, you just need to spray it enough to lightly saturate the pad and then leave it to completely dry. It is important to let the pad fully dry before using it again so there is no risk of mold or bacteria forming on the reusable makeup remover pad.