The Re/Done X Dr. Scholls Collab Is A Comfortable And Perfectly On-Trend Sandal For Spring 2023
Although Dr. Scholl's Shoes has a reputation for being outdated, the brand has made a comeback in recent years. One of their most iconic styles is none other than their Original Sandal. While Dr. Scholl's Shoes has been around since 1924, their original sandal was launched in 1959. Ultimately, it became a fashion staple in the 1960s, especially in Europe. The original sandal had a revival in the 1990s, 2000s, and now, the 2020s. In spring 2023, Dr. Scholls announced a limited edition collection with Re/Done. The collaboration is centered on an updated version of the Original Sandal.
Sean Barron, CEO and founder of Re/Done, explained why the company decided to join forces with Dr. Scholl's Shoes. He said, "The initial concept was born when we found a vintage pair of their sandals that had the most incredible construction and details. We didn't want to just make a reproduction — we wanted to marry the old-school features of our vintage pair with a more modern, square-toed silhouette ... I couldn't be more excited about the result."
Dr. Scholl's Shoes, on the other hand, noted that they were eager to work with Re/Done because of their commitment to sustainability.
The Re/Done x Dr. Scholls collab is eco-friendly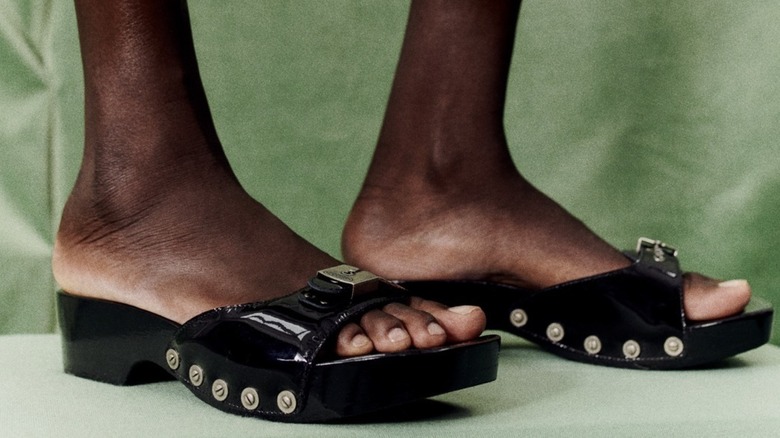 Re/Done
The Re/Done x Dr. Scholls collab is not the first of its kind. In May 2022, Dr. Scholl's Shoes collaborated with Ganni. The collection included the Original Sandal, which came in various eye-catching prints. The Original Sandal for the Re/Done x Dr. Scholls Original Icon Sandal comes in six variations, including black leather, cream leather, brown leather, red patent leather, black patent leather, and denim. Like their classic counterpart, they have a wood clog sole, and the sandal comes in sizes five to 11. 
One of the most significant differences from the classic shoe is that the Re/Done x Dr. Scholls collab is made with sustainability in mind. Re/Done made a name for itself by upcycling vintage Levi jeans. The brand notes that they want to be as environmentally friendly as possible, so the Re/Done x Dr. Scholls Original Icon Sandal is made with natural beechwood approved by the Forest Stewardship Council, which vows to protect the earth's forests. The leather is ethically sourced from the Leather Working Group. The Original Icon Sandal is also made with recycled materials, including denim from Re/Done. Nevertheless, the shoe retains its original features, like its adjustable metallic buckle, open square toe, and supportive sole. All In all, it's a shoe that will never go out of style.
Fans have mixed feelings about the Re/Done x Dr. Scholls collab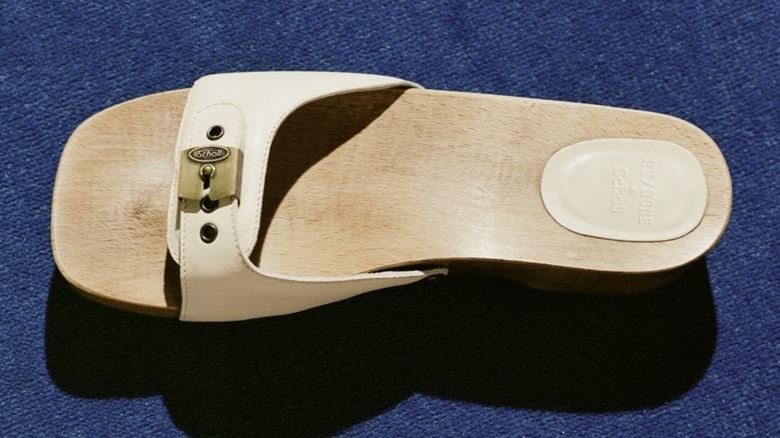 Re/Done
The beauty of the Original Sandal is that it simultaneously provides comfort while being fashionable.It's a shoe every woman should have in her closet. On Instagram, Dr. Scholl's Shoes highlights that their sandal is perfect for mild spring and summer weather, and can be paired with dresses, jeans, and more. In a 1996 article for the Associated Press, shop owner Camella Ehlke said (via Deseret News), "What's so amazing about them is they can be worn with anything. They're just basic, like a baseball cap."  
Best of all? Experts like podiatric surgeon Dr. Cary Gannon noted the shoe's toe-square design, telling Well and Good, "The original Dr. Scholl's slide sandals are ideal for foot health for two reasons: fit and function." While the Original Sandal costs $120, the Re/Done x Dr. Scholls Original Icon Sandal is $295,and some fans are voicing their concern about the higher cost on social media.
One user commented on Instagram, "Absolutely gorgeous job with these!! I still have [two] original pairs!! I wish the price point was better so I could buy a new pair!!" In another post, a user said, "You all are crazy to charge 300. for these shoes. i had some in the '70s that were priced around 25. and even with inflation, this price is ridiculous." Others commented that the Re/Done x Dr. Scholls Original Icon Sandal is nostalgic and exceptionally cute — even if it's pricey.