Can You Use Velcro Rollers On Wet Hair?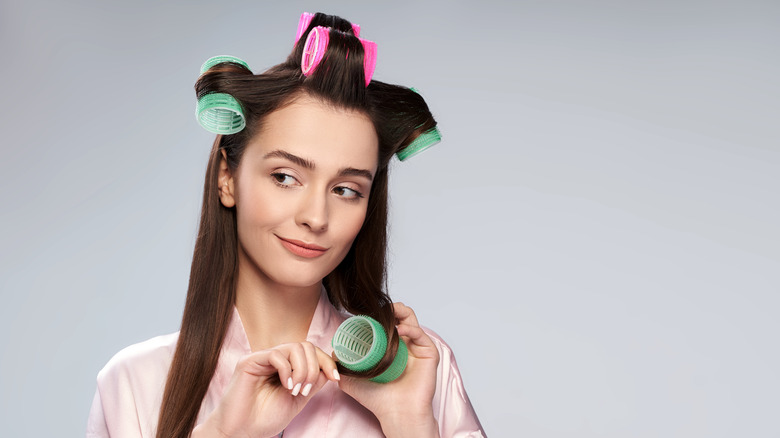 Olena Yakobchuk/Shutterstock
Like fashion, beauty trends are cyclical and what goes around eventually comes back around with a new modern twist to it. You might remember seeing your mom or grandmother with rollers in their hair for hours at home or at the hair salon, trying to achieve the perfect voluminous blowout. Velcro rollers might seem like a thing of the past, but they are making a big comeback.
With Velcro rollers, you won't have to worry about damaging your hair with a curler or straightener because you can easily achieve the stunning supermodel and iconic '90s hairstyle the blowout with limited heated styling tools. They're affordable, give you incredible volume, and will leave you with an effortless, bouncy, and signature hairstyle everyone will be wearing this season.
Cassie Siskovic, the national artistic director for Alfaparf Milano Professional USA, tells Martha Stewart, "Because of the texture of the Velcro, they lock in easily and create a brushable finish." 
How to put Velcro rollers in wet hair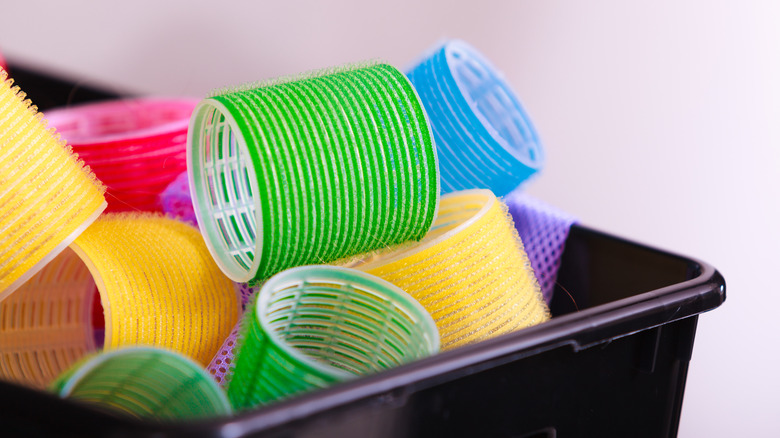 Voyagerix/Shutterstock
Typically, it's recommended that you dry your hair until it's 90% dry before adding in Velcro hair rollers, but you can use rollers with damp or wet hair as well — so long as it's not soaking wet. Once you're out of the shower, gently towel dry your hair for a few minutes and detangle with a comb. Next, add a moisturizing product to your hair that will give it a better grip. We recommend the Kerastase Densifique Leave-In Thickening Mousse to add volume and shine.
Then, it's time to part sections in your hair and start rolling. New York City-based hairstylist Cataanda James tells Allure, "Make a four- to six-inch section at the crown of your head. Begin making a 1 to 1 ½-inch part at the front of that section and start winding hair in the roller forward, toward the forehead." Secure each hair roller with a clip and work through the rest of your hair.
Get the signature blowout everyone is talking about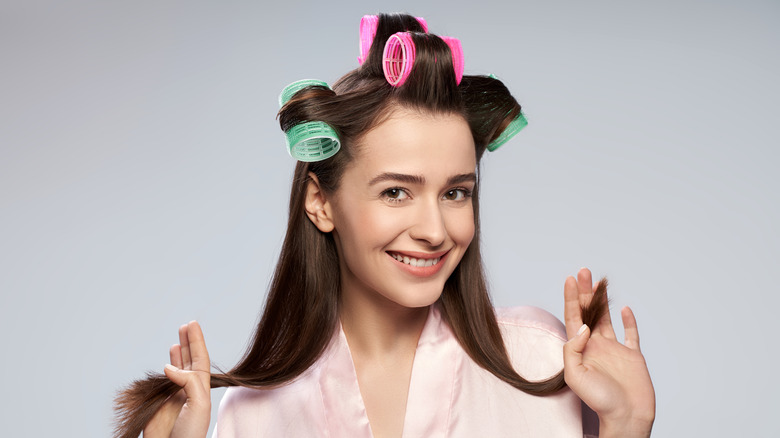 Olena Yakobchuk/Shutterstock
To achieve tighter, smaller curls, use smaller rollers and for large voluminous bounce, opt for the larger Velcro rollers. Once you're finished, you can spray your hair with hairspray to keep everything in place. When your hair is wet, you can let your hair air dry or go around each roller with a hair dryer, making sure to point the dryer in the same direction the roller is set. After drying, relax for 10 to 30 minutes to allow your hair to set in place.
When it comes to taking the rollers out, you need to be extra careful to not pull them out too quickly. They can easily get tangled in your hair and ruin the gorgeous curls you worked so hard to achieve. Rather than unrolling each one, slide them out in the same direction you rolled the hair in and flip each piece outwards to maintain the beautiful bouncy look.