What To Wear To Lizzo's Special Tour (So You Can Twerk In Style)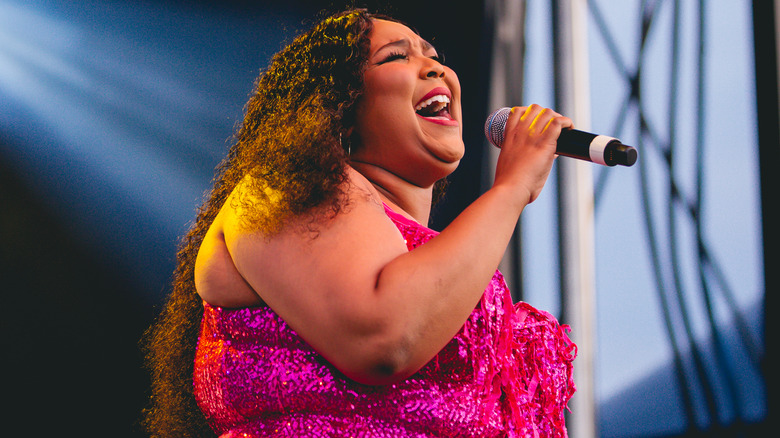 Tony Norkus/Shutterstock
If you're attending Lizzo's Special Tour, you need an outfit that really screams "special." The "Juice" singer is on fire right now, and she's all about self-expression via colors, sparkles, and showing some skin. That means luckily, there are a variety of ways to dress for this occasion. Whether you opt for a bright bodysuit, a metallic dress, or classic leather pants, your ensemble of choice should ultimately make you feel confident, beautiful, and ready to sing and dance. After all, the singer has hits for days that are expertly designed for busting out some moves.
Events like these don't come around very often, so why not make the fun begin long before the show itself starts? Have a few fashion shows in your bedroom to determine the best look before your concert date. To get you started on this exciting journey, here are some fun and trendy suggestions for what you should wear to Lizzo's concert.
Try a Yitty fit
Lizzo makes this concert outfit dilemma a bit easier by literally having her own clothing line for you to explore. Yitty is a size-inclusive brand that can be worn while you're dancing around the kitchen, working from home, hanging out with friends, or yes, attending the Special Tour. Rock a Yitty matching set or bodysuit with a statement coat, bold makeup, hair accessories, or platform shoes. Who knows? You might just have a shot at catching Lizzo's attention from the audience!
Get all decked out in sparkles
When it comes to Lizzo, it's all about the sparkle. The "Special" singer has built her whole brand out of letting her authentic self shine in style. It only makes sense that you do the same at her show! Luckily, there are so many different ways to dazzle at the Special Tour — try out a sparkly bodysuit, a short skirt, a crop top, a dress, glittery nails, glittery makeup, or simply a few sprinkles of body glitter to make your skin sparkle in the light.
Be bold in a bodysuit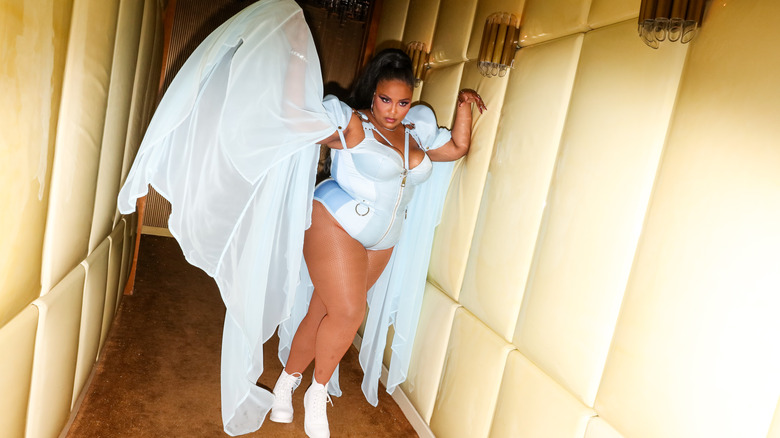 Rebecca Smeyne/Getty Images
Lizzo is notorious for rocking bodysuits — lest we forget her 2019 Met Gala afterparty look or her countless performances in a variety of colorful bodysuits. If you're trying to emulate your idol for the evening, this type of outfit is a daring and trendy way to go, and Lizzo is sure to appreciate the nod to her signature fashion. Wear a bright-colored bodysuit with some heels, chunky jewelry, and a fun updo for an especially eye-catching take on this style.
Go sheer and sexy
Wearing sheer clothing can feel kind of daunting at first because, well, it means bearing a little more than usual. However, if you channel your inner Lizzo and rock a confident attitude along with just the right ensemble, you may find that this edgy look pays off at the show. The singer herself is known for wearing sheer, sometimes colorful bodysuits and dresses, and she always looks amazing doing so. Experiment with layering a sheer garment over a bodysuit, and add some bold glam and heels to make yourself feel extra powerful!
Look spicy in animal print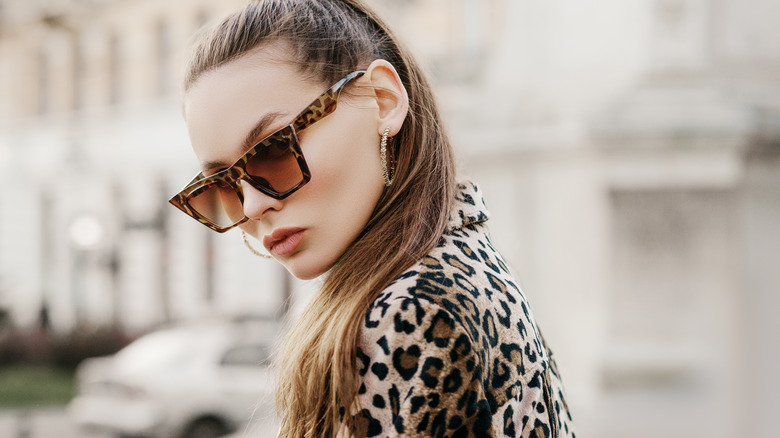 Victoria Chudinova/Shutterstock
If you want to stand out from the concert crowd, cheetah or leopard print is sure to catch people's attention. Animal print is automatically adorable and sexy at the same time, so it's hard to go wrong. Try on an animal print suit, tight dress, or long flowy sleeves like Lizzo has in the past. You can also go for an animal print headband, miniskirt, or crop top. Whatever item you choose, hoop earrings and a smokey eye will elevate the look even more.
Play with a big sleeve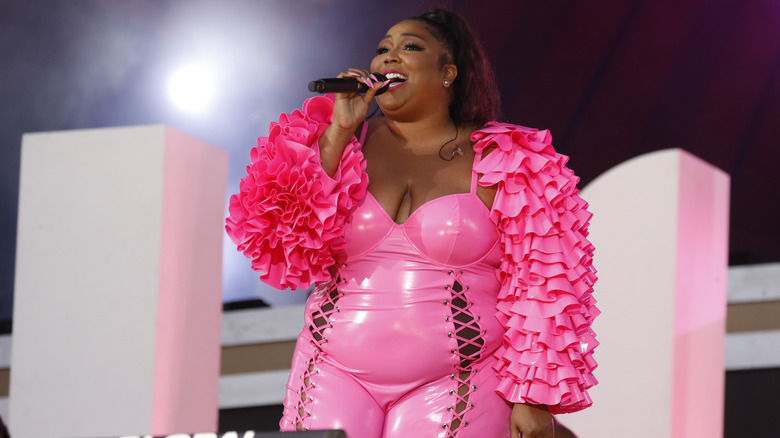 John Lamparski/Getty Images
The "About Damn Time" singer loves a fashion risk, so it's not all too surprising that she opts for a statement sleeve now and then. Her 2021 Global Citizen Live performance is extra memorable because of that epic pink ensemble; she wore a form-fitting pink body suit and paired it with huge ruffle sleeves. Sure, this look may be more of a challenge to pull off in everyday life, but this show is the perfect opportunity to live out all your big sleeve dreams — try them with a bodysuit just like Lizzo.
Shine in a monochromatic outfit
A monochromatic ensemble is another Lizzo classic — and it could be classic you, too. The singer wowed in a pure red, ruffled ballgown at the 2022 Emmy Awards, and she also performed in a blue bodysuit on the Today Show in 2022. Try a shiny monochromatic outfit on, and go crazy with accessorizing! This style works really well with fun hair pieces, statement jewelry, belts, and heels or platform shoes. Not to mention, solid colors are great for Instagram pics.
Feel like a girlboss in a matching set
Matching sets have a time and a place, and that time and place is definitely the Special Tour concert you're attending. Lizzo loves this cutesy, feminine look so much that her brand, Yitty, offers many two-piece outfit options. Choose a Yitty matching set or a colorful one to see Lizzo while emulating true Lizzo style. Finish off the ensemble with a coordinating purse, headband, Doc Marten boots or platform Converse, and you're ready to go.
Stay cozy in a fuzzy outfit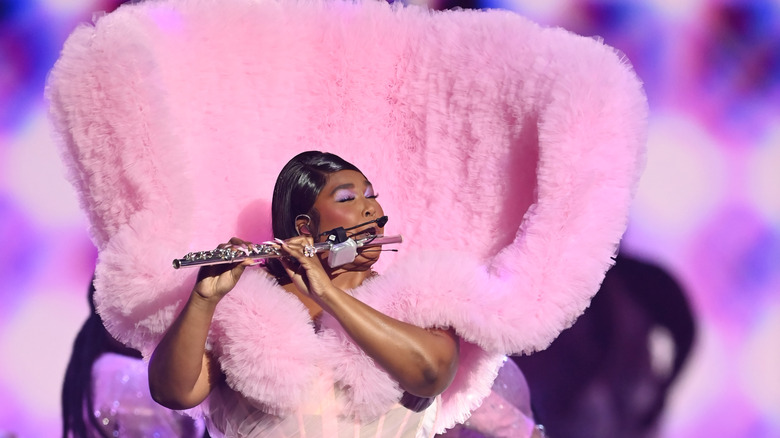 Dave J Hogan/Getty Images
Realistically, you'll be standing (and maybe sitting sometimes) for quite a few hours, so you might as well do it in stylish comfort! Fuzzy outfits are the best because they're en vogue but don't take themselves too seriously — which makes them the perfect vibe for a Lizzo show. Stand out in a bright-colored fuzzy dress, skirt, bucket hat, or boots. If you're feeling bold, you can even try big fuzzy sleeves or a fuzzy shawl.
Go badass in leather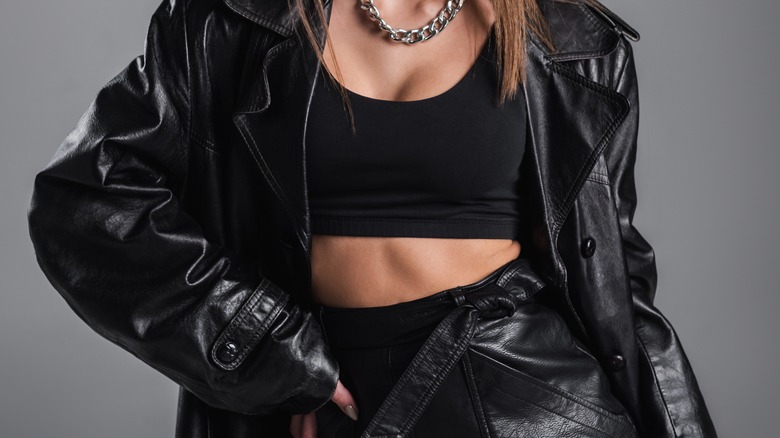 LightField Studios/Shutterstock
Anything black and leather is timeless, immediately hot, and ideal for a concert. Whether you go for a leather crop top, leather pants, leather shorts, a leather skirt, or a leather jacket, you instantly add that element of badass. To give the look even more power, try it with a bun, chunky jewelry, and shoes that give you more height. The singer herself enjoys a leather or partially leather ensemble sometimes, so she would totally approve.
Be fierce in metallic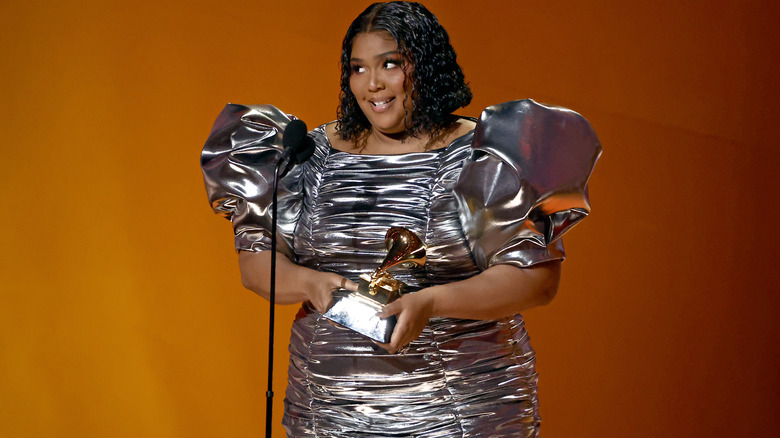 Frazer Harrison/Getty Images
If Lizzo is one thing, she's fierce — not just personality-wise, but fashion-wise, too. The singer is no stranger to stunning in metallic hues and for her, the look has even resulted in winning Record of the Year at the Grammys. This look is fearless and feminine, and it'll have you ready to rock out to all her hits in style. Since a metallic outfit is a statement in itself, you don't have to worry about adding too much; some heels or boots and complementary makeup will do the trick.
Add some edge with fishnets
If you're aiming for some slightly more emo Lizzo energy, this might be the look for you. You can wear a fishnet top, a fishnet dress, fishnet tights, fishnet leggings — whatever you choose, the result will be gorgeous with a hint of edge. To go all the way emo, slip on a pair of Doc Martens, some dark makeup, and black layers under your fishnet item. This darker look is a fabulous contrast to some of the neon and bright colors you'll probably see around you.
Strut in over-the-knee boots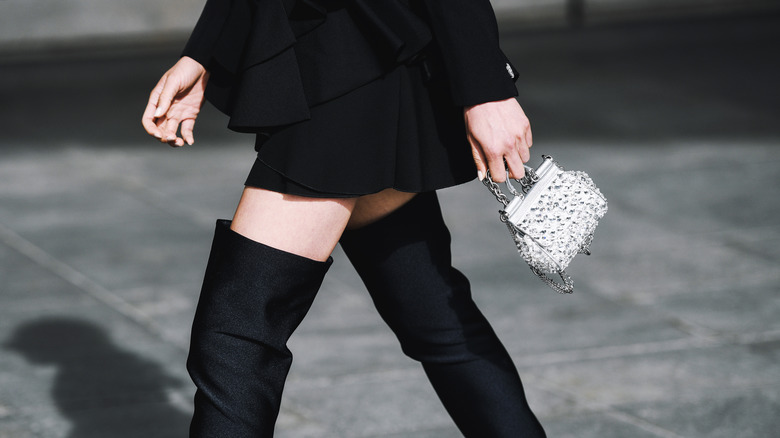 Creative Lab/Shutterstock
Over-the-knee boots make any outfit a little sexier, and they add a feminine flair; it makes perfect sense why Lizzo has worn them on many important occasions in her career including in her 2019 "Tempo" music video with Missy Elliot. These boots look fabulous with a miniskirt or a form-fitting dress, and they also go well with a bold glam look. What else is your mirror for if not for practicing strutting into the venue in your gorgeous boots?