Halo Extensions Are The Ultimate Style Secret To Give Your Hair Instant Length And Volume
Nothing makes your mood go south quite like having a bad hair day on a busy schedule. Some mornings are just like that. You get up, look in the mirror, and witness hair that doesn't wish to be tamed, no matter how many brushes and how much holding spray you send its way. 
Luckily, hair extensions are there to save us in a pinch. Hair extensions take boring, limp hair and give it new life. One of the many benefits of wearing hair pieces is that you can gain as many inches as you wish in a snap — just pick the length you're after. Plus, the add-on hair boosts your volume, meaning you'll get longer and thicker hair without a teasing comb.
Our new fave hair add-ons have to be the Halo extensions. They're the new kid on the block in the world of faux hair and have all eyes on them; they've even garnered more than 50 million views on TikTok. The internet is going wild over them, but are they really worth all the hype they're getting?
Why the internet loves Halo extensions
Created by Halo Couture, the Halo hair extensions are advertised as the "ideal solution" for achieving longer strands that blend seamlessly with your natural hair. Country singer Emily Ann Roberts calls the clever hair extensions the secret to her voluminous stage hair. To get the same look, users simply slip on the nearly invisible halo-shaped headband attached to the extensions.
The Halo headband is exactly why people are falling in love with these add-ons. Hair extension aficionados know that some types of hair extensions can be particularly damaging to your natural strands. In an interview with Byrdie, Dominic Burg, Ph.D., a trichologist, listed weaved-in and microbead extensions as the most taxing on hair. "These are often applied quite close to the root and worn for extended periods (many months) and, if done incorrectly or too tightly, can damage the follicle, aka the root," he explained.
With Halo extensions, you don't have to worry about any of that. The headband slides neatly into place on the back of your head and gives you instant length, no glue required.
Halo extensions aren't a fit for everyone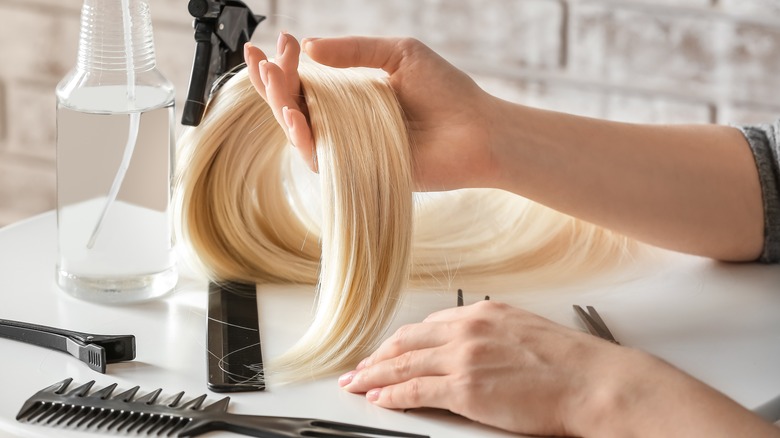 Pixel-Shot/Shutterstock
If you don't want to commit to tape-in hair extensions or other semi-permanent to permanent hair extensions, then a Halo can make a great alternative. After all, they're damage-free, not particularly expensive, and look amazing. However, they're not the right fit for everyone. 
While the headband might be Halo extensions biggest selling point, it could also be a concern for some, especially for those who tend to get headaches from wearing tight-fitting accessories around the head. The Halo essentially hooks around your temple area and squeezes lightly to keep in place. If having constriction around your head all day sounds uncomfortable to you, it might be best to look for another style of hair extensions.
Another downside is how inflexible they can be. According to The Vanilla Plum, wearing Halo extensions all day is just not feasible for those who like a versatile hair piece. It would require buying multiple pieces to adjust for whichever activities you plan for the day, , so keep that in mind before making a purchase.