Queen Camilla Channels Queen Elizabeth's Style With Signature Accessory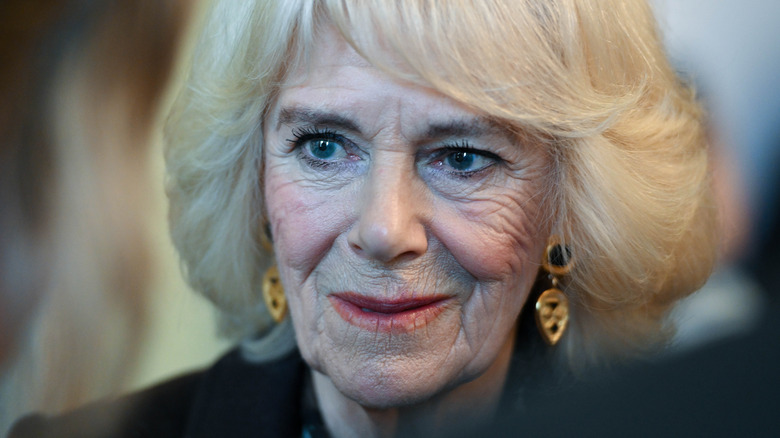 Finnbarr Webster/Getty Images
Camilla, queen consort has been through the wringer when it comes to the court of public opinion. In 1993, her illicit affair with Prince Charles — now King Charles III — came to light. Though the pair had previously dated in 1970, they went their separate ways when Charles joined the Navy. Queen Camilla tied the knot with Andrew Parker Bowles in 1973, and Charles wed Princess Diana in 1981, per Brides. "There were three of us in this marriage, so it was a bit crowded," Diana famously quipped in a 1995 interview with Martin Bashir, remarking on her husband's affair and the downfall of her relationship. The infamous interview has since been recreated on Season 5 of Netflix's "The Crown." ​​
Camilla, queen consort took the brunt of public vitriol after she and Charles formally announced their relationship. She was reportedly called a "homewrecker" and a "wicked woman," facing constant comparison to the universally beloved Diana, especially after the princess' untimely death. However, since the passing of Queen Elizabeth II, Camilla has seen a rise in her approval ratings. "When you consider how horrible people were about her before she married Prince Charles — they hurled abuse at her, they accused her of everything — she is not vindictive or vengeful," royal historian Hugo Vickers told The Guardian. In the wake of these warming attitudes, queen Camilla has even gone on to channel Queen Elizabeth's style with a signature accessory. Here's how she's put her stamp on royal fashion.
Camilla is also a fan of Launer handbags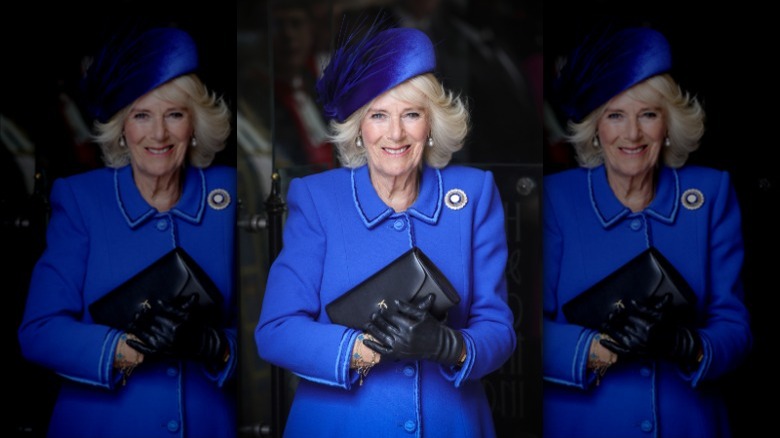 Chris Jackson/Getty Images
At the annual Commonwealth Day service — now presided over by King Charles III — queen Camilla was seen carrying on Launer handbag, a brand preferred by Queen Elizabeth II herself. According to Gerald Bodmer, the company's CEO, the former monarch owned multiple personalized purses. "She once told me that she doesn't feel dressed without a bag," he remembers in a conversation with Vogue, adding, "And I completely agree, of course." In fact, the last photograph taken of Queen Elizabeth shows her standing in Balmoral Castle's drawing room holding a black Launer bag.
Camilla paired the queen's trademark accessory with a striking blue coat dress, pearl earrings, and a matching blue hat. Pinned to her chest was a sapphire and diamond brooch that previously belonged to Queen Elizabeth — this piece has an estimated value of $680,000 (via Page Six Style). If her recent public appearances are any indication, the queen consort intends to continue Queen Elizabeth's relationship with the Launer brand.