Is The Kinder Beauty Box Worth The Money?
If you're a fan of cosmetics like we are, then you are all over it when new products drop from your fave beauty lines. However, spending so much money on makeup, especially when there are so many types out there, simply isn't feasible when you've got bills to pay. That's why makeup lovers around the world are trying before they buy and signing up for beauty subscription boxes. These fun and affordable boxes are a dream come true for makeup enthusiasts as they offer a chance to test new products without a hefty price tag.
Monthly beauty box subscriptions deliver an adorable kit of personalized beauty supplies right to your front door. There used to be only a few to choose from, including OG beauty box subscription Birchbox. Nowadays, you have your choice of boxes to choose from. From IPSY to BoxyCharm, there are makeup subscriptions out there to fit all tastes and styles.
Another beauty subscription box that's gaining traction is the Kinder Beauty Box. It's being touted as the cruelty-free makeup box subscription that vegans need in their lives. But is it really worth the money? That all depends on what you're after. 
Kinder Beauty Box gives you good makeup at a reasonable price
Kinder Beauty Box was founded by Daniella Monet and Evanna Lynch, two actresses who are fighting for a more eco-friendly beauty industry. Their contribution to the fight is the Kinder Beauty Box, the definitive "clean beauty" monthly subscription box for people who want to make the switch to cruelty-free makeup. The box lives up to its name of being "kinder" to the environment by including products that are vegan-friendly, weren't tested on animals, and play nice with the environment.
As far as cost goes, the Kinder Beauty Box is also kind to your wallet. Boxes start at just $23 and contain around five products, with a total minimum value of $85. Some of their past boxes include such famous brands as Goli and AllWell, so you're getting quality items every month. Plus, a portion of each purchase goes towards charities that help animals, so it's money well spent.
Some aren't happy with their lack of customization options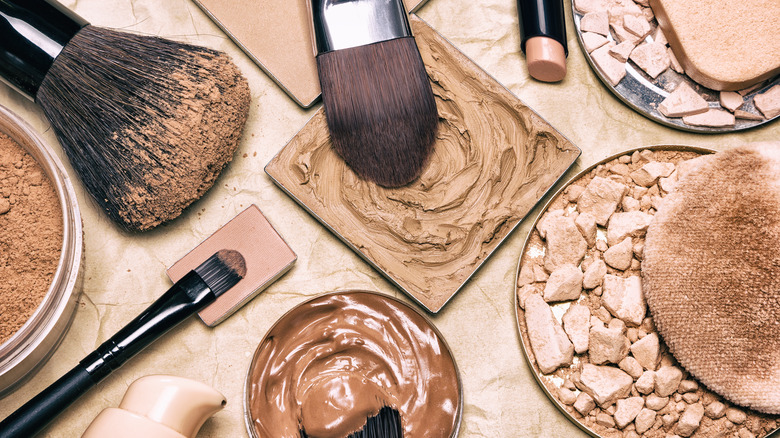 Pogrebkov/Getty Images
This is the perfect box for people who want to be introduced to some environmentally friendly alternatives to their favorite skincare and beauty products. It's even rated the best eco-friendly makeup subscription box by readers of My Subscription Addiction.
Despite its dedication to the environment, not all subscribers are pleased with Kinder. One con that users point out is the lack of customization options, particularly at their lowest subscription price. Unlike Petit Vour, another vegan makeup subscription, you don't have the choice to indicate your skin tone before buying. Receiving makeup that's incompatible with your skin tone is very disappointing. 
Another user shared their displeasure at the shortage of full-sized products featured in each box, saying the boxes usually contain just one full-sized item. The user wrote, "My last box had a RIDICULOUSLY small sample size of a facial serum, literally only enough for a couple of days." Even if these aren't dealbreakers for you, it's something to keep in mind before you sign up for a monthly subscription with Kinder Beauty.