Donald Trump Believes His Arrest Is Imminent – What Would That Mean For His 2024 Campaign?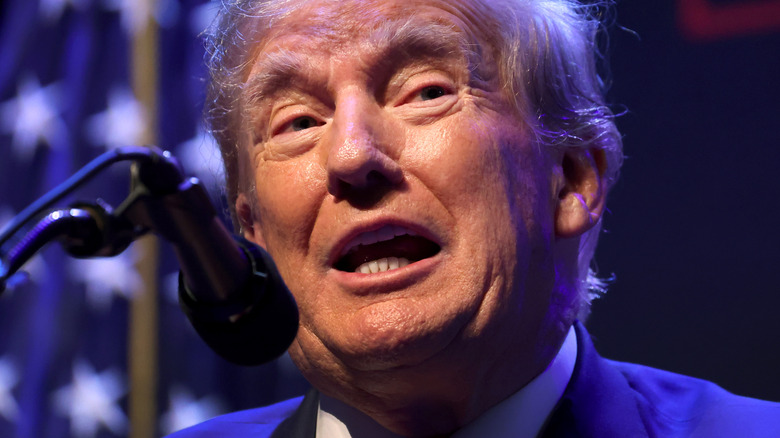 Scott Olson/Getty Images
On March 18, former President Donald Trump announced that he believes he will be arrested on March 21. In a two-page long post on Trump's startup social media website Truth Social, the Republican candidate proclaimed, in all caps, "Our nation is now third world & dying. The American dream is dead!"
Trump went on to write, "Now illegal leaks from a corrupt & highly political Manhattan district attorneys office ... indicate that ... the far & away leading Republican candidate & former president of the United States of America, will be arrested on Tuesday of next week." At the end of his post, he added a call-to-action to followers, saying, "Protest, take our nation back!"
According to Vanity Fair, Trump's proclamation stems from the ongoing pressure he is facing in the ongoing Stormy Daniels case. The case seems to finally be approaching the final leg of its investigation, and the former president seems likely to be facing charges. But how will this impact Trump's political future? Will this hurt his chances at a 2024 bid for president?
Could this halt Donald Trump's 2024 campaign?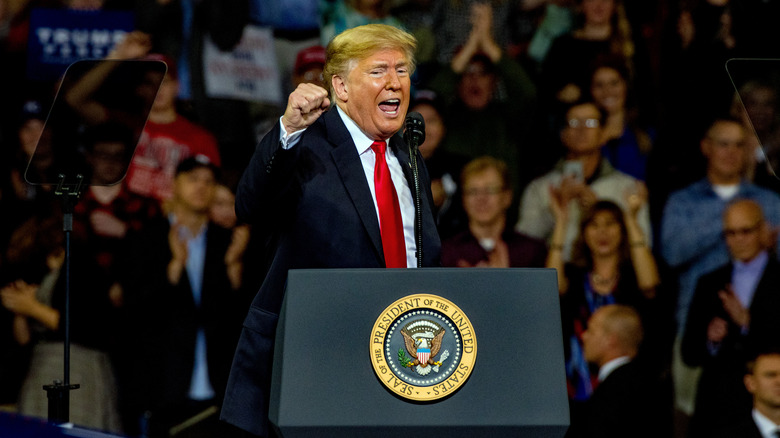 mark reinstein/Shutterstock
With Donald Trump's recent claims that he will be arrested on Tuesday, March 21, and the case now seemingly headed toward indictment, people are left wondering what will become of Trump's 2024 presidential campaign. According to a poll by Quinnipiac University, he is seen by many as the frontrunner of the GOP candidates thus far, but his arrest could change all that.
Even so, his eligibility for the presidency will not be affected by the trial. This remains true even if he is indicted or convicted. "There's no constitutional bar on a felon running for president," ABC News legal analyst Kate Shaw explained. As far as his campaign goes, Shaw clarified that, although campaigning would prove more difficult, there are no legal ramifications for campaigning while incarcerated.
In a statement to CNBC, Trump's defense lawyer Joseph Tacopina claimed that the former president will "follow normal procedures" if he is indicted by the Manhattan grand jury. Both sides on the Stormy Daniels case haven't budged on their story, so we will see what happens going forward.