Do Foundations With SPF Provide Enough Sun Protection? Here's What We Know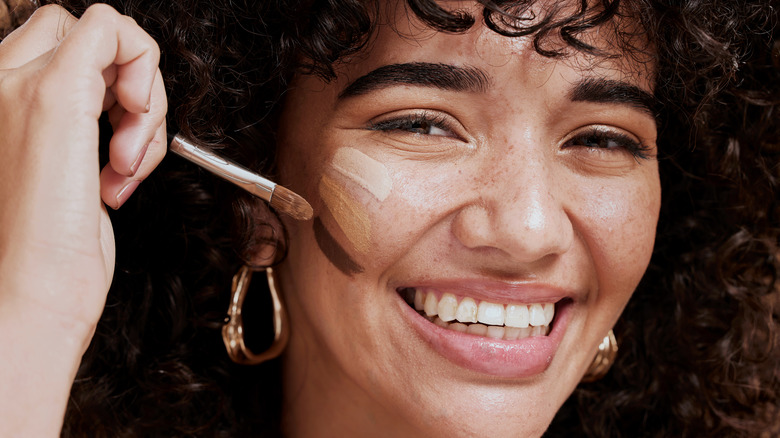 Peopleimages/Getty Images
We may receive a commission on purchases made from links.
After learning what happens to your skin when you skip sunscreen, the memories of all the days you spent outside without SPF protection may come rushing back to you, haunting you because you risked skin cancer and sunburn so often. Aside from preventing age spots and fine lines, wearing sunscreen is important solely because it blocks harmful UV rays from damaging your skin.
Although sunscreen has become a part of many people's daily routine, using sunscreen properly is surprisingly expensive. Since you're supposed to apply SPF every two hours when your face is seeing the sun, you would run through a 1.7 oz bottle of sunscreen in about two or three weeks. If you're spending $20 each on a bottle of sunscreen that would last less than a month, it's very obvious what part of your skincare routine is draining your wallet.
Given that sunscreen is so pricey, some people are turning to two-in-one products in order to get more bang for their buck. While moisturizers with SPF have been popular for some time, foundations with the UV-blocking ingredient are gaining traction. But do they actually protect your skin?
Do foundations with SPF work?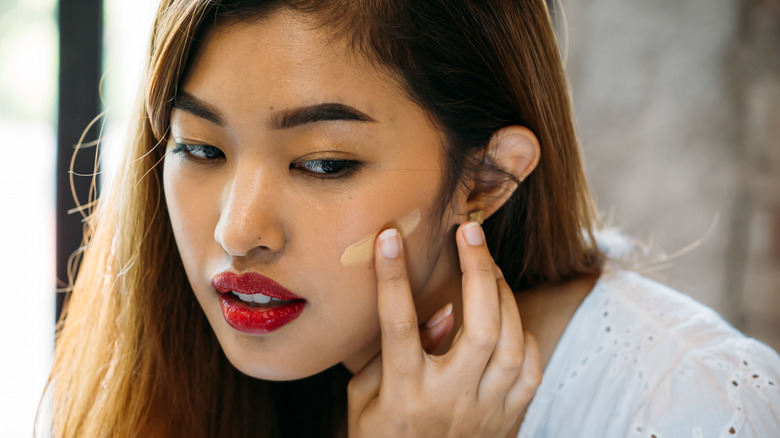 Twinsterphoto/Getty Images
In order to avoid buying a bottle of sunscreen, you may just opt for foundation with SPF, hoping it will cover your bases. Unfortunately, it's not enough. Unless you're @mereditduxbury on TikTok, the amount of foundation you most likely apply isn't comparable to the amount of sunscreen that you actually need. Ideally you should be wearing about ⅓ of a teaspoon of sunscreen on your face.
As for how often you should be applying sunscreen, every two hours is the standard. While you may touch up your makeup every now and then, nobody reapplies that much foundation within such a short amount of time. Even if your foundation or tinted moisturizer has an SPF 30 or above — which is the recommended amount — it's still not enough to give you the proper amount of protection. To ensure that all your bases are covered, you should apply sunscreen before you put on your makeup.
To stay protected, look for a sunscreen that you can apply on top of your makeup. Using powder or spray sunscreens will allow you to touch up your makeup and also keep your skin sheltered from the sun throughout the day.
Shop SPF products for under and over makeup
Rather than using a foundation with SPF, try the La Roche-Posay Anthelios Daily Anti-Aging Face Primer. A primer and sunscreen in one, the Anthelios primer smooths out fine lines and pores while covering up discoloration. With broad spectrum SPF 50, it provides adequate protection against both UVA and UVB rays.
For reapplication, use a powder sunscreen like the Supergoop! (Re)Setting 100% Mineral Powder. Made with ceramides to keep skin from drying out in the sun, it smooths out the skin, banishing shine from sweat and oil that has seeped in through your makeup. The translucent shade is suitable for all skin tones, and the lightweight powder works over makeup or on your skin alone.
If you have dry skin and don't want to go for a powder sunscreen, try the Isntree Hyaluronic Acid Airy Sunscreen. A sunscreen in a stick, you can apply it over your makeup without your blush or foundation smudging all over the place. It keeps makeup intact and has soothing ingredients, such as bamboo water and aloe vera extract, that feel cool under the hot sun.