The Viral Under-Eye Product To Make Puffiness A Thing Of The Past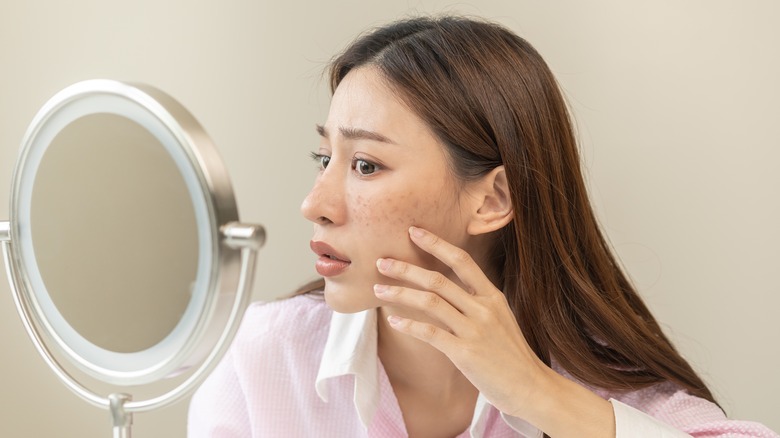 Kmpzzz/Shutterstock
Having puffy eyes not only makes you look like you didn't get your full 8 hours of sleep, but it can also cause you to feel self-conscious about your appearance. If you're worried about bags under your eyes and dark circles, you're not the only one. Although ice rollers and facials are a great long-term solution to help soothe eye puffiness, sometimes you need a quick-fix that can cover up those under-eyes before you walk out the door.
There's a product that's making the rounds on TikTok and social media that has everyone talking. Westmore Beauty's 60 second eye effects gel is a product that tons of skincare and beauty influencers are using and loving the results of. This eye gel claims to be able to instantly reduce the appearance of puffiness, fine lines, wrinkles, and under-eye circles by using Flex-Tensor Technology (via Westmore Beauty). It uses a mixture of firming formula and color correctors to blend with your skin and provide you with a flawless, smooth look to make under-eye puffiness a thing of the past.
How to apply westmore beauty's 60 second eye effects gel
According to Dr. Luke Maxfield, this skincare product has silicates that form a film on the skin that contracts and tightens the skin and also contains products that benefit the skin long-term like vitamin E, hyaluronic acid, and retinol.
When applying this eye gel, Westmore Beauty recommends using an oil-free cleanser before application, and avoiding any moisturizer. To use this viral eye gel, simply apply a pea-sized amount of product onto your finger. Gently pad it under your eyes and blend it over your under-eye bags, fine lines, and wrinkles. When you're ready to set the gel, just tap it over the areas where you applied it and fan it with your fingers. One of the most important steps is to keep your face muscles relaxed for 60 seconds while the product is drying. Once the 60 seconds is up, your skin should feel tighter, and your under-eye bags should look a lot less prominent than before.
Is this viral product worth it?
You may be wondering if the Westmore Beauty 60 second eye effects gel is worth all of the hype.  TikToks related to "Westmore Beauty 60 seconds" have garnered millions of views. Many beauty influencers have been seen trying out the gel and being shocked by the results. The biggest drawback of this product is that its a temporary solution and only lasts a few hours. If you have an event you're going to or need to quickly smooth your skin out for a few hours, this is a great solution.
For those looking for more long-term solutions, you might need to look elsewhere for tips to de-puff your eyes. Invest in a good eye cream to use in your daily skincare routine that can help soothe your under-eye bags and dark circles. Dr. Robert Finney suggests to Byrdie, "Look for a good moisturizing eye cream with ingredients such as green tea, caffeine, niacinamide, peptides and other antioxidants, which can help reduce inflammation and constrict blood vessels to reduce puffiness."