The Unexpected Fruit That Can Protect Your Skin From UV Damage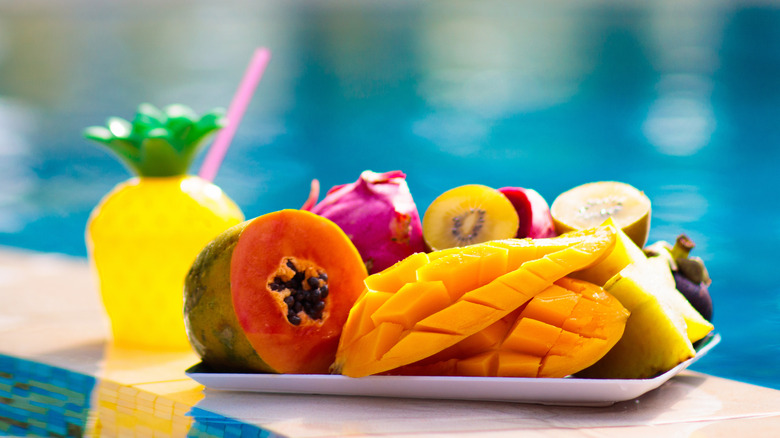 Famveld/Getty Images
Papaya is a sweet tropical fruit with a vibrant orange color. It is native to Mexico and Central America, yet India has become the world's largest producer of the fruit. This fruit and its extract, found in topical solutions, contain healthy properties that have been shown to protect your skin from irritating skin conditions, such as skin redness issues (like erythema, eczema, and psoriasis). Papaya has also been found to help lessen the impact of other conditions, such as acne, wrinkles, and dark spots (melasma).
One recent claim that has emerged is that papaya is able to help protect your skin from UV (ultraviolet) radiation damage. This type of radiation can cause skin cancer (non-melanoma), the most common form of cancer in the United States. However, this claim should be treated with caution, as there are existing and certified products that are designed to protect the skin from overexposure to sunlight.
There are numerous ways to apply papaya extract to your skin, such as face masks, body scrubs, and exfoliating cleansers. Today, we'll look at the academic research that explores papaya's benefits for our skin, specifically in relation to protection from the sun, as well as where this unique remedy can be found in skincare products.
How Papaya extract can prevent UV damage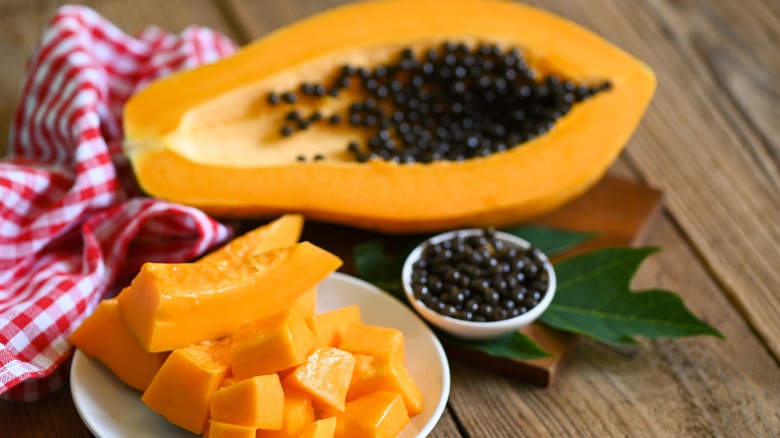 Bigc Studio/Shutterstock
Overexposure to sunlight and harmful ultraviolet radiation can cause skin redness (erythema) and skin cancer (non-melanoma), which is the most common form of cancer in the U.S. today, per Cancer.net. There are some studies that indicate that papaya may help protect the skin from the sun.
The papaya fruit contains lycopene, a red carotenoid pigment that gives the fruit its rich orange color. A study published in Photochemical & Photobiological Sciences observed volunteers who increased their consumption of lycopene-enriched foods. "A decrease in the sensitivity towards UV-induced erythema was observed in volunteers," wrote the researchers. "Dietary carotenoids may contribute to life-long protection against harmful UV radiation."
However, it must be emphasized that papaya as a dietary and/or topical solution is no substitute for sunscreen with a high sun protection factor (SPF), especially when it comes to preventing the risk of developing skin cancer. A study in the American Journal of Clinical Nutrition highlighted this. As the researchers wrote, "photoprotection through individual dietary components such as β-carotene or lycopene in terms of sun protection factor is considerably lower than that achieved by using topical sunscreens."
Where to find Papaya extract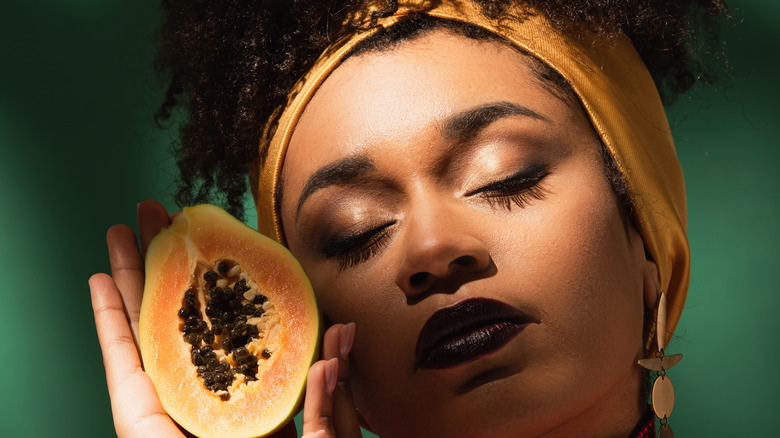 LightField Studios/Shutterstock
Papaya and papaya-derived extracts are used in dietary and topical solutions, which claim to protect our skin from UV damage-related skin conditions and other irritations. This is supported by a variety of academic studies. Unripened papaya contains the enzyme papain, and a study published in Biomedicine & Pharmacotherapy found this enzyme was "an excellent topical preparation for hypertrophic scar treatment." Another study published in the Biology Basel wrote, "Carica papaya can be incorporated into medications or supplements to help manage the health conditions driven by oxidative stress [inflammation, skin-aging]."
Papaya extract products include cleansing balms, exfoliating facial scrubs, and face masks — some of these can be prohibitively expensive, but fear not, there are even DIY solutions that are cost-effective. Overall, papaya and papaya extract can be highly beneficial for protecting our skin from irritating conditions. However, for the most severe issues such as skin cancer (non-melanoma), certified SPF protection is absolutely paramount in protecting all skin types from harmful UV radiation and should never be substituted with papaya-derived dietary or topical solutions.