The Bold And The Beautiful Alums Joe LoCicero And Gina Rodriguez Become First-Time Parents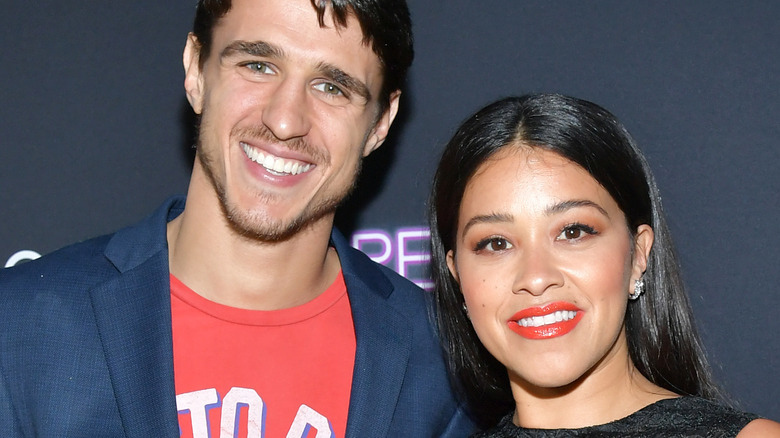 Amy Sussman/Getty Images
"The Bold and the Beautiful" fans may remember Gina Rodriguez, who played Beverly from 2011 to 2012. Beverly was a wayward girl who was granted an internship by Stephanie Forrester (Susan Flannery) at Forrester Creations. Things went sideways for Beverly after she was accused of giving pictures of their designs to rival company Jackie M. However, Beverly was eventually exonerated and while she didn't leave the show officially, the character hasn't been seen since 2012. 
Rodriguez's real-life husband, Joe LoCicero, followed in his wife's footsteps by playing drug dealer Vincent "Vinny" Walker on "B&B" from 2019 to 2021. Vinny ultimately met a violent end when Liam Spencer (Scott Clifton) ran him over. Rodriguez subsequently became the star of the hit series "Jane the Virgin," which is actually where the couple met, back in 2016, when LoCicero enjoyed a guest-starring role. 
When the couple got engaged in 2018, Rodriguez told E! News, "I'm stuck with that man for life, he made that so." She refused to share details of when LoCicero popped the question, "Because there's only so many things that you get to own when you become a public figure." The following year, Rodriguez shared a touching video of their wedding on Instagram and showered her family with love for making it a truly special occasion. Now, the happy couple has another milestone to share with their fans.
LoCicero and Rodriguez couldn't be happier
On July 30, 2022, former "The Bold and the Beautiful" star Gina Rodriguez announced that she and her husband Joe LoCicero were expecting a child, with a video montage posted on Instagram. In it, Rodriguez was briefly glimpsed excitedly holding a positive home pregnancy test. It was also her birthday, and LoCicero took to Instagram to celebrate, writing, "Wherever you go my heart follows. Happy birthday my goddess." Rodriguez's response was, "Me and baby love you, papa." 
In November 2022, the couple conducted an outdoor pregnancy photoshoot and Rodriguez shared a photo of LoCicero holding her tenderly. She captioned it: "Just the three of us." Rodriguez previously told People that her experience doing voice-over work for the children's animated series "Lost Ollie" helped her reflect on her life and becoming a mother. The actor was looking forward to fueling her own child's imagination one day. 
Rodriguez noted, "I want to allow my child to live in those spaces, while also living in our culture that is real and of the flesh, and you have to play by certain rules," adding that acting allows her to use her creativity more freely and completely. People subsequently confirmed on March 19 that their first child has arrived, and it's a boy. We join all the fans in congratulating the happy couple on their joyous news!