The Lavish Lives Of The Spanish Royal Family: From Pricey Schools To Private Planes
zixia/Shutterstock
Americans are obsessed with royalty. It's true. Maybe it's because we never had a royal family. Maybe it's because Prince William and Prince Harry were everywhere growing up. Maybe it's because we watched too many Christmas movies where the girl next door falls in love with a prince pretending to be a commoner as they both try to save her family's inn. Honestly, it doesn't matter. Because at the end of the day, we will still be royally obsessed. (See what we did there?)
We always hear about the British monarchy here in America (circle back to the Prince William and Prince Harry comment) and it feels like the coverage has only gotten bigger, especially with the Duke of Sussex and Meghan Markle moving to Los Angeles and spilling the tea on the Firm (insert Boston Tea Party joke here). The most American thing they could do is to have their own reality TV show, and they practically did the equivalent with their Netflix docuseries. But we're not here to talk about the British royals, we're here to introduce you to the Spanish ones.
You might not even know that Spain has a royal family. And we gotta say, the Spanish royals are definitely going toe-to-toe with the Brits in terms of luxury. Watch out, Princess Catherine, Queen Letizia is coming for your crown. Figuratively, of course. Let's meet the Spanish royal family and take a look at their lavish lives!
Let's meet King Felipe VI, Queen Letizia, and their two daughters, Princess Leonor and Infanta Sofía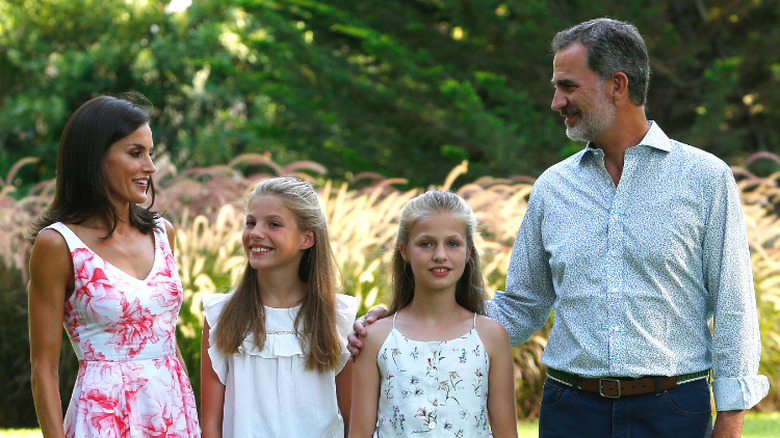 zixia/Shutterstock
King Felipe VI was crowned the King of Spain on June 19, 2014, after his father King Juan Carlos abdicated the throne. The latter's abdication was due to controversy and backlash — but we'll get into that later, don't you worry. Felipe obviously grew up as a prince, but Queen Letizia actually is a commoner. Much like Princess Catherine, Letizia grew up middle-class and had a very successful career as a journalist in Spain before being set up on a date with Felipe by a friend, according to Popsugar. Not only was Letizia a commoner, but she also had been married before, another parallel to the British royals and Meghan Markle.
Still, love prevailed, and Felipe and Letizia married in May 2004, becoming king and queen 10 years after that. The king and queen have two daughters, Princess Leonor and Infanta Sofía. The latter is referred to as an "infanta" instead of a princess because she will not inherit the throne.
King Felipe's family line has been ruling over Spain since the 1700s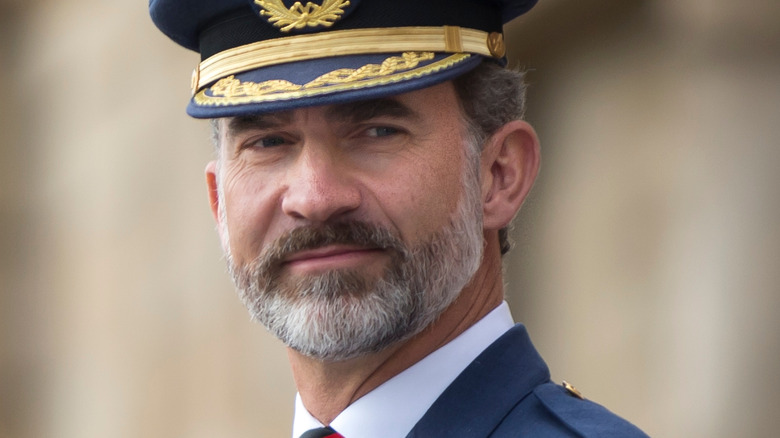 Photoarte/Shutterstock
While the Bourbon dynasty has been ruling since the 1700s, Spain has practically had a monarchy since the fall of the Roman Empire. But for the sake of our purposes, let us fast-forward to Charles I becoming the first of the Habsburg dynasty to rule Spain. When the family line was left without an heir upon the death of Charles II in 1700, the line of succession was determined in the calmest, most chill way: War. (If only they would have let women run the show, there would have been a lot less bloodshed, but we digress.)
The War of the Spanish Succession lasted from 1701 to 1714 between the Bourbons (who, spoiler alert, we already know won) and the Habsburgs, who both had claims to the throne. Neither party seemed to have that much validity, but we all have seen "Game of Thrones," so we know that this doesn't always mean much.
The Bourbons were eventually victorious, and except for a period following the Spanish Civil War, are still the ruling family of Spain today. Spain became a constitutional monarchy in 1978, with the majority of governmental powers being given to parliament, yet another parallel to the British monarchy.
A major royal scandal caused King Felipe to release his personal finances to the public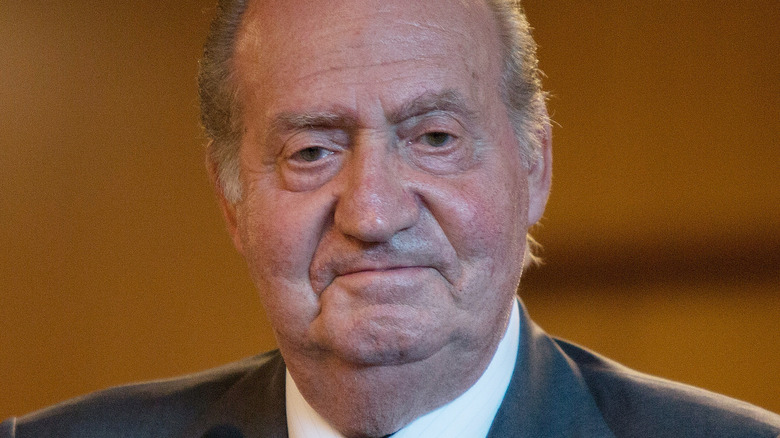 Pablo Blazquez Dominguez/Getty Images
As mentioned, King Felipe's father Juan Carlos abdicated due to multiple controversies, but the scandal that put the nail in the coffin was an elephant hunting trip in Botswana during a time of financial turmoil in Spain. Even though Juan Carlos left office, his corrupt legacy continued after it came out that he had been given $100 million from Saudi Arabia, which was being kept in an offshore account (per The Guardian). The latter corruption caused King Felipe to strip his father's yearly pension and caused Juan Carlos to go into exile, distancing himself from the Spanish royal family both literally and figuratively.
Although Juan Carlos left, his scandals have caused a direct impact on the new king. The Spanish government passed a law in 2022 that the monarchy was to publish its finances every quarter. This type of law isn't out of the ordinary, as both the U.K. and Belgium have similar laws for their royal families.
Upon the release of his financials, which totaled $2.8 million for 2022, King Felipe released a statement on Casa Real, saying, "Today, more than ever, citizens rightly demand that moral and ethical principles inspire — and exemplary preside over — our public life. And the king, at the head of the state, has to be not only a benchmark but also a servant of that just and legitimate demand of all citizens." This statement made it clear that King Felipe is ready for a new era in the Bourbon dynasty.
In addition to the king's wealth, the queen also makes a salary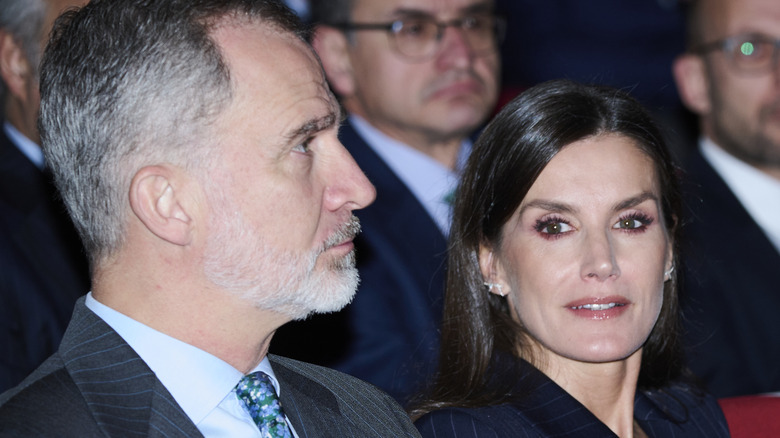 Carlos Alvarez/Getty Images
One thing that's important to note about King Felipe VI's wealth is that it is not all in liquid cash, but rather spread out between antiques and luxury items such as jewelry. And of course, there is his yearly salary. As of publication, Felipe will have an annual salary of €269,296, which equals about $293,000, according to The Local. In comparison, the president of the United States makes $400,000 a year, plus an additional $50,000 in expenses.
Queen Letizia also makes an income. In 2023 she will be making €148,105, which equals roughly $161,000. The former queen and wife to exiled Juan Carlos, Sofía, is still on the payroll despite her husband's pension being taken away. Sofía will be making €121,186, or about $131,500 annually.
King Felipe's sisters, Infanta Elena and Infanta Cristina, are not on the payroll despite their public positions. This is a contrast to the monarchy in England, which does have salaries for its extended members.
The queen's salary doesn't seem that much when you consider Letizia's $8 million wedding dress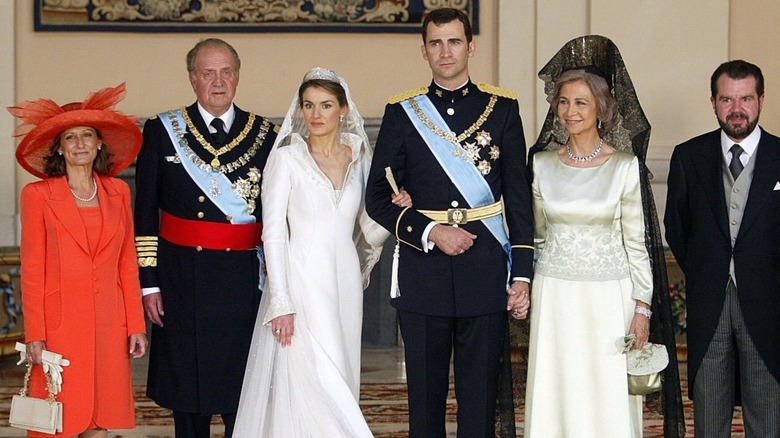 Salma Bashir Motiwala/Shutterstock
Yes. You read that right. Queen Letizia's wedding dress cost $8 million, making it one of the most expensive wedding dresses of all time. The dress was designed by Spanish fashion designer Manuel Pertegaz. He dressed many incredibly famous fashion icons such as Audrey Hepburn, Jackie Kennedy, and Ava Gardner before he died, and was even tapped to be Christian Dior's successor at one point — although he turned the gig down.
Letizia's dress featured long sleeves and a high collar as well as floral gold embroidery (which, considering the price, may actually be real gold), giving a very vintage and regal feel. The tiara (which was also worn by Queen Sofía at her wedding) matched the long train and veil and made Letizia look like, well, a princess, which she was moments away from becoming.
The wedding took place at the Santa María la Real de La Almudena Cathedral and cost approximately $25 million, according to BBC Mundo.
It comes as no surprise that Queen Letizia is always dressed to the nines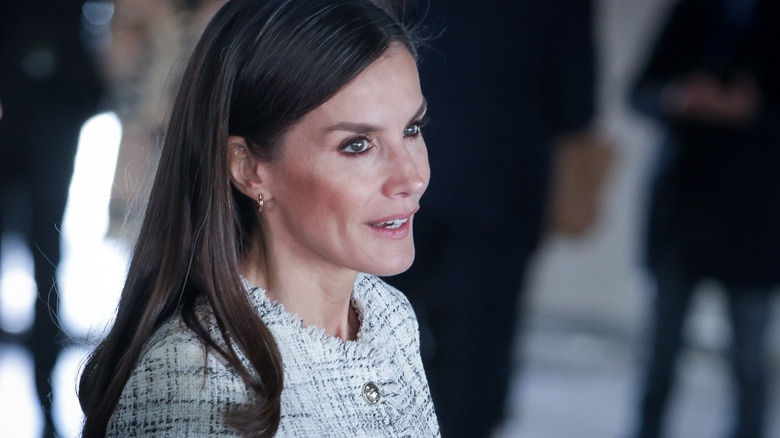 Pablo Cuadra/Getty Images
Queen Letizia has definitely been giving Princess Catherine and Meghan Markle a run for their money with her fire outfits. Jokes aside, Letizia has stepped to the forefront as a true fashion icon. One of the things we love the most about Letizia's style choices is that she mixes some high fashion designers with lower-price brands like Zara, making her looks feel more attainable and more relatable.
As Tatler reports, the queen was recently spotted in a Carolina Herrera cream blouse that could retail for more than $1,000 and a pink floor-length skirt made custom for her. Letizia paired this ensemble with Tous earrings. Felipe Varela is another favorite designer of Letizia's, according to Popsugar. Their gowns can cost over $3,000. Letizia has even been spotted in Zara at different points, per The Zoe Report. And that's just barely scratching the surface of her closet.
And of course we have to talk about Queen Letizia's massive jewelry collection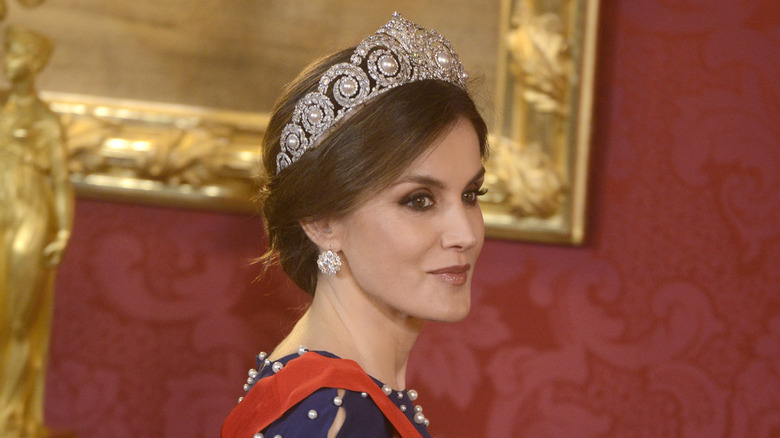 Pool/Getty Images
We can't talk about the queen's clothes without talking about the queen's massive jewelry collection. The crown jewels, to be exact, are estimated to be worth over $50 million. Marrying into a royal family sure does have its perks ... and by perks, we are talking about literal diamonds. After all, they are a girl's best friend.
Several pieces comprise the Joyas de Pasar collection ("jewels that are passed down") worn by generations of queens. The most expensive piece in the collection is a matching diamond collet necklace and bracelet estimated to be worth over $25 million. According to Hello, they were a gift from King Alfonso XIII to Victoria of Spain. Another gift from Alfonso to his wife is the most famous of the Spanish tiaras, the Fleur-de-Lis, which is fashioned after the Bourbon family crest. This tiara is estimated to be worth about $13 million. Letizia is often spotted wearing the collection's diamond cluster earrings, worth $7.8 million.
Our personal favorite is her more modern emerald necklace and earring set (via The Court Jeweller). We were not able to find the price on these, but at the end of the day, all of the crown jewels are priceless.
The Spanish royals live in a beautiful palace outside of Madrid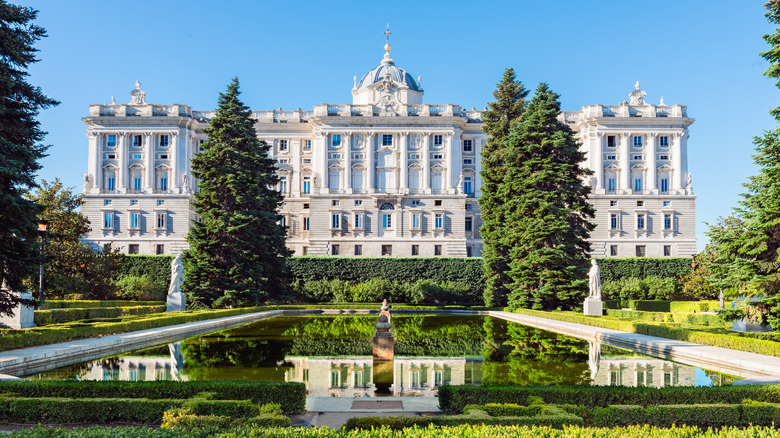 Fotoeventis/Shutterstock
Much like royal families around the world, the Spanish royals are not without their palaces. Their residence is Zarzuela Palace on Monte de El Pardo outside of Madrid (although King Felipe and his family use the nearby Prince's Pavilion as their private home). Zarzuela Palace has been the residence of the Spanish royals since 1975, though it was first built in the 1600s as a country palace. The palace was damaged in the Spanish Civil War and required significant repairs.
Tourists are welcome to visit Palacio Real de Madrid, the Royal Palace of Madrid. The palace is the official seat of the monarchy and used to be the main residence for the Spanish royals, but now is only used for state visits and ceremonies. According to Patrimonio Nacional, the palace itself has over 3,000 rooms, including the famous throne room with a ceiling painted by the renowned Giambattista Tiepolo, as well as exhibits with vintage goods and musical instruments.
We also know that the royal family has residences in Mallorca, most notably Marivent Palace, as the current ruling family vacations there every year.
In addition to Mallorca, the Spanish royal family spends their summers in top destinations via their private plane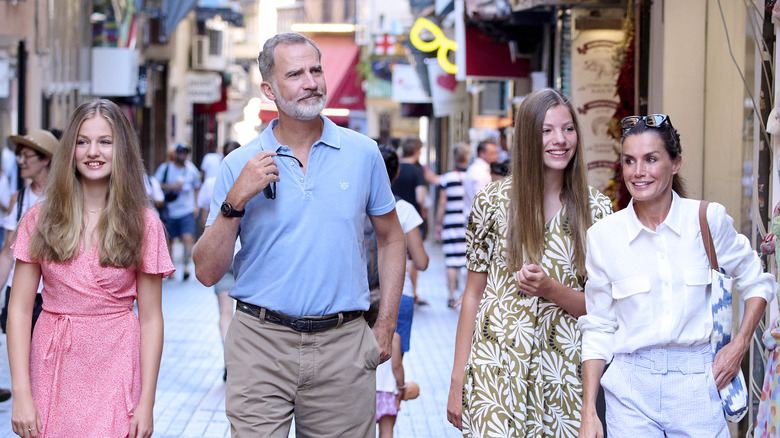 Carlos Alvarez/Getty Images
We already discussed how the king, queen, and their two daughters visit Mallorca every summer, staying in their stunning palace. And if you did happen to forget, they luckily remind us yearly with the most perfect pictures, making us say #FamilyGoals. In addition to nice family portraits, there are candids of them strolling the streets, exploring food markets with grandma, and checking out the sights. Royals — they're just like us!
Obviously, they are not flying commercial. Nope. They are flying in their two luxury private planes. Naturally, with the controversy of Juan Pablo still hanging over their heads, every move the royals make, especially when it involves spending, is scrutinized. Spanish journalist Jaime Peñafiel seems to bring a voice to the people, telling El Nacional, "The Spanish people have the right to know where they're going and where they are. Let's not forget that daddy and his heir shouldn't travel together in the same plane to guarantee the succession. As such, it's necessary for them to use two planes, two crews, six or eight bodyguards. ... Who pays for that?"
The planes are Airbus A310-300s, and they include all the luxury updates that the royals are sure to have. Okay, so maybe they aren't that much like us.
Naturally, Princess Leonor and Infanta Sofía attend a very fancy boarding school in the U.K. that looks like Hogwarts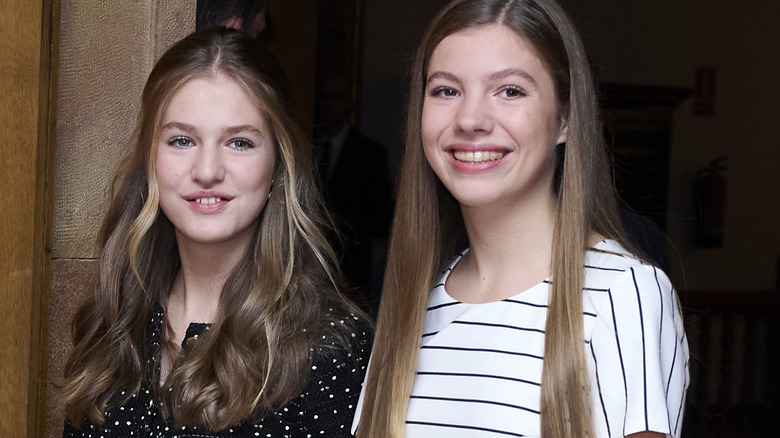 Carlos Alvarez/Getty Images
Princess Leonor is a student at UWC Atlantic College in Wales, and Infanta Sofía will join her sister there come fall. Despite the word "college," UWC is actually a boarding school for students ages 16 to 19 who are looking to pursue an International Baccalaureate Diploma in a more progressive environment. According to its website, UWC Atlantic is on a "global mission to make education a force to unite people, nations, and cultures for peace and a sustainable future." And they are definitely uniting nations, as Princess Alexia of the Netherlands is one of Leonor's classmates. UWC Atlantic College in Wales is basically like Hogwarts, even being housed in an actual castle, St. Donat's Castle.
It's no surprise that this boarding school does not come cheap. Two years of tuition is estimated to be between $95,000 and $110,000 (per UWC). And that's multiplied times two now that Sofía will be there.
This list would not be complete without talking about King Felipe's niece, Victoria de Marichalar y Borbón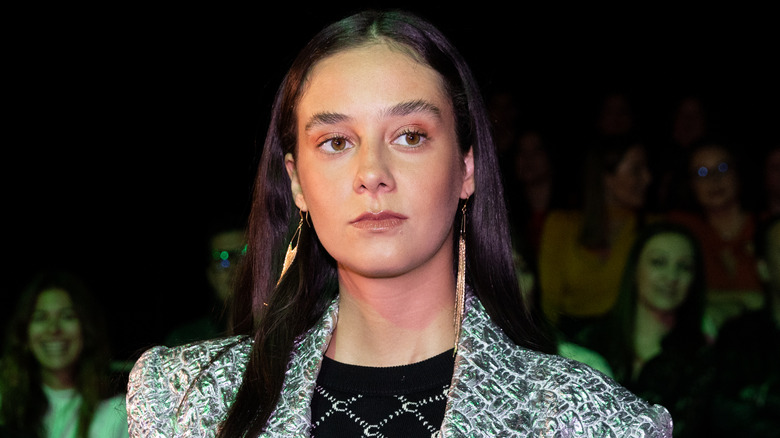 Aldara Zarraoa/Getty Images
While you may not have heard about Victoria de Marichalar y Borbón — King Felipe VI's niece — her 234K followers on Instagram sure have. In addition to being royalty, Victoria is also an influencer. (We bet the Bourbons didn't have that on their bingo card.) Much like other influencers, Victoria seemingly lives a lavish life, going to events, getting lots of free stuff, and even sitting front row at multiple shows during Paris Fashion Week. The only difference compared to other influencers is, well, she's royalty.
If the Spanish laws were different (they follow male-preference primogeniture, meaning sons inherit regardless of birth order) and Victoria's mother had inherited the throne, then Victoria would technically be a princess and be in line to be queen. (This feels very "House of the Dragon.") So, yeah, she's not like other influencers.
Unlike the other royals, however, Victoria posts her life on her Instagram for us to see, and we are oh-so-thankful she does. We get to come along as she goes on exotic trips and fancy parties. Victoria is even starting to make a name for herself in the U.S., walking the red carpet at the Elle Style Awards in 2021.