General Hospital's Michael Easton Weighs In On His Multitude Of Soap Opera Roles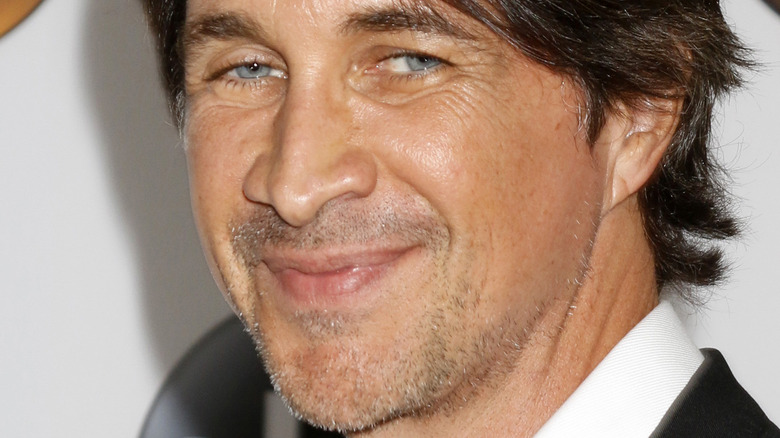 Kathy Hutchins/Shutterstock
Over the years, several "General Hospital" actors have played multiple roles on the show, including Chloe Lanier, Rick Springfield, Anthony Geary, and Roger Howarth, among others. While Howarth has played three characters in Port Charles, his former "One Life to Live" co-star, the multi-talented Michael Easton, has so far played four characters on the sudser. Easton has been able to also use his incredible acting talent to smoothly transition from one "General Hospital" character to the next. While he's been on several TV shows, including "VR.5," "Two," and "Days of Our Lives," where he played Tanner Scofield in 1991, Easton has made his home at "General Hospital" since 2012
First starting out as the vampire Caleb Morley on the "General Hospital" spin-off series "Port Charles" in 2001, Easton then played supercop John McBain on "One Life to Live" — a character that was moved over to "General Hospital" in 2012 when "One Life to Live" was canceled. Due to rights issues, McBain had to be written out of "General Hospital," so Easton returned as Dr. Silas Clay in 2013. When the good doctor was killed off in 2015, Easton reappeared in Port Charles as the slightly eccentric Dr. Hamilton Finn. Finn has been caught up in the drama of Elizabeth Webber lately, which has surely been keeping Easton busy.
The actor recently enthusiastically ruminated about his multiple "General Hospital" characters.
Easton loves working with his castmates
Michael Easton discussed his various "General Hospital" characters with Soap Opera Digest. When "One Life to Live" ended, the show's executive producer Frank Valentini moved over to "General Hospital" in the same capacity and asked Easton to reprise John McBain. A wary Easton eventually agreed because some of the "General Hospital" characters were written into his back story. When he later played Silas Clay, he felt a "disconnect" because the character was killed off so quickly. Since it's recently been revealed that Silas fathered both Nelle Benson (Chloe Lanier) and Willow Tait (Katelyn MacMullen), Easton quipped, "I need a scorecard to keep up with this guy! He's certainly had a very active life since he's been dead."
When Valentini asked him to return to play Dr. Hamilton Finn, Easton didn't want to, but explained that the character's description had enticed him. "It became almost like, 'I can't turn this down," he said, adding, "It's gonna be so strange and it's either going to fail massively or it's going to be something that would be kind of interesting to watch for a period of time.'"
He's also enjoyed working with Kelly Monaco, Rebecca Budig, Finola Hughes, Jane Elliot, and Rebecca Herbst. But the aspect of Finn that has most charmed him is the character's daughter, Violet Finn (Jophielle Love). He stated, "I honestly do feel like her dad. She just comes onto the set with that smile and it makes you happy."