A Warming Anti-Aging Brush Is A Game Changer For Achieving Firmer Looking Skin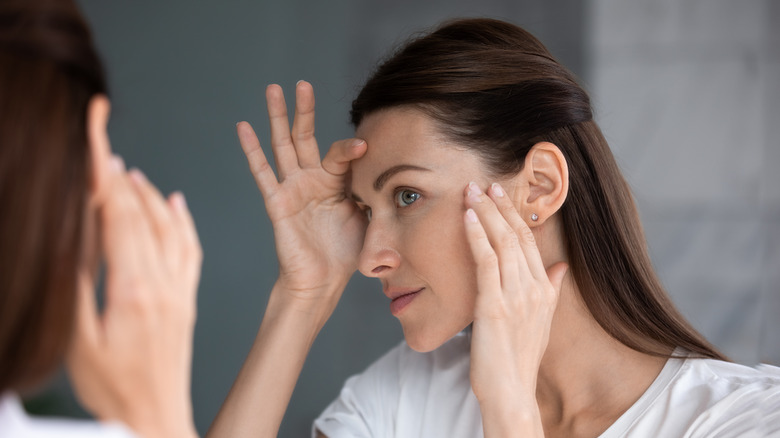 fizkes/Shutterstock
There's nothing like feeling clean, exfoliated, and fresh-faced after your skincare routine at the end of a long day. Cleaning your face before bed is essential to maintaining a consistent skincare routine that keeps you looking youthful and dewy. Finding cleansers and exfoliators that gel well with your skin and don't cause any irritation from being too harsh can be tough. Fortunately, there's a tool that not only cleanses and exfoliates your skin but also works to tighten and firm the skin to give you a youthful glow. If a facial cleaning brush isn't part of your regular skincare routine, you might want to reconsider.
Board-certified dermatologist and founder of Avant Dermatology and Aesthetics, Sheila Farhang, tells Byrdie, "Facial cleansing brushes act as mechanical exfoliators to help remove dead skin while also increasing blood flow to leave skin glowing." Rather than splurge on expensive Botox or expensive anti-aging creams and serums, you can enjoy anti-aging benefits from the comfort of your home using the game-changing PMD brush.
How does the PMD brush work?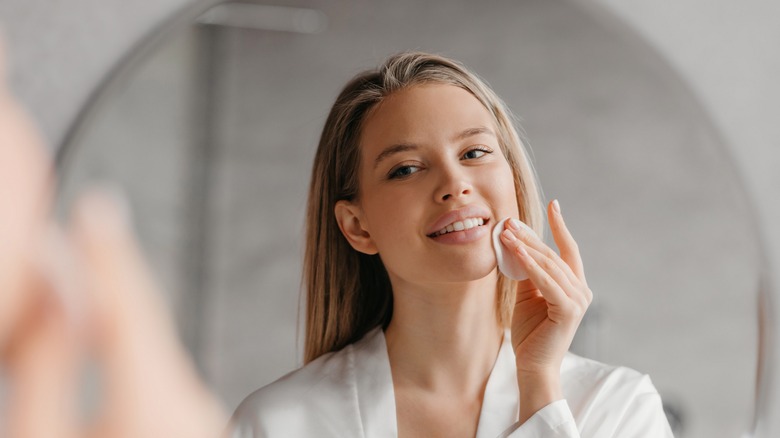 Prostock-studio/Shutterstock
According to PMD Beauty, the PMD Clean Pro is a facial cleaning device that "cleanses, firms, and tones the skin while being an introduction to Active Warmth heat therapy using a massager to increase skincare absorption." The PMD brush uses silicone nodules that gently vibrate the skin at 7,000 vibrations per minute to cleanse the face and wash away any buildup. The vibration also works to firm and tone the skin, giving your face a beautiful, youthful glow. Silicone nodules can be much more gentle on your skin than materials like nylon, which some people find too aggressive and harsh.
The brush is hypoallergenic, antibacterial, waterproof, and low-maintenance — so you won't ever have to worry about replacing the head. The other side of the brush has a smooth surface that massages the skin and reduces inflammation. Massaging your skin can help increase the blood circulation in your face, similar to a face massage which can tighten and firm the skin. 
Anti-aging benefits of the brush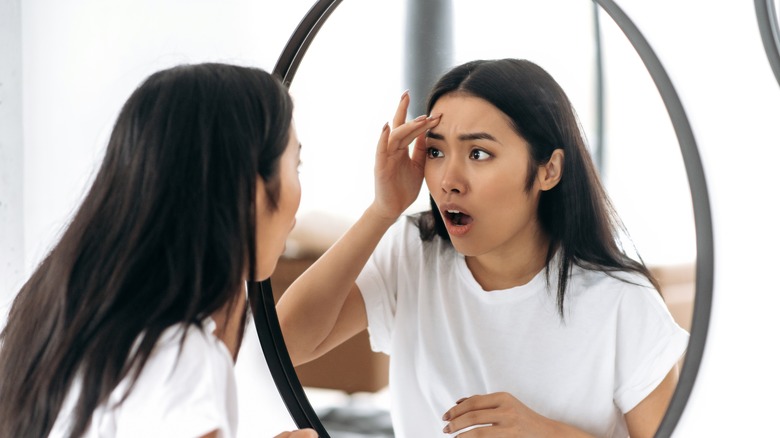 Kateryna Onyshchuk/Shutterstock
As we age, we lose collagen levels each year naturally, and we begin to see the obvious signs of aging, like fine lines, wrinkles, and creases. Robert Rountree, M.D., tells MindBodyGreen, "The No. 1 cause of skin aging is the loss of collagen." 
To help keep skin looking young, heat is commonly used in radiofrequency therapy to help tighten the face and target wrinkles, sagging, and other signs of aging (via Healthline). According to a study published on PubMed, maintaining a temperature of over 115°F for at least 3 minutes causes your body to release heat-shock proteins that stimulate your body to create new collagen and elastic fibers.
The PMD brush's heat therapy feature is perfect for anti-aging as it helps your skin absorb skincare products easily and much more effectively. This ensures that all of the anti-aging products you use get absorbed into the deep levels of your skin to really get the most out of them (via Southern Living).