The Viral Hack That Makes It Easy To Wear Tie-Front Tops With A Bra (And Is A Life-Saver For Bigger Chests)
Bras are sorta like boyfriends: Sometimes you want one around, other times you don't. It just depends on how you're feeling. Or, more specifically with a bra, it depends on what you're wearing that day.
For women that have bigger chests, it can feel like there are hardly any options when it comes to shirts you can wear without a bra. Those cute crop tops and tie-front tops are adorable and all, but they definitely don't seem to have been made with busty women in mind. If you wear a bra with one of these types of shirts, it's almost guaranteed your bra is going to show. You can choose to go braless, but the no-bra look doesn't always "hold up" with certain tops.
That's why we're so excited about the viral hack that makes it a cinch for those with a little extra bust to wear tie-front tops with a bra. No more tugging and pulling and hoping the bottom of your breasts aren't hanging out your shirt because you can't wear a bra with it. Now you can wear the cute top you've always wanted and won't have to sacrifice your bra and the lift that comes with it. You'll want to take notes for this one.
Use the ties to conceal your bra
The bra-hiding hack from TikTok user @naomi.native is an absolute lifesaver. The first thing you'll need to get this hack underway is a stretchy, wire-free sports bra that gives you lift and support, like these sports bras for bigger chests. It's important that this bra doesn't have any wire and is super stretchy, otherwise, the hack may not work for you.
Once you've got your bra chosen and are wearing it, pull your tie-front top on over it. Now for the fun part: to conceal your bra, you're going to use the strings to do all the work for you. If you have four strings to work with, grab the top two strings and pull them inside the top of your bra and then pull them out through the bottom. Do the same with your bottom strings, this time pulling them from the bottom and out through the top of your bra. The final step is to tie your strings as you normally would. You'll notice that the strings close in around the center of your bra, drawing it closed and hiding it from view. 
This hack is like magic. It really looks as though you're not wearing a bra and the lift you get from this hack is amazing.
Why wearing a bra is beneficial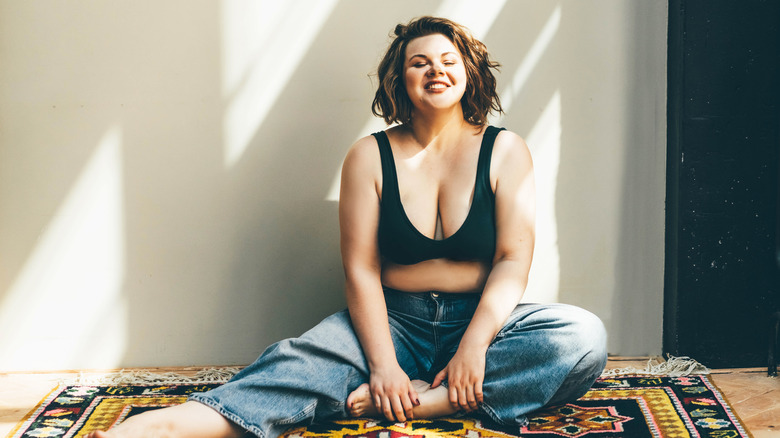 Maria Korneeva/Getty Images
Remember: This hack also works with two strings. In that case, you'll choose one string to pull through the top and the other string goes through the bottom. This easy but awesome hack is just what you need to be able to wear your bras with your favorite tops.
Some clothes manufacturers seem to forget that there are certainly times when wearing a bra is beneficial, like, for instance, when you have bigger breasts. Not wearing a bra all the time can be beneficial for your body, but there are some very real downsides to going braless, too, particularly for bigger-busted women. During an interview with Cleveland Clinic, breast health specialist Cassann Blake explained that wearing a supportive bra can ease back pain for those with larger chests. Not having that support could make back pain unbearable.
Yes, it's a myth that not wearing a bra will cause your breasts to sag. But exercising without a bra when you have more breast tissue can cause the ligaments within your breasts to stretch (via Orlando Health). This could make you sag way before your time.