Is The Les Mills At-Home Fitness Program The Right One For You?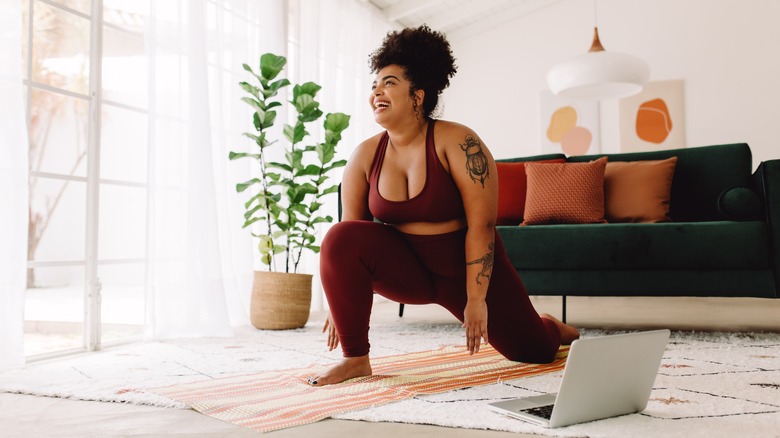 JLco Julia Amaral/Shutterstock
If you're jump-starting a new exercise journey, all of the fitness trends constantly coming in and out of vogue may make the process overwhelming. With fitness influencers on Instagram and TikTok promoting different programs, finding the best one for your personal level of experience has become overly complicated. It can be especially difficult when you have a packed schedule and hoping to squeeze in some fitness at home. Between finding the time for at-home workouts and the motivation to get it done during a busy day, many fitness programs are looking to cater their services outside of the traditional gym space and into the living rooms of their users.
With the wild success of Peloton, different brands are upping their at-home workout subscription game. Les Mills is one of those services that are ditching conventions for more motivational, multi-dimensional workouts. Their home workout program is making waves, and here's how to decide if it's right for you before taking the plunge. 
What is Les Mills?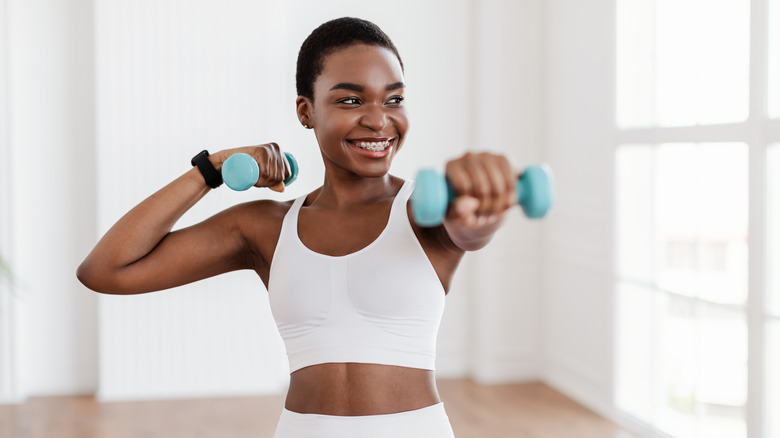 Prostock-studio/Shutterstock
Les Mills was started by New Zealand track and field Olympian Les Mills, who opened the first gym in Auckland. Since the '60s, the company has been a staple in the fitness industry, evolving with the ever-changing trends. Now, they have launched an at-home program that may be the perfect fit for you.
The extensive catalog of workouts available through the Les Mills at-home program makes it appealing. There is a little something for everyone there — from high-intensity interval training to weightlifting — the ranging three to 12 week programs are great for beginners and experts alike. The company also sells weights and other equipment, making it a one-stop shop for newbies looking to get started. Or, opt for the bodyweight classes and skip out on buying barbells altogether.
Plus, Les Mills offers a free two-week trial period, so you don't have to commit right away. After the test period is finished, your account will be charged $8 or $15 per month, depending on what subscription package you purchase.
It's perfect for those who need some motivation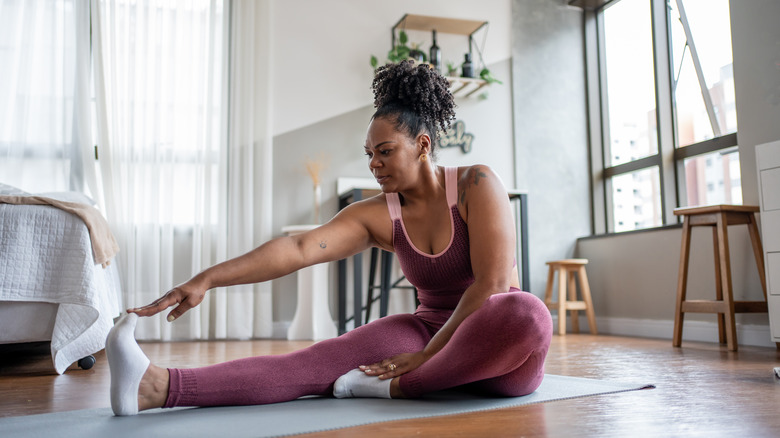 Drs Producoes/Getty Images
The Les Mills home workout program is ideal for those who need the motivation of a fitness class but would like to do their exercises at home. The app brings classes to your living room, allowing you to follow a motivational instructor without having to make the trip to a gym or studio. Plus, as we've mentioned, there's a great variety of classes offered.
Users of the program recommend it for busy parents, especially those who are getting back into the fitness world after a break. The at-home streaming service allows you to pause and watch the instructor easily. Classes range in duration, so you are able to make your workout fit into your schedule. Plus, you can change the intensity. If a class seems too easy or hard, you can try another. The wide-ranging workouts available through the company's at-home program will meet you where you're at on your fitness journey and allow you to achieve new goals and grow over time.