What Is 'Windowed Work' And Does It Really Help Reduce Stress During The Workday?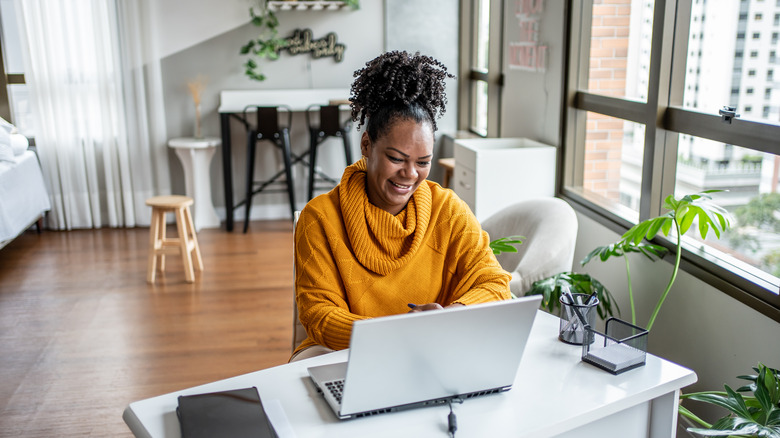 Drs Producoes/Getty Images
The COVID-19 pandemic changed the way we do a lot of things, like socializing and grocery shopping. How we work was impacted too, as remote jobs are now a normal part of the work culture. Where one chooses to work is not limited by geography as it once was. A 2022 employee engagement report published by FlexJobs found that 48% of employees worked remotely or in a hybrid model. That is a lot of Zoom meetings and Slack message correspondence. With more remote jobs available and a work culture adapting to technology, experts argue that telework shouldn't be a copy and paste of in-person corporate life.
Windowed work is an alternative to the standard 9 to 5 schedule. It can be the answer to improved productivity and reduced stress during the workday. A win-win for employers and employees. There is already a push for a 4-day workweek, so perhaps windowed labor is the answer to balanced work and home-life boundaries.
Windowed work optimizes everyone's schedule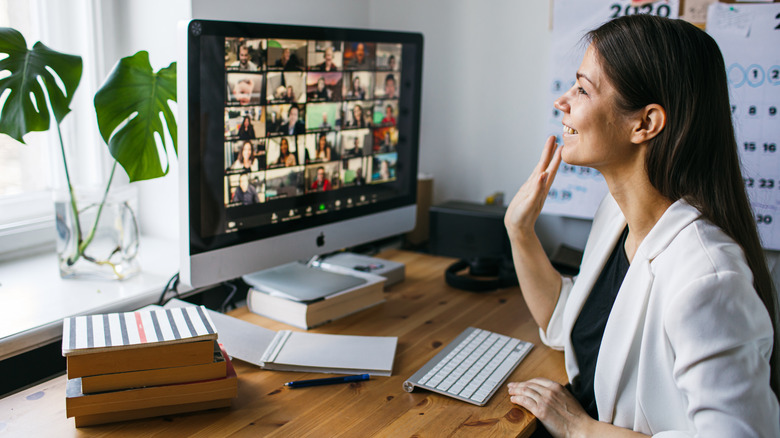 Girts Ragelis/Shutterstock
Windowed work centers on flexible hours and asynchronous tasks for remote workers. Employees will have designated hours for meetings and team assignments, however, individualized projects are completed during times best for the employee. It also incorporates deadlines for completion and progress so all coworkers are on the same page.
Jennifer Dennard implements windowed work at her company, Range. The team communication program serves to improve work performance, and they seem to be doing that in their own office with windowed work. Dennard tells NBC News, "What we found is that there are certain needs that you need to overlap with other people, particularly for collaboration, but that a lot of work can actually be done asynchronously, and that that actually opens up a big opportunity for people to work different schedules, especially if they have children, or other people they are caring for."
Personnel who are also parents can attend meetings in the morning, then break for school pick up and family dinner before returning to evening projects. Or employees who are also students can answer emails and make company calls, then attend afternoon school classes and get homework done before a night of business reports. This system of work allows individuals to optimize their schedule without the constraint of a 9 to 5 shift.
Asynchronous work may be the answer to less stress and more productivity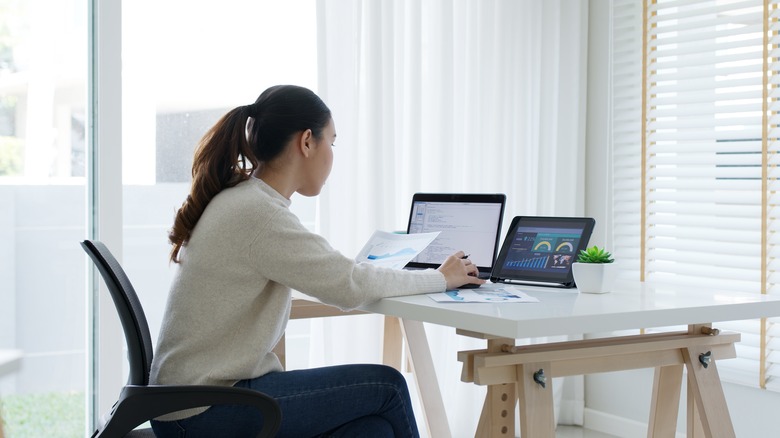 Chay_Tee/Shutterstock
An optimized day is not the only benefit of this system. A 2020 survey conducted by global human resources firm Robert Half found flexible schedules increased productivity working from home. Of the professionals surveyed, 79% had windowed work schedules, and 73% relayed this flexibility led to increased productivity. Paul McDonald, the senior executive director of Robert Half, explains, "Whether it's windowed work or alternative hours, people are happier and more productive if they have control over when — and where — they do their jobs."
Creating a system for individualized work can also strengthen company-employee relationships. It builds trust that work will be completed well and efficiently without micromanaging. According to a study by neuro-economist Paul J. Zak published in the Harvard Business Review, this trust makes a substantial difference. The research found employees who worked for companies with high trust had 106% more energy, 76% more engagement, 50% more productivity, and experienced 40% less burnout compared to those in a low trust work environment. Windowed work is a job change that improves life in and out of the office or Zoom call.