How To Use Clarifying Shampoo To Revive Your Curls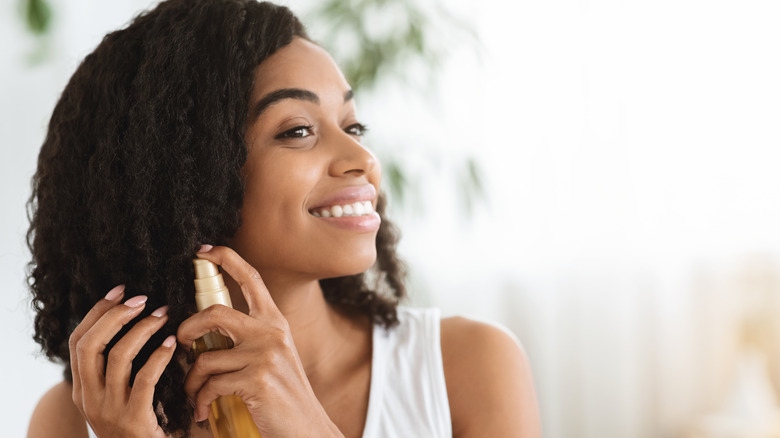 Prostock-studio/Shutterstock
If your hair has been feeling greasy, flat, or just hasn't been cooperating the way you'd like it to, it may be a sign you need to try a clarifying shampoo. Clarifying shampoo removes excess residue that builds up on your hair and scalp over time. It's formulated to provide you with a deep cleanse and is meant to be used sporadically when you feel your hair needs a good clean.
According to Dr. Karan Lal, an adult and pediatric dermatologist as well as fellowship-trained cosmetic dermatologist, "They are meant for people who use a lot of hair care products that leave residue. And they're especially great for those with very oily hair" (via Forbes).
There has been an ongoing debate in the hair community about whether clarifying shampoo is good for curly hair. Some say it can get rid of your curl pattern and end up ruining your curly hair, while others say that's not true. Regardless of your hair type, it's beneficial to use a clarifying shampoo every so often to deep clean your hair and scalp. 
How to use clarifying shampoo for curly hair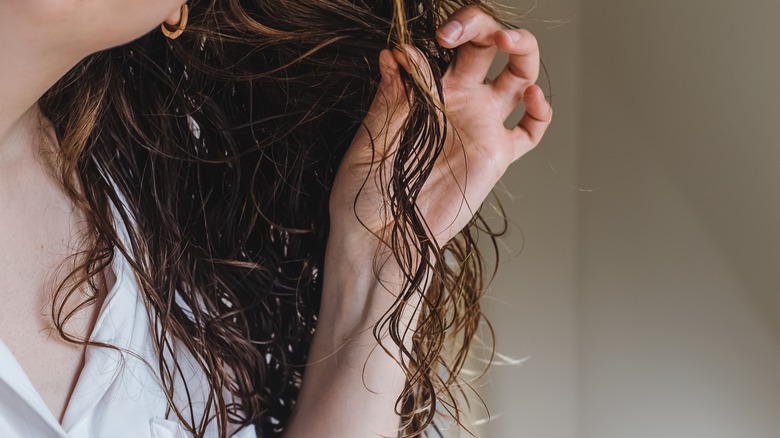 Chiociolla/Shutterstock
You can revive your flat or dull curls with clarifying shampoo by removing the excess buildup and giving your hair back its volume and bounce. Sophia Emmanuel, an IAT-Certified Trichologist and licensed cosmetologist, tells Byrdie, "For naturally curly or textured hair, use a sulfate-free clarifying shampoo which will clarify your hair without stripping it." Sulfates are one of the haircare ingredients you should think twice before using if you have curly hair. By avoiding shampoo with sulfates, you can keep your curls in the best shape while still giving them a deep clean. Experts recommend only clarifying your hair once every eight weeks. If you find your hair is still not cooperating or your curls don't look the same, there may be another underlying issue. 
According to Byrdie, you should wash your hair three to four times with the clarifying shampoo to get a good clean and rinse all of the residue out. Once you've cleansed your hair, follow it with a deep conditioning treatment to hydrate your curls. We recommend Briogeo's Don't Despair, Repair! Deep Conditioning Hair Mask for a hydrating treatment that will strengthen your hair.
Things to consider before trying clarifying shampoo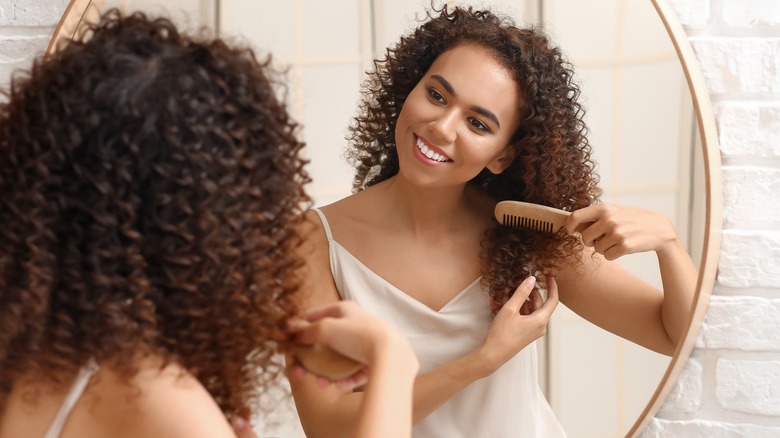 Pixel-Shot/Shutterstock
There are a few potential side effects to consider before using clarifying shampoo. Clarifying your hair can cause your hair dye to fade, so make sure to wait at least a week after coloring your hair before cleansing it. For this, we recommend the Malibu C Scalp Wellness shampoo. This clarifying shampoo is vegan and gently soothes and moisturizes the scalp without the use of any sulfates or harsh chemicals. It's also great for those with color-treated hair, as it won't fade or strip your color away like other clarifying shampoos can.
Those with a skin condition should always be cautious when using a clarifying shampoo, as the ingredients can aggravate skin conditions like dermatitis, eczema, psoriasis, and dandruff. If you suffer from a sensitive scalp, we recommend OUAI's Detox Shampoo. This product is formulated with natural ingredients including apple cider vinegar to gently cleanse the hair and works great with curls.