The Key Difference Between Iridescent And Holographic Cosmetics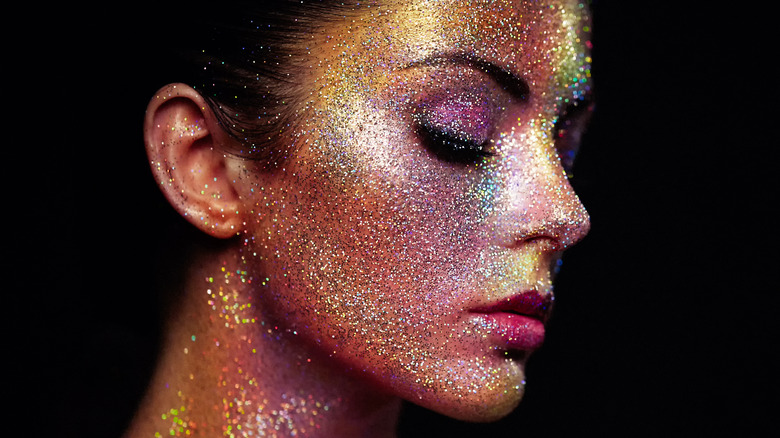 Heckmannoleg/Getty Images
Current makeup trends are all about adding a little shine for a glamorous, futuristic style. Whether you're going cosmic with a sparkling galaxy manicure or amping up your eyes with a fabulous duochrome eyeshadow, your options are incredibly vast.
If your preferred shine tends toward iridescent and holographic looks, you can channel the styles of celebs like Gigi Hadid or Lizzo, as both have been spotted wearing glittering cosmetics on their lips, eyes, and nails. Or you can look to celebrity makeup artist Pat McGrath, who's known for her wildly successful (but tragically discontinued) holographic highlighter, Skin Fetish 003.
The deeper you delve into these shimmering styles, the more you might notice terms being used interchangeably. In particular, the terms iridescent and holographic are sometimes used with one describing the other. However, there is a distinct variation between the two, and if you're shopping for a specific look, it can make a world of difference.
Holographic makeup has all the colors of the rainbow
While holographic makeup is sometimes described as being iridescent, these cosmetics are actually two distinct types. "Holo is rainbow-reflecting and opaque, and iridescent is transparent," Queen Cosmetics, a maker of holographic lip glosses, explained in a TikTok video. "With iridescent, it's about 2-3 colors, and with holographic, you can see all the colors of the rainbow."
When exposed to light, holographic colors act like a prism, separating the light into its different colored wavelengths. This is similar to how rainbows form after a storm, as water drops reflect the sun's rays at different angles. With iridescence, the shift between colors involves the interaction between the angle of light and the angle of our gaze. Change the direction of how you look it something iridescent, like a soap bubble, and you'll notice a shift in the colors.
Knowing the difference between iridescent and holographic makeup can come in handy when shopping for cosmetics. Some products that are marketed as holographic don't fit the definition, resulting in looks that may not give you what you expected. For example, when YouTuber Kristi Bergman tried the NYX Strobe Of Genius Holographic Stick, she got a shimmering pink glow rather than all colors of the rainbow.
Rock the rainbow with these holographic cosmetics
Fortunately, certain cosmetic brands offer an abundance of choices for people seeking an authentic holographic shine. For the perfect rainbow-sparkled pout, Queen Cosmetics has a variety of holographic glosses. If you want your holographic look to take center stage, try Queen's Electric, which has a clear base and rainbow colored sparkles. For a more dramatic take, their Black Widow gloss has the same holographic sparkle with a shiny black base.
In a similar fashion, Holo Taco has a ton of colorful nail polishes packed with glittering holographic particles, like Pink Fizz, which showcases a pinky-purple hue infused with rainbow sparkles. The company also sells clear holographic topcoats in multiple varieties, such as Linear Holo Taco, so you have the option of transforming any of your favorite polishes into a holographic form. This topcoat can be an essential choice for creating vibrant unicorn nails.
For futuristic holographic eye looks, check out Superchic's range of products. Vegan and cruelty-free, their collection includes long-lasting liquid formulas in shades like Tagalong and Pinky Promise. Or, if you prefer a powder formula, go for Magical Makeup's Holographic Chameleon eyeshadows. They're available in pink, silver, and purple hues — all with stunning holographic particles.