Microneedling Is Said To Reduce The Appearance Of Acne Scars, But Does It Really Work?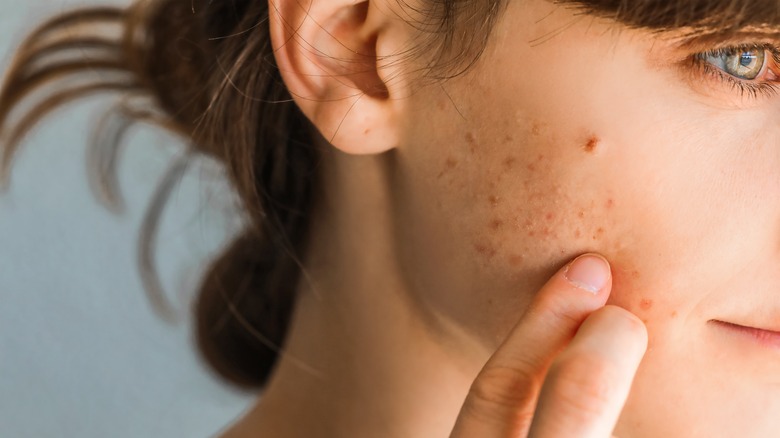 Kim Kuperkova/Shutterstock
Acne is a dreaded skin condition that affects a large percentage of the population. It happens to be the most common skin problem in the country and affects people of all ages, not just kids going through puberty. Acne can be caused by a variety of factors ranging from hormonal imbalance to the food you eat, or even your genetics. If you've had acne, then you definitely know how frustrating it is to know that there is no cure for it. You can manage it with topical medication and other forms of skincare, but that won't stop it from occurring. People who have suffered from acne and scarring tend to feel insecure about their faces. Sometimes, makeup isn't even enough to cover it up and you may end up feeling hopeless.
Acne breakouts may seem like the end of the world, and the scarring that occurs is enough to make anyone shed tears. However, there are treatments that can potentially improve the look of acne scars and smooth your skin out. If you're trying to get rid of your acne scars, chances are you've already heard of microneedling while scouring the internet in search of treatments. Maybe you have a ton of questions and aren't sure if it actually works. Well, look no further. Here is what a leading dermatologist has to say about the procedure.
How effective is microneedling?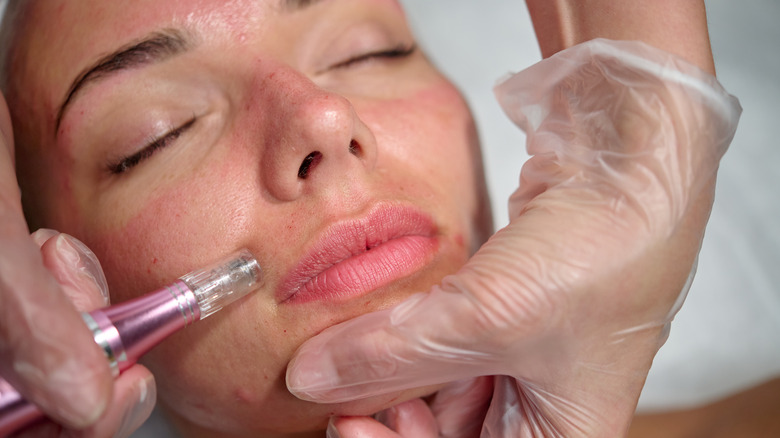 Konstantin Goldenberg/Shutterstock
Microneedling is a popular procedure that aims to reinvigorate the body's natural collagen and elastin production. It functions as a treatment for aging wrinkles, stretch marks, and acne scars. The procedure involves puncturing the skin in strategic spots with small needles. The wounds will signal to the body to begin new collagen and elastin production. Collagen and elastin are natural proteins responsible for giving our skin a healthy, youthful appearance. Both are structural proteins that make the skin firm and tight. When the skin heals, it is expected to smooth out the scar tissue and give your face a more even look. So, does microneedling actually work? 
According to renowned dermatologist Dr. Nava Greenfield — yes, it does. She told Marie Claire that people who suffer from acne scars "can benefit from treatment." However, she made it clear that a complete reversal of scarring is not always possible, but that there would be some improvement as long as the patient is a good candidate for the procedure.
Microneedling is not recommended as a treatment for people with active acne. This is because puncturing the skin of someone suffering from active acne can lead to bacterial infection and other avoidable complications. However, Greenfield asserted that patients with adequately controlled acne might be eligible to receive the treatment. You should consult your doctor to know if microneedling is right for you.
What to expect with microneedling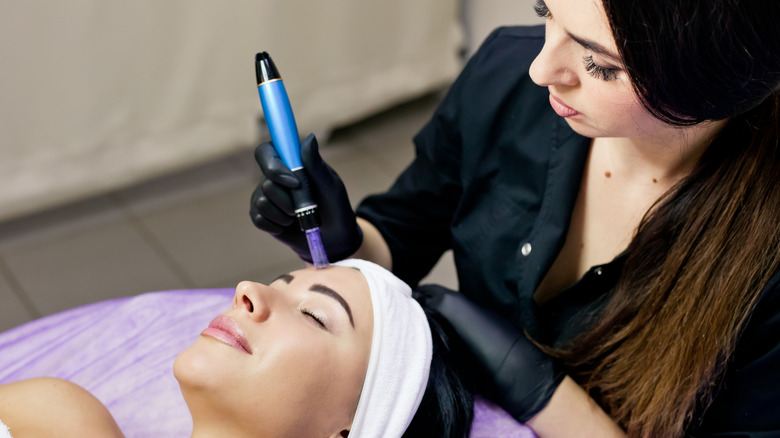 Tertyshnyk Oksana/Shutterstock
Knowing that there is a minimally-invasive treatment available to combat your acne scarring can be overwhelmingly exciting news. There are things you should know before trying microneedling so that once the D-day arrives, nothing takes you by surprise. When it comes to pain, this treatment might be discomforting for you even though patients are numbed beforehand with cream. Dermatologist Dr. Nava Greenfield suggested that the usual treatment time takes about 15 to 30 minutes per session. Depending on how severe your scarring is, your doctor will let you know how many sessions you need. For acne scars, your treatment may likely run into months.
More people are opting for DIY home microneedling tools, but Dr. Greenfield marked them as a definite thumbs-down. She maintains that microneedling should be done by a board-certified doctor due to the higher quality of medical-grade equipment they use. Also, the efficacy of the home microneedling device is significantly lower than the needles used by doctors because they simply aren't long enough.