Workout Wooing: Is The Gym The Perfect Spot For A Date?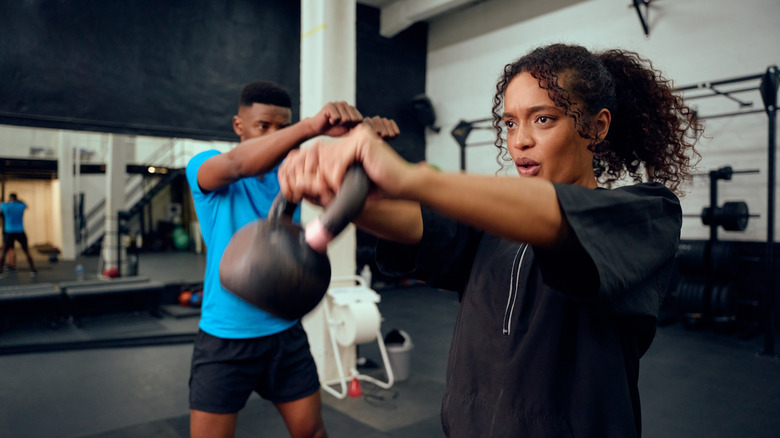 StratfordProductions/Shutterstock
Dating has changed immensely over the years, and if you're single, you've probably found yourself endlessly swiping through a dating app to find love. The struggle to meet people in real life is real, but it doesn't have to be. 
Fortunately for single people, there is a new emerging dating trend encouraging them to meet in their local gyms. If you're a fitness enthusiast, this is the dating trend for you. As more and more people begin to prioritize their health and well-being, meeting your perfect partner in the middle of a workout doesn't sound too far-fetched.
Tami Sobell, relationship therapist and founder of TS Therapy, tells Glamour, "It's unsurprising, given the big uptick in people reducing their alcohol intake and refocusing on a healthy lifestyle post-pandemic, that many on the hunt for love are keen to incorporate exercises." Whether you attend weekly pilates classes or lift weights at the gym, you can take your first dates to the next level with a workout date.
Working out together will boost your endorphins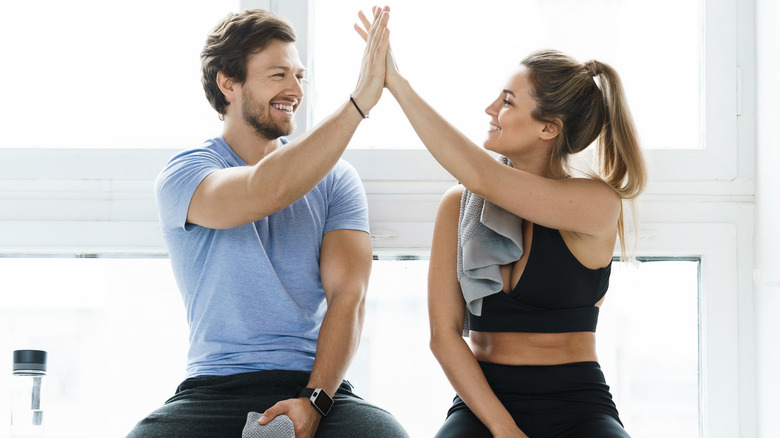 BLACKDAY/Shutterstock
According to Bolde, sharing an experience with your date is a great way to bond and connect over mutual interests. Going on a workout date with someone new will help you decide whether your and your potential partner's values, hobbies, and lifestyles align. If they genuinely love to work out and prioritize keeping active as much as you do, you can share that passion with one another.
Working out together on a first date is also a great way to break the ice and ensure you have a fun, happy, and positive date. According to Mayo Clinic, physical activity like working out can boost your brain's production of feel-good endorphins. It also reduces stress and soothes your daily irritations, leaving you feeling refreshed and content after. Even if the date doesn't go how you expected it to, you'll leave feeling much more positive and relaxed, which is the perfect way to end a date.
Working out is a creative first date idea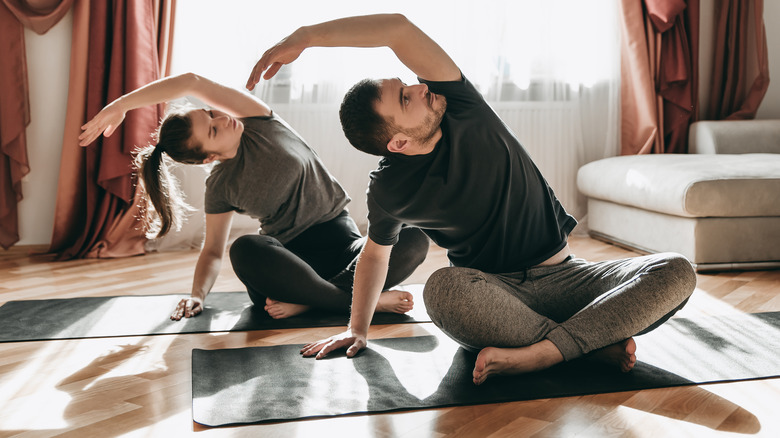 LL_studio/Shutterstock
First dates can be awkward, especially with someone you've never met. If you hate those awkward moments of silence that are common on first dates, working out together could be the answer. Sobell tells Glamour, "It also gives people something to do—and discuss—on a first date, as during a workout, there is unlikely to be space for any awkward silences." 
It's also a fun and unique first-date idea that most people haven't tried yet. Typically, first dates are spent at a cafe, bar, or restaurant, which can become predictable and dull. Rather than take them on an obvious date spot, surprise them with this exciting and adrenaline-pumping first date.  For your first workout date, if you're looking for something high-intensity, go to a guided fitness class that you and your partner can follow along with together. If you want to start slow, try a weight-focused workout or take a hot yoga class for a meditative, relaxing date.